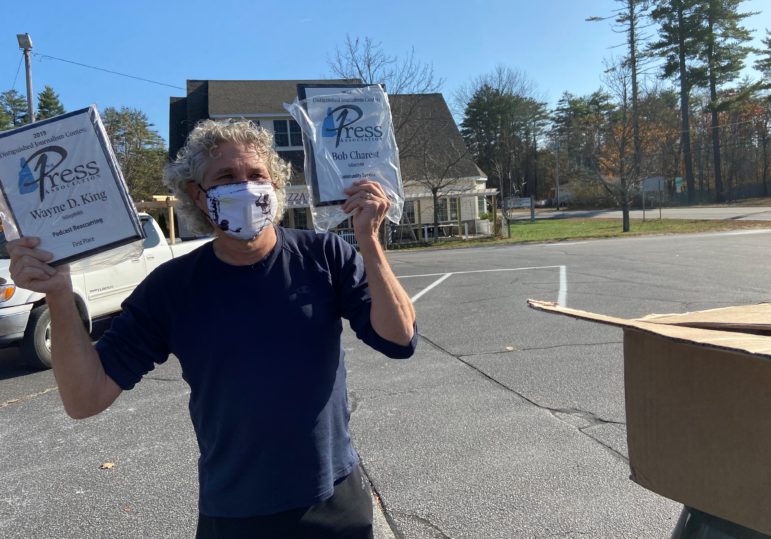 InDepthNH.org writers and reporters shined again this year taking home nine awards from the 2019 New Hampshire Press Association Distinguished Journalism Contest, all in category 2 with similar size news outlets. Thank you Phil Kincade, NHPA executive director for delivering them all over the state as we couldn't meet because of the pandemic.
Garry Rayno was named Lifetime Achievement Winner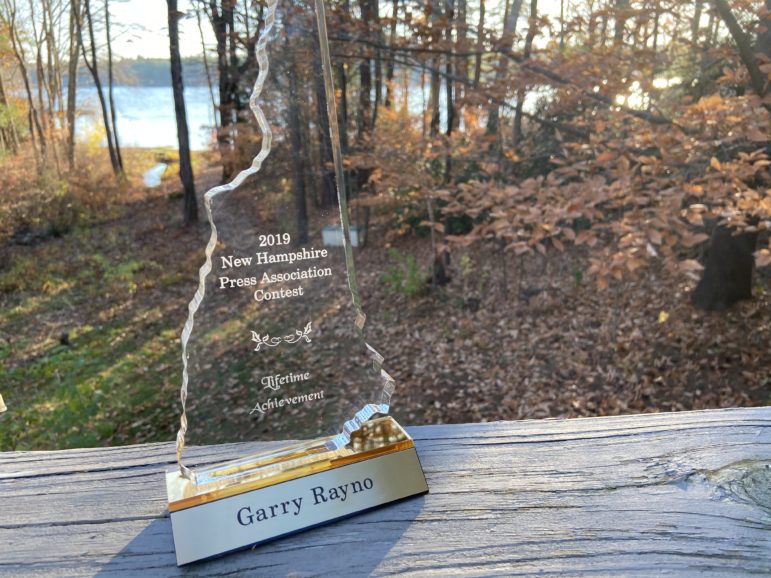 Garry Rayno
It's hard to imagine the State House press room without the reporting Garry Rayno has done on government, business and politics in New Hampshire during his 37 years – and counting – as a journalist. Garry was hooked on news the day he left teaching English and history for his first full-time news job in 1983 at the Argus Champion's New London office. He became assistant editor before leaving to become editor of the Hillsboro Messenger. Then he was hired as Rochester Bureau Chief for Foster's Daily Democrat. He became State House Bureau Chief a year later and then moved on to the New Hampshire Union Leader. Garry now directs the State House coverage for InDepthNH.org, reports many of its stories and writes its weekly column Distant Dome.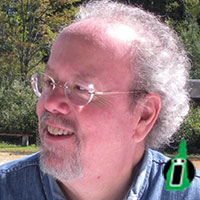 His reporting has spanned the news spectrum, from local planning, school and select boards, to national issues such as electric industry deregulation and presidential primaries. Garry has reported on every important issue from education to energy to New Hampshire's seemingly intractable pockets of poverty. He brought to life the adjudicative hearings on the Northern Pass transmission project so when regulators denied the developer's application to build the biggest energy project since the Seabrook nuclear power plant, citizens had the facts to understand why. Yes of course, Garry covered the Seabrook power plant controversies decades ago, too. But Garry is best known for his institutional understanding of the state, his never-ending curiosity and his ethical, unbiased reporting. Garry Lives in New London with his wife, Carolyn.
Garry Rayno Business-Economic Reporting
First Place:
Garry Rayno, InDepthNH, Northern Pass Didn't Want To Take No For An Answer
"The world of public utilities and the regulators that oversee them can be a thicket for the normal person to maneuver. Rayno cuts through that and lets the reader grasp the issue at hand, while getting an education on utility regulation."
Bob Charest Takes Home Community Service Award
First Place:
Bob Charest, InDepthNH.org, A Life Behind the Scenes Where the True Giving Happens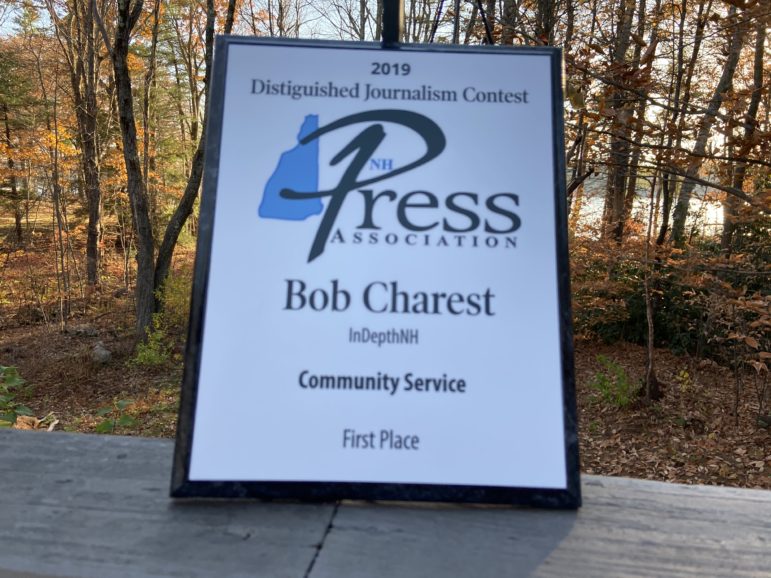 Bob Charest grew up in Lawrence , Mass., and was the first member of his family to attend college. In 1977, while a junior at Boston University majoring in political science, he noticed that his hometown newspaper, the Lawrence Eagle-Tribune, had limited coverage of Pelham, N.H., where his family had moved the previous year. A call to the editor began a 37-year career in the newspaper business, starting with serving as a free-lance correspondent for Pelham, then adding Londonderry, and eventually ending up on the paid staff of the Eagle-Tribune, as the reporter covering Methuen, Mass.
He then became suburban editor, assistant metropolitan editor, and finally capped his career at the Eagle-Tribune as Sunday Editor, serving during the year when the newspaper and two of its reporters won the Pulitzer Prize for coverage of the state prison furlough system and its most famous participant, Willie Horton, who became a key issue in the 1988 Presidential campaign that led to the defeat of Democratic Governor Michael Dukakis of Massachusetts.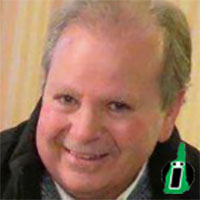 Charest throughout his career has felt himself pulled toward journalism on one side and caring for the less fortunate. Just out of college, while serving as a part-time news correspondent, he was hired as a full-time house manager for a community residence program for disabled adults in the Lowell, Mass., area.
Charest has always seen himself as an advocate for others who need a helping hand, and over the years, he has served as a volunteer in a Massachusetts state institution for the developmentally disabled, where he met a young man who was caged early on in his life and ended up handicapped and profoundly developmentally disabled as a result. Charest began a 17-year quest in 1977 to make that man's life better, taking him on community visits at first, and when he determined there was no family involvement, stepped up to become the man's legal guardian.
After his ward's death in 1994, Charest became a Court Appointed Special Advocate in New Hampshire and for 14 years represented children in the court system in abuse and neglect cases. He returned to college for a certificate in paralegal studies at New Hampshire Technical Institute.
He has also served as an educational surrogate, and in 1998, he and his wife Cindy adopted their son.
It was newspapers that eventually won out in Charest's dual career track, and in 1987, he began a 27 -year career at the New Hampshire Union Leader, most of that time as special editions editor, coordinating the publication of as many as 50 sections each year, on every topic from new car sections to home improvement, to bridal sections, and many, many others.
He retired from the business in 2014 at the age of 57, deciding he'd rather write fiction, which he continues to do. He has self-published under a pen name. At about this time, his friend, Nancy West asked if he'd help with her start-up online media website, InDepthNH.org, and he jumped in with both feet, copy-editing, writing promotional materials, helping craft grant applications, and even writing an occasional column and news story.
Along the way, he has managed to keep his feet dipped in the advocacy arena, continuing to volunteer with AARP-New Hampshire, recently attending presidential campaign events as one of AARP's red-shirted "Stop Prescription Drug Price Gouging" gang. He has also advocated on behalf of a small Northwood, N.H., lake where his family has a summer camp, serving for 12 years as the president of a watershed protection group. He lives in Epsom with his wife, Cindy.
Community Service Second Place:
Nancy West, Garry Rayno and Paula Tracy, InDepthNH. InDepthNH.org Saves Journalism in NH

Paula Tracy Won Third Place for Feature Story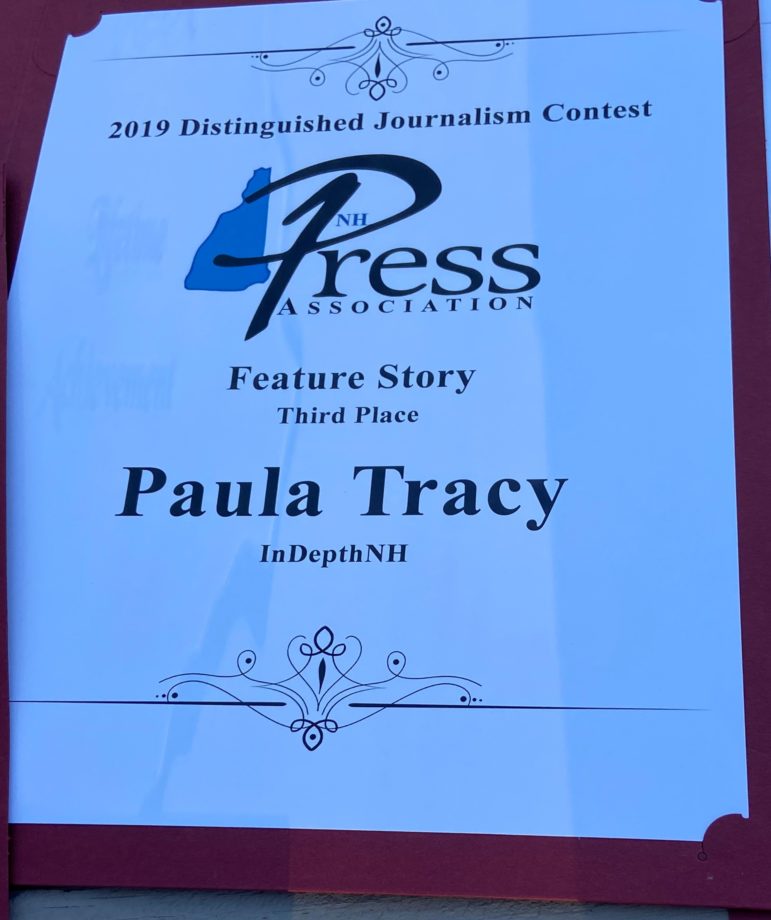 Third Place:
Paula Tracy, InDepthNH.org, The Secret Life of NH's Endangered Mountain Butterfly
Paula Tracy of Center Harbor can't go far without running into someone she knows or who knows her after more than three decades working as a journalist in New Hampshire.
For 26 years, she was a general assignment reporter at the New Hampshire Union Leader, then for four years as outdoor editor for WMUR-TV.
Paula started covering stories for InDepthNH.org, the state's nonprofit online news outlet last year working with two other Union Leader ex-patriots, Nancy West and Garry Rayno. She has found her home as a journalist and has already made many important contributions in helping to build the still-growing nonprofit.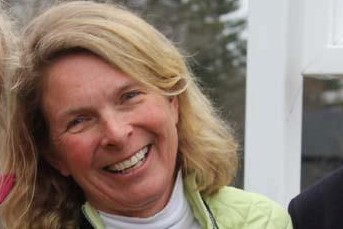 She covers the Executive Council and Fish and Game meetings and shares State House coverage duties with Rayno, InDepthNH.org's State House bureau chief.
Paula is not only a fair, unbiased easy-to-read reporter. She is also an innovator. She launched a new column, A Winter Run detailing her passion for the business and joy of skiing. Every column includes a video of her following a friend or family member skiing down a mountain somewhere.
Her news stories also include short videos that help readers better understand some of the more complex matters that she covers. Paula also started a new feature while covering the State House called IHOP-NH, which stands for In the Hallways of Power – New Hampshire. They include a short video and print interview of citizens who show up at State House hearings, focusing on the people in the hallways or on the State House steps holding signs to voice their opinions as lawmakers walk by.
It's the only routine example I've seen of a reporter taking the time to focus on what matters to the average citizen, why they take time off from work or their regular routines to stand in the hallways and be counted.
People trust Paula Tracy – in the hallways, the hearing rooms and front steps – because she is a true professional who is worthy of their trust.
Paula is hell-bent on reporting the truth without fear or favor.
Paula is a Concord native who grew up on the campus of the prestigious St. Paul's School where her father taught and coached sports. She graduated from the University of New Hampshire with a degree in English and soon got bitten by the reporter bug.
Paula lives in Center Harbor with her husband, Tom Cowie, whom she met while skiing. Their daughter, Eliza, lives in Boulder, Colo.

Investigative Story/Series
First Place:
Nancy West, InDepthNH, Should Police Investigate Their Own After Officer-Involved Shootings?

Nancy West founded the nonprofit New Hampshire Center for Public Interest Journalism six years ago and is the executive editor of its website InDepthNH.org. The mission of InDepthNH.org is to hold government accountable and give voice to often-marginalized people, places and ideas. West has won many awards for government, business and investigative reporting while previously working for the New Hampshire Union Leader and New Hampshire Sunday News.
Much of her reporting over the years has focused on the criminal justice system, child abuse and mental health. West is a graduate of the University of Wisconsin-Parkside. She has taught investigative journalism at the New England Center for Investigative Reporting's summer program for pre-college students at Boston University. West is passionate about government transparency.

Podcast – Reoccurring
First Place:
Wayne D. King, InDepthNH.org NH Secrets, Legends and Lore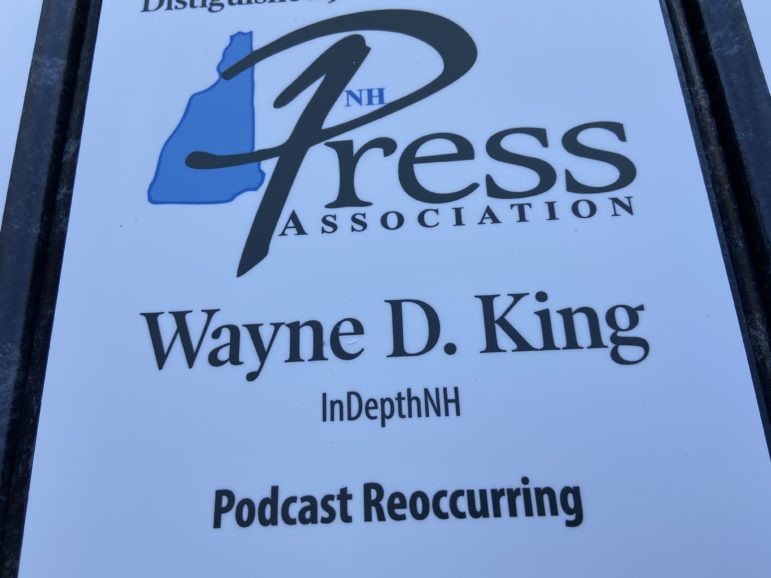 Our favorite Radical Centrist Wayne King's popular venture featuring his special blend of social commentary, political prodding and questioning that only a self-described recovering politician can bring to public discourse in today's world. Wayne is an important part of the InDepthNH.org team through his column The View From Rattlesnake Ridge in Rumney and will be playing a larger role as we expand our State House coverage by contributing NH Secrets, Legend and Lore, which also features the Reggae/Jazz music of songwriter/producer/musician Free Joseph.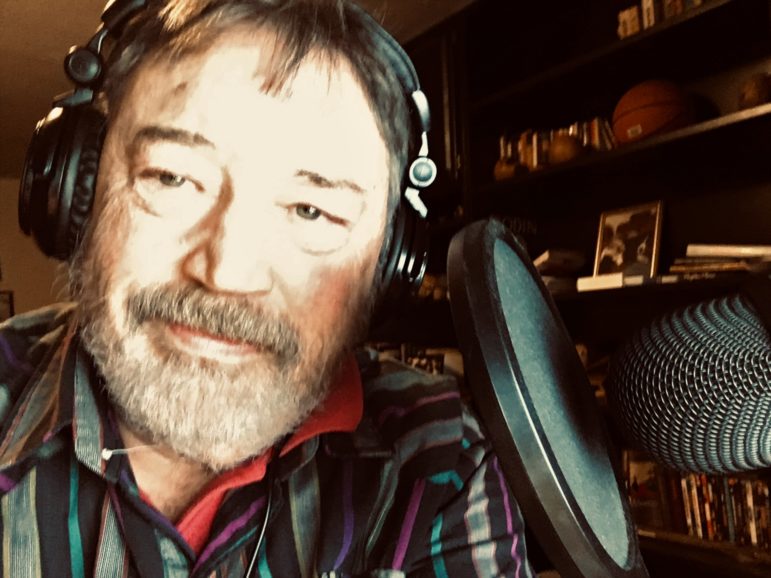 Wayne is an author, artist, activist and recovering politician. A three-term State Senator, he was the 1994 Democratic nominee for Governor and most recently the CEO of MOP Environmental Solutions Inc., a public company in the environmental cleanup space. His art is exhibited nationally in galleries and he has published three books of his images. His most recent novel "Sacred Trust" a vicarious, high voltage adventure to stop a private powerline has been published on Amazon.com as an ebook with the paper edition due soon. He lives in Rumney at the base of Rattlesnake Ridge and proudly flies both the American and Iroquois Flags. His website is: http://bit.ly/WayneDKing
George Liset
Second Place
Sports Column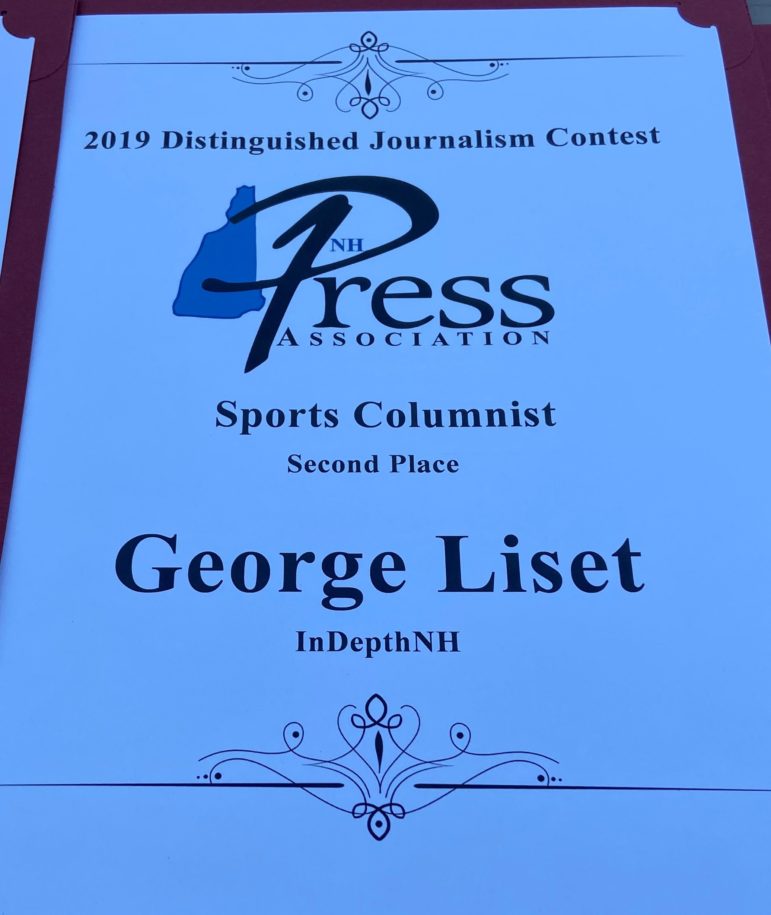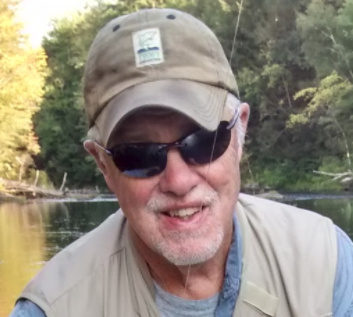 George Liset is an outdoor writer and avid fly fisherman who shares his insights of his time on the water, exploring New Hampshire streams and rivers as well of those around New England. George is a graduate of Wheaton College, Illinois, and the University of New Hampshire. George especially loves fly fishing with his family so we often see photos of his son Reed who also loves fly flishing.
George does Writing on the Fly for InDepthNH.org and it is worth a read even if you have never been fishing. It's outdoor fun.

General Excellence – Digital Presence
Third Place:
InDepthNH.org