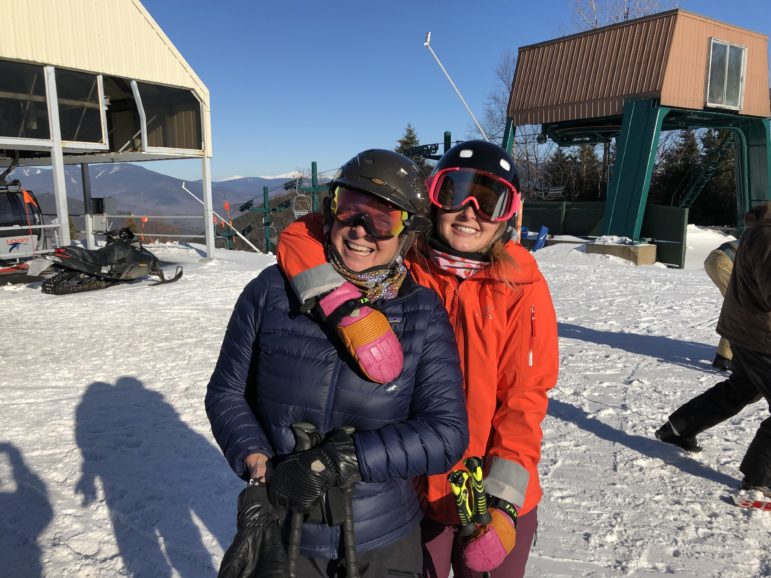 By PAULA TRACY, InDepthNH.org
LINCOLN – I got a chance to take a few winter runs with my daughter, Eliza, on Christmas Eve Day at Loon.
We have gone from the slopeside daycare to the bunny hill, to the race hill and now, we are enjoying all-mountain skiing together.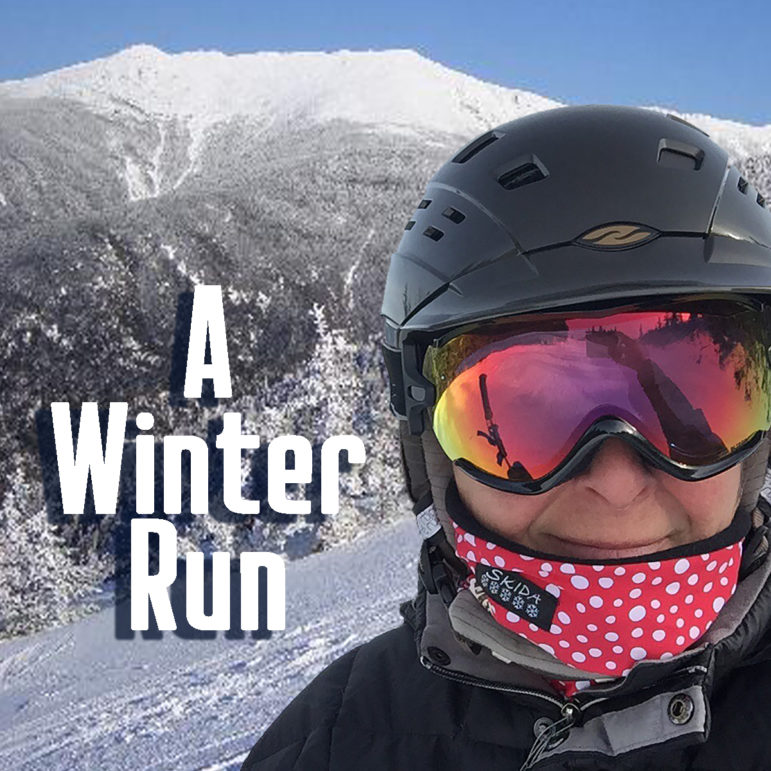 At age 25 and living and working in Boulder, Colorado, Eliza was home for one of her brief holiday visits that I have come to cherish. It was 10 days filled to the brim with activities with friends, family, food, and fun.
She returned Sunday night to Denver ahead of this storm and I am now cleaning up and looking back at our day on the mountain at Loon as my best gift of all this season.
To see her ski, to see her love of skiing endure and that we can all still enjoy it as a family is the beauty of this sport. Here is this week's winter run from Flying Fox to Upper Rumrunner.
It was on Tuesday at about noon, having completed our shopping, we left home in Center Harbor, leaving her father to finish his shopping and wrapping when we decided to take a few runs together.
We both have IKON season passes, good for five days at Loon this winter.
Nice trails
We scanned right through the RFID at the lift without having to hit a ticket window. We booted up in the parking lot and got right on the zippy Lincoln Express Quad chair.
It was sunny, about 35 degrees, no wind, and a clear view. Oh, and did I forget to mention, there were maybe 30 cars in the South Peak lot and the lift was only half full along with its long, steep line up?
It is a lift cable up to what I consider to be some of the sweetest terrain in New Hampshire. Ripsaw, Twitcher, Cruiser. Very nice trails.
The mall must have been packed. The day before was warm and the snow soft but then it froze up overnight so it was rather firm in spite of their efforts.
While most ski areas had about half their trails open, Loon had more. Some places like Pats Peak and King Pine were at 100 percent open.

With all this lovely snow falling as I write, here on Monday, expect the conditions to be much improved now. Here is a link to the latest conditions from OnTheSnow.https://www.onthesnow.com/new-england/skireport.html
At Loon, last Tuesday, they were blowing snow in one high location and had groomed up a packed powder surface for the most part. While we only got one run on South Peak – our last, on Cruiser, was really pretty good and we probably should have started there.
I love the slopes on Loon's South Peak for the following reasons:
1 Its ease of parking.
2 It's yummy sandwiches in that tent thing (get the paninni).
3 The fast quad lift to 2,000 solid vertical of good-to-excellent skiing on the Lincoln Express Quad.
4 The downhill view from the trails into Franconia Notch, a unique perspective in winter.
5 It's usually not as busy as the Octagon or the Sam Adams lodges.
We decided at the top to take the Tote Road Quad chair over to the main mountain and explore trails to the far right, in hopes we could get to the lift at North Peak and East Basin without skiing to the base.https://skimap.org/data/352/3535/1575413797.pdf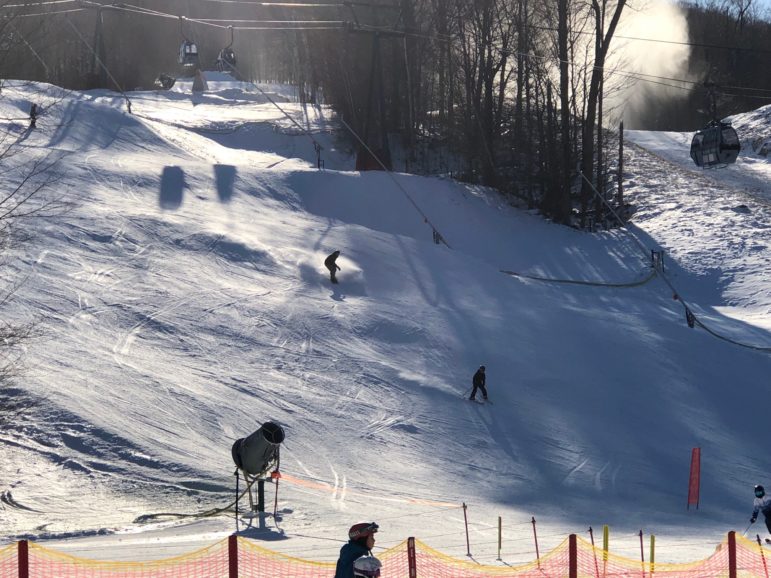 Walking Boss trail
Over there is Camp Three Lodge. It has a quick and easy downstairs bathroom on the side near the lift to keep those breaks quick.
On sunny days, the deck is pretty hard to beat. And Walking Boss trail is one of my favorites in New Hampshire. I can do lap after lap of that trail in spring corn.
But this is just the beginning of the season.
It was a sunny day, but there was a lot of flat light to ski through making me more cautious about where and what I turned my skis on. Thankfully, the edges were pretty sharp.
We took some nice runs down the center of the mountain in search of sunny slopes. They were in and out of the sun and had good packed powder.
We took the four-seater gondola a few times. There was practically no line.
It was a nice way to sit face to face and talk, look out on a snow-covered Mount Washington only about 20 miles to the North as the crow flies and view the winter wonderland at 4,000 feet.
Eliza is used to skiing New Hampshire hard pack and she had sharp edges so she wasn't complaining at all.
She is joining an evening race league at Eldora in Boulder and has an EPIC pass as well, so she can appreciate some early season turns in the East.
Mom, daughter time
It was fun to be out and ripping it up with no one around, just my "bunny" and me.
At the top of the gondola, we were given our skis by a smiling lift attendant and then met by Dave, a guy with a Loon jacket who greeted us. He was very friendly.
He was willing to shoot a photo of mother and daughter with the old rock pile in the foreground. (I should have gotten his last name for photo credit but thanks, Dave!)
We took Eliza back to the airport yesterday and our next ski runs will be with her somewhere out west in February.
Keeping up
One thing I have learned is that I cannot keep up.
We have a plan at the top of each run to say where we will be at the bottom because I don't even want to keep up anymore. I don't care.
I would rather ski behind her and watch her swooping turns and free form down the fall line. After she is out of view, I like to look up and out at the mountains, take long deep breaths and take whatever run I choose at my pace and meet her at the bottom.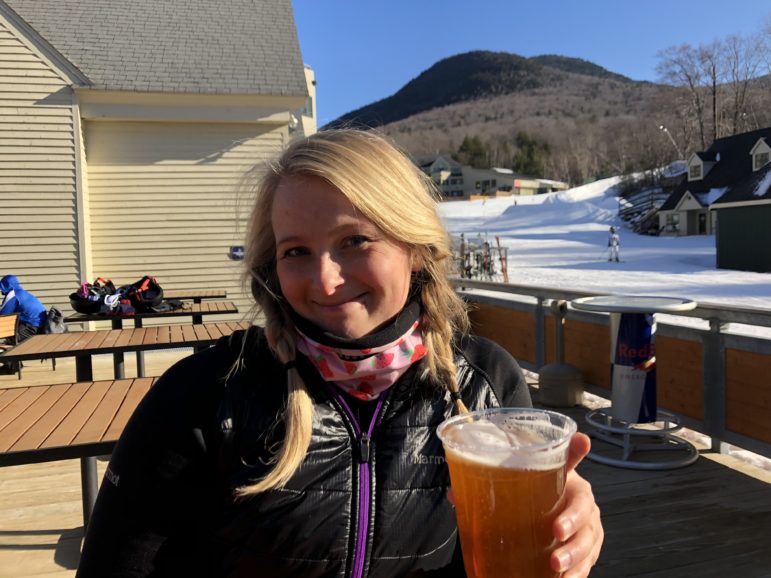 I recommend a run or two with your kids if you are lucky enough to have them share that passion with you.
It will do your heart good.
And finish your day with a beer. Cheers to 2020! See you next time at A Winter Run.
For information on Loon, https://www.loonmtn.com/mountain-stats
InDepthNH.org's Paula Tracy learned to ski at Pats Peak in Henniker in 1972 and has been looking for ways to fit it into her work life ever since. Her first ski column First Tracks was for the Salem (Mass.) Evening News. She then wrote one for the New Hampshire Union Leader and later for WMUR. Paula now writes A Winter Run for InDepthNH.org when she is not busy on her State House reporting.