Sign up for our free newsletter here.?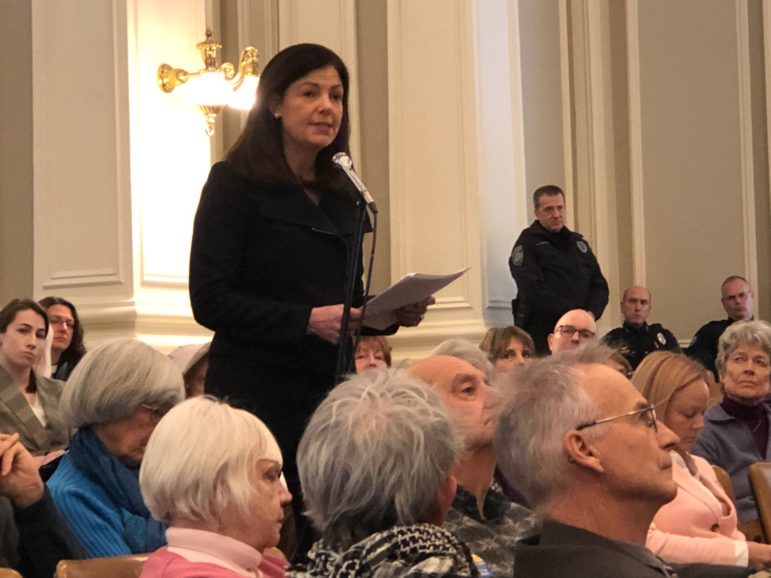 House Bill 455 Death Penalty repeal
By PAULA TRACY, InDepthNH.org
CONCORD – A bill to kill the death penalty in New Hampshire brought out a crowd of close to 200 people who overwhelmingly spoke in support of the measure.
House Bill 455-FN would repeal the state's capital punishment law, which allows for the death penalty for first-degree murder in certain circumstances such as when a police officer is slain.
Sponsor Rep. Renny Cushing, D-Hampton, whose father was murdered in Hampton, said attempts to abolish the death penalty have been brought before the general court for 185 years.
He called it "a failed public policy," and said the time for New Hampshire to repeal is now.
Twenty states, the District of Columbia and Puerto Rico have all eliminated the death penalty. In New England, New Hampshire is the only state to still allow for a death sentence in the case of capital murder.
The bill brought out former attorneys general, members of the clergy, victims of violent crimes, defense attorneys, retired judges and two men who were wrongly held on death row.
Former U.S. Sen. Kelly Ayotte, who was New Hampshire Attorney General from 2004 to 2009, said the state has a very a narrow statute. But it is important to keep it to serve as a deterrent for those who would kill police, Ayotte said.
She prosecuted the case against Michael Addison who was convicted of murdering Manchester Police Officer Michael Briggs while Briggs was on bicycle patrol in 2006.
Addison is now the only person on death row in New Hampshire. He is appealing his conviction.
Ayotte said repealing the law would "send the wrong message" to the Addisons of the world.
"He was already a felon. He was already facing a life sentence," Ayotte said of Addison. Keeping the death penalty might save police lives if the perpetrator knows that could be the ultimate punishment, above life in prison.
"Our law enforcement officers deserve this protection as a deterrent," she said.
The testimony Tuesday included that of Kirk Bloodsworth who was on death row and was exonerated by DNA evidence, and Ray Krone who spent more than 10 years behind bars charged with a murder he did not commit.
Known as the "snaggletooth killer" in Pennsylvania newspapers, Krone told New Hampshire's House Criminal Justice and Safety Committee that a life sentence is a real punishment, not death.
"I would urge you to be careful to decide who is better," Krone said comparing his life to that of a police officer.
"Nobody should play God," he said.
There were 161 people who signed up saying they did not wish to speak and all but five of those individuals signed up to support the bill. All five of the opponents represented police organizations.
Richard O'Leary, retired from the Manchester Police Department, however, said he is against the death penalty and supports the bill.
."I don't believe we have the right under any circumstances other than self-defense to take a life," O'Leary said. "It is simply wrong."
The criminal justice system is not perfect and innocent people can be killed, he said. "It does not solve anything."
Former Attorney General Phil McLaughlin also favored the bill.
When he began serving the state as its top cop in 1997, he and his office handled many horrible murders, including some involving the death of police, McLaughlin said.
He said the death penalty is just wrong and justice should be reasonable, balanced and equitable.
Andrea LeBlanc of Lee, whose husband, Robert, was killed by terrorists as a passenger on a plane flown into the twin towers on Sept. 11, 2001, said she refuses to seek retribution. The state, she said, should do the same by supporting this measure.
Eleanor VanDerHaegen of Keene's St. James Episcopal Church Committee for Social Justice, said the death penalty is immoral and irrational and irrevocable.
"To build a death chamber for one person? It makes no sense," VanDerHaegen said.
Patrick McLaughlin of Raymond was one of many clergy members who opposed the death penalty.
"It is vindictive," he said. And it is often racist because minorities are statistically more often accused of such crimes.
"There is no good argument for it," McLaughlin said. "End this barbaric act."
Dr. Jeffrey Fetter, a former psychiatrist for the New Hampshire Department of Corrections, said having a death penalty cuts off hope for redemption, something that inmates need as they live.
Christine Rockefeller, whose father was murdered, asked legislators to "consider the victims here. Taking somebody else's life is putting blood on our hands," she said. She supported the measure.
The committee plans to hold an executive session on the bill on Wednesday.