By Nancy West, InDepthNH.org
CONCORD – Gov. Chris Sununu made a lot of people happy with promises made in his inaugural speech, but probably none quite as thrilled as those who have been fighting for change at the Secure Psychiatric Unit at the men's prison.
While discussing changes that have been made in the state's troubled mental health system and others to be announced in the coming weeks with the release of the new 10-year Mental Health Plan, Sununu said it is past time for change at the Secure Psychiatric Unit.
"And this year, we will accomplish something frankly it has taken far too long to achieve – We WILL move the State Psychiatric Unit out of the State Prison and treat our patients with the dignity they deserve," Sununu said.
Sununu, Corrections Commissioner Helen Hanks and Health and Human Services Commissioner Jeffrey Meyers, are being sued by Anthony Heath, a patient at the Secure Psychiatric Unit, who has been found incompetent to stand trial on assault charges.
A federal judge magistrate recently ordered pro bono legal representation for Heath to proceed in the lawsuit claiming his civil rights are being violated by being held in prison instead of a psychiatric hospital.
New Hampshire as the only state to house non-criminal mentally ill people in prison is the subject of an article in this month's American Bar Association Journal.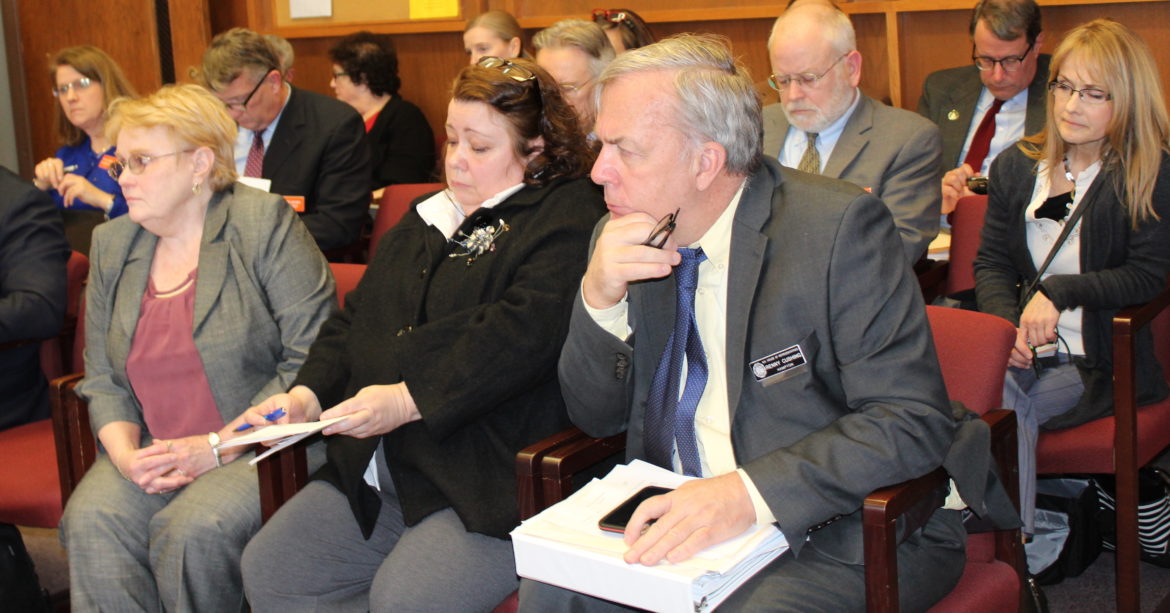 Melissa Sullivan is pictured seated between her mother, Judy Riley, and state Rep. Renny Cushing at a legislative hearing in March in Concord about the Secure Psychiatric Unit at the men's prison.Rep. Renny Cushing, D-Hampton, has seen a great deal of push-back in his attempts over the years to remove mentally ill people who haven't committed a crime from the prison psych unit.
"I thanked the governor after his speech and told him I will work with him and my fellow legislators to make his proposal a reality this year," Cushing said.
"People have been waiting for decades for a governor to step up to end the state's shameful practice of criminalizing people with severe mental illness by sending them behind the walls of the state prison and mixing them with convicted criminals in the prison's psychiatric unit."
Wanda Duryea and Beatrice Coulter, co-founders of Advocates for Ethical Mental Health Treatment, put the word out to the many families they work with on their Facebook page.
"This gives me hope for my friends inside the SPU that tell me daily of all of their troubles," Duryea said.
Coulter added, "This is a remarkable and ambitious pledge by the Governor. For those incarcerated in SPU, this will provide some hope. However, SPU demonstrates other areas we need to work on moving forward including civil rights and improving advocacy and protection processes for vulnerable individuals."
Sununu said in his speech, "These past two years we have made meaningful, sustained progress in addressing our state's mental health crisis. For too long, it was the unspoken crisis of this state.
"When something is clearly not working, you don't just keep pushing harder in the same direction, you don't just keep pouring taxpayer dollars into a broken system— you must have the courage to change direction. And that is what we did."
"But while we have made great strides the past two years to rebuild that system there is more work to do."
Sununu went on to discuss the problem of suicide in New Hampshire.
"Suicide is the second leading cause of death for young people in New Hampshire. And while there is no single answer, there is more we can do," Sununu said.
He spoke about meeting Paul and Martha Dickey of Boscawen and how their son, Jason Dickey, took his own life just over a year ago.
"Today, I am proud to announce my support for legislation that Martha and Paul brought to me — it's called the Jason Flatt Act — named after yet another victim of suicide, who took his own life in 1997," Sununu said.
Under the Jason Flatt Act teachers in New Hampshire will complete two hours of youth suicide awareness and prevention training each year. Through the support of the Jason Foundation, this training can be provided at no cost to the state or local school districts, he said.
"We must understand that suicide is preventable, and it starts with us," Sununu said.
Judge Appoints Free Lawyer For Prison Psych Unit Patient To Sue Sununu, NH Agencies