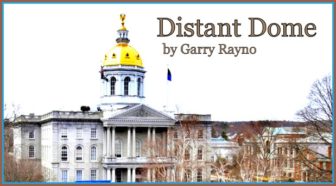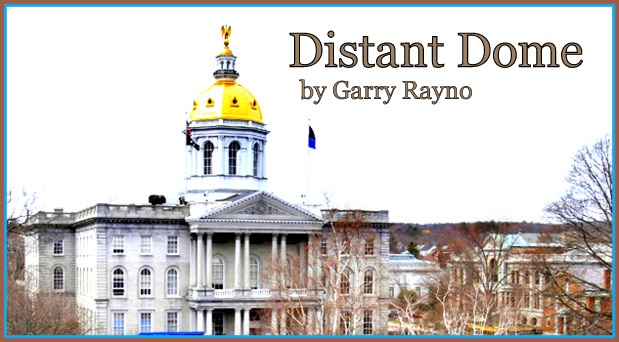 Distant Dome is co-published by InDepthNH.org and Manchester Ink Link
By GARRY RAYNO, Distant Dome
The primary is over and now it is time for the main event.
But before going there, a recap of what happened last week is in order.
The Democratic turnout for the primary is impressive, shattering the old record by more than 30,000 votes.
Secretary of State Bill Gardner predicted a record Democratic turnout but closer to the all-time high of 91,000 with a similar Republican's count of about 180,000 total voters.
Last week Democrats cast 126,462 ballots, which is nearly three times the number of ballots cast in the last midterm election primary in 2014 and double the number in 2010.
Republicans had 100,613 voters, which is well below GOP turnout in the last two midterm primaries.
Democratic enthusiasm has been touted nationally based on special elections and earlier primaries with better than average turnout.
The enthusiasm was evident here as well with the Democratic record  — which is still far short of the GOP high-water mark — and the number of new voters taking Democratic ballots.
However, undeclared voters outnumber either party members in the Granite State and can vote "where the action is" and return to undeclared status before leaving the polls.
The Independents had some effect, but most credit the enthusiasm to President Donald Trump who has energized Democrats more than members of his own party.
Record turnout
There is also another reason Democrats turned out in record numbers. They had hotly contested races for governor and more importantly in the 1st Congressional District, which is an open seat for the first time in more than a decade. Democratic US Rep. Carol Shea Porter and Republican Frank Guinta have traded the seat since Shea Porter first won in 2006.
The open seat drew a crowd of 11 Democrats including winner Chris Pappas and runner up Maura Sullivan who had the backing of national groups like Emily's List and the National Democratic Congressional Committee.
The race drew other familiar names like longtime AFL-CIO president Mark MacKenzie, longtime  Strafford County Attorney Lincoln Soldati, state Rep. Mindi Messmer, a Sanders and a McEachern, and Shea Porter's longtime chief-of-staff Naomi Andrews among others.
Several would have been more viable candidates in a less crowded field, but they did engage voters as did the gubernatorial contest between former Portsmouth Mayor Steve Marchand and former State Sen. Molly Kelly.
The GOP 1st Congressional District race probably received the most attention turning into a steel-cage match between state Sen. Andy Sanborn and former Liquor Commission Enforcement Division Chief Eddie Edwards.
The charges flew back and forth in the race Edwards won by several percentage points.
The GOP 2nd Congressional District race was not as nasty or controversial but was a hotly contested affair with Rep. Steven Negron winning over Veterans Administration whistle blower Stewart Levenson and former Rep. Lynn Blankenbecker and former Hillsborough Country Treasurer Robert Burns.
However those two GOP congressional contests did not inspire voters as contests did four years ago when 121,454 Republicans voted or in 2010 when with 141,172 votes.
In 2014, the GOP had a hotly contested US Senate race featuring Scott Brown, Bob Smith and Jim Rubens, a governor's race between Walt Havenstein and Andrew Hemingway, a 1st CD race between Guinta and Dan Innis, and a 2nd CD race with Marilinda Garcia, Gary Lambert and Jim Lawrence.
That year only 42,359 Democrats voted in the primary with literally no contested seats.
Then Gov. Maggie Hassan, US Sen. Jeanne Shaheen, Shea Porter and US Rep. Ann McLane Kuster all ran unopposed.
In the 2010 Democratic primary there were a few contested races including in the 2nd Congressional District where Kuster and Katrina Swett faced off for the nomination.
Gov. John Lynch had two challengers but they did not mount a serious challenge to the governor who was running for his fourth and final term.
Shea Porter was unopposed as was US Rep. Paul Hodes who sought the US Senate seat left vacant when Judd Gregg retired.
The few contests did bring out 60,898 Democrats for the primary, but Republicans had 141,172 voters for their primary with contested races at the top of the ticket.
In the most expensive US Senate race in New Hampshire history until four years later, former Attorney General Kelly Ayotte won the nomination for US Senate in an extremely close race with former gubernatorial and congressional candidate Ovide Lamontagne, Bill Binnie, Jim Bender and others.
Former Health and Human Services Commissioner John Stephen, Jack Kimball, Karen Testerman and Frank Emiro fought it out for the governor's nomination.
In the 1st CD, Guinta, Richard Ashooh, Sean Mahoney and others competed for the nomination, while in the 2nd CD Charlie Bass, Robert Giuda, Jennifer Horn and others sought the nomination.
That was also the year of the Tea Party which was a GOP wave of the kind the Democrats can dream they have this election cycle.
In New Hampshire only Lynch survived, as the Congressional delegation contest all went Republican as did the NH House and Senate which both had veto proof majorities.
Democrats would like to think their good showing in the primary this year indicates good things to come in eight weeks, but a closer look at the contests also shows the candidates with the best ground games i.e. people on the streets knocking on doors, making phone calls and making sure their candidate's voters go to  the polls were the winners.
Chris Pappas had lots of troops and his showing in his hometown of Manchester is impressive and will be an obstacle for Edwards in November.
Edwards and his hierarchy had the better ground game than Sanborn, who spent most of his money on advertising.
Kelly had the support of almost all of the party hierarchy, Shaheen, Hassan, Lynch and Kuster, while Marchand lacked the folks on the ground to compete with Kelly and her money.
Incumbent GOP Gov. Chris Sununu, who was unopposed in the primary, will lack neither money nor troops going into the general election.
While Sununu is a very popular governor, he received only 91,025 of the 100,513 GOP votes caste Tuesday and 1,658 of those taking Republican ballots went to the trouble to write-in someone else's name mostly Kelly's.
Let the games begin.
New Bills
Incumbent House members running for re-election may file LSRs, or the beginnings of new bills, for the 2019 session last Monday and to date 27 have been filed.
In the words of the old New York Yankee sage Yogi Berra, "It's deja vu all over again."
A number of the bills rehash old issues such as having the state pay a portion of municipal's and school district's share of their retirement system obligations as they did before 2011, as well as "education savings accounts" and allowing taxes raised for education to be used for something other than public schools, both essentially "school choice" bills.
Some new ideas like committing minors to the Sununu Youth Services Center if they have been treated with Narcan to stop an overdose, and allowing cities and towns to ban plastic bags.
Others are more familiar such as increasing the use of renewable energy sources, revisiting voting rights, adding an overseer for right-to-know issues, and charging polluters for the cost of clean and remediation.
Also other bills would require more extensive background checks for firearm sales, additional money from liquor revenues for drug and alcohol treatment and prohibiting agreements to allow the collection of sales taxes for on-line sales.
About a third of the House turns over every two years, so all the old ideas are new again with an opportunity for change. However, the Senate seldom makes many changes in membership so the opportunities may not be as great as some would hope.
Garry Rayno may be reached at garry.rayno@yahoo.com
Distant Dome by veteran journalist Garry Rayno explores a broader perspective on the State House and state happenings. Over his three-decade career, Rayno covered the NH State House for the New Hampshire Union Leader and Foster's Daily Democrat. During his career, his coverage spanned the news spectrum, from local planning, school and select boards, to national issues such as electric industry deregulation and Presidential primaries. Rayno lives with his wife Carolyn in New London.