By Sam Whitaker, The Gay Agenda
Here at Keene State College, KSC Pride has had an annual tradition for at least the four years I've been here, and possibly even before. Every April we hold our Pride Parade which usually involves marching in downtown Keene.
This year, we stayed on campus and focused our energy on directing our pride towards our fellow students, faculty and staff. We marched and all the while we shouted empowering chants that called attention to many of our core beliefs. Among them were "Ace is great" (asexuals), "hey hey, ho ho, homophobia has got to go!"
I think the significance of a Pride Parade mirrors that of the Pride Prom we hold in the fall. When we think about having Pride we often want to highlight that who we are is just as valid as anyone else, and these events grant us the visibility and spotlight to show that.
A parade or march specifically calls attention to us, and when we allow that attention to come we are essentially stating we want to be seen. Our chants are meant to linger in the ears of those who end up observing our march so that later they remember why we were making that noise. If we just walked up and down the campus, it might not be clear what we really are asking for. But with our chants and our bright colors, it is
very clear what we want. Equality, to be clear.
In addition to being an important part of showing our campus our commitment to Pride, it is also a stepping stone in which we pass the torch to the next generation. As I am a senior and graduating this year, I symbolically passed the torch to next year's president. This was done for me as well when the president before me graduated. The parade is such a happy and colorful event that means so much to us about progress and equality, but it all hails the end of an "era." As my time draws to a close, others are given the chance to step up and become leaders in their own right, and without me.
I sincerely hope that the future will hold many more Pride Parades at KSC. Being there is such a positive and empowering thing. We dance and march and chant for a better world and a better community on campus. In the face of adversity, our pride does not waver, does not falter. We are as proud as ever, and I don't mind dancing like nobody's watching, because I do know they are watching.
The ones who need to see our pride openly, they may not realize what they are absorbing, but some small part of it is being imparted to them. Whether it is our bravery or the mere fact that we are there, who knows. But it matters that we don't ever stop.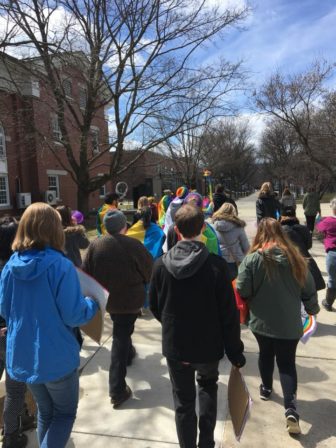 Pride parade on Saturday at Keene State College.
Sam Whitaker is a senior at Keene State College. Sam is double majoring in English Writing and Literature, with Medieval Studies as a minor. He works as a Resident Assistant and is the president of KSC Pride, an LGBTQ+ student organization on campus. When he isn't writing, Sam's probably playing a video game or catching up on some sleep.