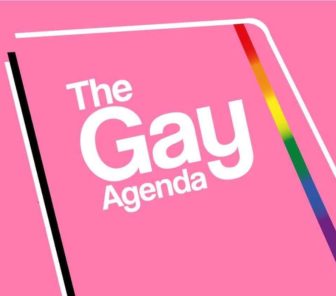 Sign up for InDepthNH.org's free Friday news roundup and Sunday weekender here.
Sam Whitaker is a senior at Keene State College and an intern at InDepthNH.org. The Gay Agenda is co-published by Manchester Ink Link and InDepthNH.org. 
By Sam Whitaker, The Gay Agenda
With Love, Simon having premiered on March 16th, I started revisiting some old thoughts I had about the idea of coming out. The movie serves as a great lens to examine my thoughts since the titular character, Simon, is under this pressure to come out.
However, I think that the pressure originates from a slightly different place than the typical concerns about coming out. Honestly, at this point it shouldn't come as a surprise when I say that coming out is a complex ordeal. Dissecting it, however, is something that I have come to enjoy doing. What better way to help others come out than to explore every corner of the concept?
Let's start with a brief (warning: spoilers) synopsis of Love, Simon and perhaps more thoroughly, it's source text: Simon vs. the Homo Sapiens Agenda. In the story, Simon is a high schooler with a secret. Well, it's probably obvious that he's gay if we're talking about about him in a column called The Gay Agenda.
Anyway, through the power of the internet and teen romance, Simon engages in a chat-only relationship with a secret admirer. Through a series of mishaps and teenage romcom happenstances, he ends up getting the guy and the story has a very happy-sappy ending.
Yet, throughout the book one of the major conflicts is one of an internal variety. Simon is afraid to come out, as most teens are. When faced with such an unknown quantity as the reactions to coming out, there is of course going to be some level of fear and discomfort. The very nature of coming out is not knowing. We all think we know our friends and families so well, but sometimes we can be caught off guard by certain reactions and feelings towards our identities. Some families might seem very progressive and accepting, but have a bad reaction to a child coming out. Which brings me to the question I began mulling over the night. Is it ok if I come out?
A lot of times we hear support for people to come out, and it all sounds so pleasant and affirming. But these messages are often coded in certain ways that might seem compelling for certain people to come out, but maybe not others. On one hand, we might think it's ok for other gay kids to come out in general, but we often deny or forget the other difficult aspect of coming.
There are huge portions of our identities that aren't "about" being gay or otherwise queer. But when we come out, it often dominates our identity henceforth. Does Simon lose the parts of himself that were important for others to know about him when he comes out? How about me? I have loved writing since before I even knew what sex was. I also love video games and food and sleeping in and staying up late… do those wash away when we come out? Am I just gay Sam from then on?
I think it's an important question. Identity is so important to people in their teenage years. Of course coming out and embracing (and being accepted) for our sexuality is so important. But I believe it is entirely a valid fear that one feels that other parts of their identity and personality might be wiped away or ignored when they come out.
I never stopped loving writing. And even though I love writing about being gay, sometimes I love just being a writer, and reading poetry and thinking up stories. And it would be a shame if my sexuality was the only thing other people remembered me by. We're all such interesting mosaics of passion and soul, let's not oversimplify that.
Sam Whitaker is a senior at Keene State College. Sam is double majoring in English Writing and Literature, with Medieval Studies as a minor. He works as a Resident Assistant and is the president of KSC Pride, an LGBTQ+ student organization on campus. When he isn't writing, Sam's probably playing a video game or catching up on some sleep.