The Gay Agenda is co-published by Manchester Ink Link and InDepthNH.org.  Sam Whitaker is a senior at Keene State College.
By Sam Whitaker, The Gay Agenda
I'm a little late wishing everyone a happy new year, but to ring in 2018 I thought I'd talk about some ideas on how to be a good ally going forward.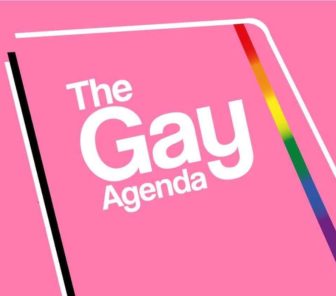 An ally is someone who, though they may not be queer themselves, will do what they can to promote a positive and affirming environment for their queer peers. They are the people who educate themselves, correct themselves, and practice empathy every day. Being an ally is not just having a "Gay Best Friend" (see my previous article about that term) or knowing some queer people. Good allyship involves adapting your political views to promote full equality for LGBTQ people, using correct pronouns and so on. Basically, being an ally is an active and ongoing choice.
We all have the ability to choose to be rude or to exclude people, and sometimes choosing to be open-minded is hard. I know that sometimes when I encounter a situation where I have to adapt to new information or understanding to something I thought was rather two dimensional, I want to push back. But being good to others has never been an easy path, and having to unlearn exclusive or heteronormative behaviors is a process of some difficulty.
In a few generations, it is possible that accepting two men holding hands or kissing, or observing a person with a non-binary gender presentation will be a common occurrence. As it stands now, that's not the case.
If this wasn't a resolution of yours before, then make room for this in your goals for 2018. The first step is educating yourself, and there are many websites as well as videos that are free to access that can teach you. It can be tempting, but refrain from asking your closest queer friend or newest queer friend all of your burning questions. If they are comfortable with questions, ask away, but understand that not everyone has all the answers.
For instance, I know what makes me comfortable and how I want to be treated. But for another individual even with the same orientation as myself or not, they may feel quite contrary. Asking a lot of questions of a queer person is often difficult for many reasons. One faux pas would be to "ambush" them in public or somewhere they might feel exposed. It's best to try and self-educate because queer friends may be willing to help, but they aren't search engines that you can endlessly use for answers.
Resolutions can be difficult, but this is one that with a little effort, everyone can achieve. Bettering oneself doesn't always mean doing more squats or eating fewer calories. Sometimes it is small gestures that can make a world of difference.
Learning to love and accept everyone for who they are is one step you can take. And the acts of kindness you perpetuate now can stretch forward into future generations. One day, maybe there will be no need for a term such as ally.
Maybe in the future, maybe everyone will be treated with love and dignity no matter their identity. Just maybe.
Sam Whitaker is a senior at Keene State College. Sam is double majoring in English Writing and Literature, with Medieval Studies as a minor. He works as a Resident Assistant and is the president of KSC Pride, an LGBTQ+ student organization on campus. When he isn't writing, Sam's probably playing a video game or catching up on some sleep.