Garry Rayno's Distant Dome runs exclusively on Manchester Ink Link and InDepthNH.org
By GARRY RAYNO, Distant Dome
The 2018 elections are a year away, but you would never know that from all the political activity in the Granite State in the last few days.
Tuesday's election saw major gains for Democrats sweeping the top three elected positions in Virginia — including governor — and winning the governorship in New Jersey.
In New Hampshire, Democrats also scored significant victories, most notably Joyce Craig's defeat of four-term Manchester Mayor Ted Gatsas, making her the first female mayor in the city's history.
Democrats also swept the aldermen's races in Nashua, flipped the House Hillsborough District 15 seat representing Ward 8 in Manchester, and retained the Sullivan County District 1 seat, which includes the towns of Cornish, Grantham, Plainfield and Springfield.
emocrats have won all but two House special elections this year.
Tuesday's election was a litmus test of President Trump's popularity and Democrats unity in light of the still smoldering Bernie Sanders and Hillary Clinton factions.
The election could have been a disaster for Democrats given the shellacking the party took a year ago, but the Trump factor appeared to rachet up enthusiasm and reinvigorated their get-out-the-vote machine that sputtered so badly during the 2016 effort.
Other factors are also contributing to the early political jockeying.
In New Hampshire's 1st District Congressional seat, the activity has been simmering for awhile after incumbent Democrat Carol Shea-Porter announced she would not seek reelection.
State Sen. Andy Sanborn and former Liquor Commission Enforcement Division chief Eddie Edwards have been campaigning for the Republican nomination for months, and Shea-Porter's announcement has brought a flood of Democratic candidates to replace her.
Two Democrats with built-in bases are District 4 Executive Councilor Chris Pappas and former AFL-CIO president Mark MacKenzie. Both are Manchester residents.
Others who have already said they intend to run for the Democratic nod are former Stafford County Attorney Lincoln Soldati, Rochester City Attorney Terence O'Rourke and former Marine and and Veterans Administration official Maura Sullivan.
The 1st district has some significant Democratic strongholds like Portsmouth and Durham, and cities with old-school Democrats tied to labor and blue-collar workers in Manchester, Rochester and Somersworth with Dover falling somewhere in between.
But the district leans Republican and strongly so in Carroll, Belknap and Rockingham counties. The Salem area is a Republican stronghold as are Derry and Londonderry.
The district was decidedly Republican for many years until Shea-Porter and her 2006 grassroots campaign overturned the status quo with the help of growing dissatisfaction with then Pres. George W. Bush and the Iraqi war.
The upcoming election looks a little like 2006.
The the 2nd District leans Democratic with strongholds in Nashua, Concord, and the Keene and Upper Valley areas.
Republican still hold sway in the southern tier between Nashua and Keene as well as west of Manchester.
Democratic incumbent Annie McLane Kuster intends to seek re-election and has amassed a $2 million war chest, but that has not stopped several Republicans who want a chance to unseat her.
First-term NH Rep. Steven Negron of Nashua has thrown his hat into the ring. He represents Ward 8 in Nashua and touts his experience as a small businessman and as well as in the military.
Also announced is Manchester Veterans Administration Center whistleblower Stewart Levenson of Hopkinton. The whistleblowers went to the Boston Globe to document inadequate health care for veterans at the center causing Veterans Administration officials to scramble to address the problems.
The field became smaller last week when former House Majority Leader Jack Flanagan, R-Brookline, dropped his campaign saying he wants to concentrate of family matters.
"While it is time for me to refocus my attention on my personal and private sector interests, I intend to still be involved in my local community and the greater community of our entire state. I will remain active in advocating for the issues I find important to the growth of New Hampshire and the security of America," Flanagan said in a press release announcing his withdrawal from the race.
Flanagan finished second in the 2016 Republican primary to eventual winner Jim Lawrence of Hudson, who is contemplating another primary run.
Given the current climate, Kuster should have an easier election in 2018 than she did in 2016, but a year is a lifetime in politics and many things can happen between now and the general election.
This is New Hampshire's bye year for a US Senate contest.
The governor's race has been somewhat slow to develop compared to the Congressional races, but the Democrats' good fortunes Tuesday may change that.
Incumbent GOP Gov. Chris Sununu is unlikely to have a significant challenge from within his own party. He is only the second Republican to win the corner office since 1996 when Jeanne Shaheen became the first Democratic Governor since 1982. Former Cabletron executive Craig Benson served one term from 2003 to 2004 before Democrat John Lynch beat him and served eight years and turned the mantle over to Maggie Hassan for four more years.
The Republican hierarchy is going to do everything it can to hold the corner office for Sununu and that means discouraging any serious challenger.
However two 2016 Democratic candidates are on the horizon for 2018.
Steve Marchand of Portsmouth has been traveling the state doing the kind of grass roots work that was nearly impossible two years ago when he was late to enter the fray.
The Democrats' 2016 gubernatorial nominee Colin Van Ostern of Concord recently filed a political action committee with the Secretary of State's Office for the 2018 election and has been raising his profile on social media and at appearances in recent weeks.
Democratic District 2 Executive Councilor Andru Volinsky of Concord toyed with a gubernatorial run but announced several months ago he would seek reelection to the Executive Council.
When Volinsky dropped out, Sununu looked like a sure thing for reelection — New Hampshire generally gives governors two terms before ousting them — but the political landscape has a different look today.
Sununu has generally agreed with Trump on key issues, but occasionally gone his own way like Medicaid expansion.
After Tuesday's election Sununu may want to find other opportunities to oppose the President's agenda.
The House and Senate have been in Republican control for the last two terms and will be very difficult to flip to Democratic control in 2018 because they were both so well gerrymandered in the last redrawing of the political boundaries in 2012 when Republicans had veto proof majorities in both bodies.
The House flipped after the 2012 election due to President Obama's 6 point win over Mitt Romney and former House Speaker Bill O'Brien's controversial two-year term.
The past few years have not created the turmoil of those days with the Mont Vernon Republican at the helm, but certainly has provided lots of inter-party squabbles.
And that will be the issue going into the next election. Which party will better put aside its differences and unite behind its candidates.
The divisions are deep in both parties as the fringe elements are much more prevalent than in recent memory.
Trump's victory gave rise and empowered the far right wing of the GOP just as Sanders' success empowered the progressive left wing for Democrats.
Tuesday's election showed Democrats were willing to put aside their differences to unite against the common enemy in President Trump.
Republicans don't have a President Obama to target and that makes their task a little harder although they control Washington and a majority of state legislatures.
They may be able to retain control largely due to gerrymandering, but the expected Democratic wave in 2018 may look like a Tsunami if the president continues to turn a growing majority of the electorate against him through his actions and policies.
Hang on. it is going to be a great ride for the next three years.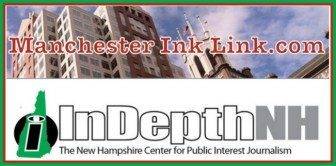 Garry Rayno's Distant Dome runs exclusively on Manchester Ink Link and InDepthNH.org, where Rayno will explore a broader perspective on State House – and state – happenings. Over his three-decade career Rayno has closely covered the NH State House for the New Hampshire Union Leader and Foster's Daily Democrat, and his coverage spanned the news spectrum, from local planning, school and select boards, to national issues such as electric industry deregulation and Presidential primaries. He is former editor of The Hillsboro Messenger and Assistant Editor of The Argus-Champion. Rayno graduated from the University of New Hampshire with a BA in English Literature and lives with his wife Carolyn in New London.
Garry Rayno can be reached at garry.rayno@yahoo.com