On Friday, the state released its annual Adverse Events Report, with the number of "never events" that occurred by hospital or ambulatory surgery center in 2015. They are considered serious, avoidable events that cause harm to patients. (Click here for the new 2015 report)
By Nancy West
InDepthNH.org
Sixty-four people suffered serious, avoidable harm as a result of the treatment they received in New Hampshire hospitals that was unrelated to the reason they were admitted in 2015, according to the annual Adverse Event Report that was released Friday by the state Department of Health and Human Services.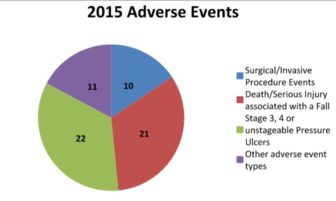 State law requires New Hampshire to track 29 rare errors that are often called "never events" because they are never supposed to happen in hospitals.
They include burns, falls, surgery on the wrong patient or body part, items left inside a patient after surgery, assaults and pressure ulcers among others. The Centers for Medicare and Medicaid Services defines never events: "According to the National Quality Forum (NQF), 'never events' are errors in medical care that are clearly identifiable, preventable, and serious in their consequences for patients, and that indicate a real problem in the safety and credibility of a health-care facility."
Adverse events in New Hampshire hospitals decreased 12 percent in 2015 from the previous year, but are still higher than they were from 2010 to 2013.
Dartmouth-Hitchcock Medical Center in Lebanon has reported the most adverse events for each of the six years that the state has required such reporting. In 2015, Dartmouth-Hitchcock reported 16 overall events, which accounted for 25 percent of all 64 adverse events in the state, up from 14 in 2014.
Dartmouth-Hitchcock also had the most surgical events in 2015 with two surgeries on the wrong body part and two incidents in which objects were left inside a patient after surgeries, according to the report. The other 2015 events at Dartmouth-Hitchcock included eight pressure sores, three falls and one burn.
In 2014, Dartmouth-Hitchcock had 14 overall events with one surgery on the wrong body part, one surgery on the wrong patient, two foreign objects left inside a patient after surgery, five pressure ulcers, four falls, and one that was lab-related.
Dr. George T. Blike, Chief Quality and Value Officer at Dartmouth-Hitchcock, said in an email that the report lacks critical information about the severity of events, from minor and temporary to serious and permanent.
"For example, of the 16 Dartmouth-Hitchcock events reported, all but one were minor and temporary. Of course, saying that these cases were minor and temporary certainly doesn't diminish the events. Even a minor temporary event has impacts on our patients and their families, and our goal remains zero events," Blike said.
"When looking at the total number of events at Dartmouth-Hitchcock or any other hospital, it is important to take into account how many patients the hospital sees and how sick those patients are. Dartmouth-Hitchcock sees the most and the sickest patients in the state," Blike said.
The 2014 Adverse Event Report report says that in 2014, there were 74 adverse events in New Hampshire, but the 2015 report says there were 73 that year. The difference wasn't explained. The number of events declined about 12 percent from 2014.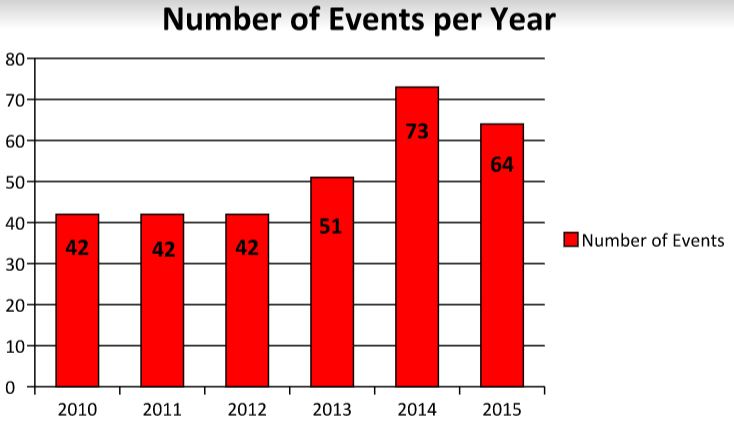 Most of the 2015 New Hampshire numbers in the various categories remained the same or were slightly lower, with some exceptions. (see list below)
Newborn adverse events
One area of increase was in the category of death or serious injury to a newborn during low risk pregnancies, labor or delivery, but it doesn't specify if the newborn died. Four newborn events were reported in 2015 and only two events total in the previous two years.The report said two newborn events were reported by Alice Peck Day Memorial Hospital, one reported by Cheshire Medical Center, and one by Wentworth-Douglass Hospital in 2015.
Hospitals and ambulatory surgical centers must notify the Health Facilities Administration-Certification at the New Hampshire Department of Health and Human Services within 15 days after the discovery of an event.
After an event is reported in New Hampshire, within 60 days the facility must submit a root cause analysis and a plan to correct the action.
Deadly and Costly
A 2013 study estimated the number of premature deaths associated with preventable harm at more than 400,000 a year.
The 2013 study by John T. James, Ph.D.,  said: "The epidemic of patient harm in hospitals must be taken more seriously if it is to be curtailed."
James went on to say, "Fully engaging patients and their advocates during hospital care, systematically seeking the patients' voice in identifying harms, transparent accountability for harm, and intentional correction of root causes of harm will be necessary to accomplish this goal."
The 2015 Adverse Event Report that was released on Friday said after completing a root cause analysis, the hospital may find that harm occurred even when it was using best practices.
"Upon completion of a detailed root cause analysis, (hospitals) may occasionally find that, despite adoption of evidence based protocols and strict adherence to established standards of care, an optimal outcome is not achieved and harm still occurs.
"Individuals may have clinical conditions that can create a complex set of processes that lead to an event, despite providing the best prevention and/or treatment known," the report said.  "The goal of patient care is to do all that is possible and learn from all events, whether or not a reported event was considered unavoidable."
National expert
Dr. Roger Resar, an assistant professor at the Mayo Clinic who also works with the Institute of Healthcare Improvement (IHI), has pioneered ways to reduce or eliminate such errors. Resar spoke in March to InDepthNH.org, but could not be reached for comment on Saturday.
"When it comes to (hospital) patient safety, we are not much better off than we were 10 or 15 years ago," Resar said. He was critical of the kinds of typical root cause analysis used in New Hampshire and many other states.
"Root cause analyses are a waste of time," said Resar.
Resar, who still works occasionally as a consultant to hospitals, is a proponent of IHI's Global Trigger Tool, which is "an easy-to-use method for accurately identifying adverse events (harm) and measuring the rate of adverse events over time."
With falls for instance, many hospitals use red booties or wristbands to indicate a patient who is at risk of falling. "There are certain patients who are at a higher risk for falls if they have sedatives. We need to understand who they are and change our prescribing practices," Resar said. Common problems that lead to falls include sedating elderly patients who are fall risks and failure to have a workable toileting plan, he said.
Dartmouth-Hitchcock perspective
Dartmouth-Hitchcock's Dr. Blike said the hospital works to eliminate adverse events by learning from past ones and improving procedures.
"The safest hospitals reduce the harm that patients suffer from any given event by learning from those events to improve processes and procedures and patient safety," Blike said.
"I am very proud of our safety systems at Dartmouth and the job we have done at reducing the harm our patients suffer from these events," Blike said.
The state's 2015 report summarizes New Hampshire goals. "The continued goal for the NH hospitals and ASCs is to utilize their root cause analyses and to make corrective action plans that can enhance patient safety.
"The Hospitals and the ASCs remain committed to educate their personnel and professional staff about patient safety to promote the best outcomes for their patients," the state report concludes.
2015 Adverse Events per Organization and Event
Below find InDepthNH.org's series that was published in March about adverse events in New Hampshire and around the country, including suggestions from experts on how to reduce the numbers and how patients can protect themselves.