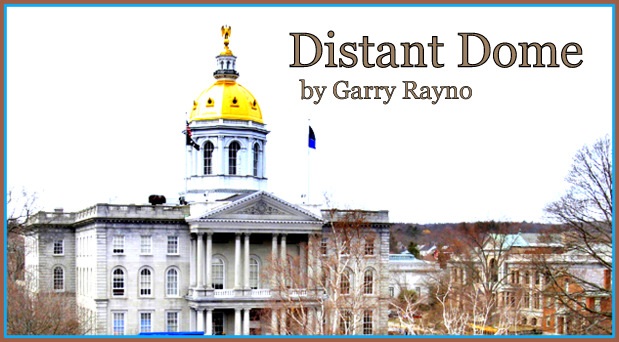 By GARRY RAYNO, InDepthNH.org
Republican House and Senate budget writers agreed to a budget last week that would be substantially higher than the current biennium budget and includes more controversial sections than usual.
However, is there enough in it to convince the ultraconservative members of the House, Free Staters and Libertarians which number between 80 and 90, to vote for the budget.
House leadership will need their votes if the two-year budget is to pass June 24 because there is not likely to be any Democratic votes for the two-bill package.
The key sticking point for the conservative House Freedom Caucus is limiting a governor's authority during a state of emergency and more specifically the power to renew the declaration.
Members of the Freedom Caucus have been adamant that any renewal of an emergency order, or to continue an executive order related to the emergency, would need an affirmative legislative vote to go forward.
That was not in what the House and Senate adopted Thursday for House Bill 2.
Consequently, House Speaker Sherman Packard proposed an amendment Friday that would have required the governor to call the House and Senate into special session 90 days after an emergency order is issued and explain why it was declared and why it should continue.
After that a majority of the House and the Senate would vote to affirm the order or to end it.
But that was not acceptable to the Senate, which had negotiated with Gov. Chris Sununu on a more limited reining in of executive power during an emergency.
On Thursday, Senate President Chuck Morse told House members of the conference committee he would not support anything unless it was also supported by the governor.
So Senate Majority Leader Jeb Bradley proposed an amendment that would have much the same provisions as Packard's amendment but change the voting procedure.
He maintained the House amendment would allow only one body to override the governor's action, when the constitution calls for both to agree to override the governor, much like a vetoed bill.
Under his amendment, both the Senate and House would have to agree by majority vote to end the state of emergency, which is an awful lot like what is in place now by concurrent resolution.
The vote by both the House and Senate would have to be affirmative to end the state of emergency, Bradley said.
The House initially rejected his amendment but later reconsidered and approved its inclusion in the budget.
Granted this change is splitting constitutional hairs, but will it be enough to win over the Freedom Caucus?
Sununu has already given his blessing to the provision and the budget as a whole, saying, "There's a lot of good stuff in there," at his press conference Thursday. That might not be to his advantage if you are a member of the Freedom Caucus who has screamed loud and long about gubernatorial overreach since the state of emergency began 15 months ago.
The changes in gubernatorial authority the Senate and House originally approved do address the unbridled spending and acceptance of federal money that was at the heart of a lot of discontent with the governor from a legislative viewpoint, believing they have the power of the purse, not the governor.
But the Democratic leadership last year sued and lost and there were no legislative checks and balances on the federal money the state accepted or spent.
There would be under the final version the House and Senate budget writers agreed to Friday.
All spending or grants over $100,000 have to have Joint Legislative Fiscal Committee approval. The committee has five days to take action or the governor may move forward, and if he or she does the governor must make a detailed report to the Executive Council on what he or she did.
While the Freedom Caucus focuses on gubernatorial authority, the proposed $13.5 billion budget contains many actions fiscal and social conservatives have touted for years, but never were approved.
They include an abortion ban after the 24th week of a pregnancy with few exceptions and would expose physicians who perform abortions after that time to criminal penalties and require a woman having any related procedure during pregnancy to have an ultrasound.
While Sununu says he is pro-choice but opposes late term abortions, and touts similar laws in Massachusetts and New York, those laws have a wide range of exemptions and do not criminalize doctors.
The budget also contains an anti-Planned Parenthood provision that would require any health care provider who also offers abortion services to physically and financially separate the two if the organization is found to co-mingle state funds so as to support abortion services, something prohibited by state law.
The provision would require the provider to suspend all programs in the state until the separation occurs.
He told his final regularly scheduled COVID-19 press conference he would not veto the budget over the provisions and he did not put them in the package.
Sununu may say that but pro-choice advocates and Democrats may see it differently, and essentially say "if you sign it, you own it." It would be political malpractice if they didn't.
Similarly the Senate — Bradley — tried to massage the highly controversial "divisive concepts" provision the House included in its budget package.
Sununu originally said he opposed the provision, but then said he could support what the Senate approved which essentially prohibits teaching students or public employees that one ethnic group is inherently superior to another or that one inherently discriminates against another.
The House bill prohibited the teaching of divisive concepts at schools or in training sessions to public workers and even private employees if their company contracts with the state.
The Senate provision still is opposed by many groups and businesses and continues to be called an infringement of First Amendment rights to free speech.
The budget also includes what many call the most expansive public education voucher program in the country allowing public state adequacy aid to pay for private and religious school tuition, homeschooling, and other alternative education programs.
Opponents say it will damage traditional public schools and allow discrimination on many levels.
But proponents say it will give low-income parents more options to find the right educational setting for their child.
What no one knows is how many students will participate and how much it will cost the education trust fund that provides state aid to school districts and charter schools.
And another longtime GOP priority the budget contains is tax cuts.
The rates for business, and rooms and meals taxes, are reduced as is the rate of the interest and dividends tax in the second year of the biennium when that levy begins phasing it out.
Those reductions lower revenues an estimated $65.5 million over the biennium.
There are many things for GOP conservatives to love in this budget package, which translates into many things for Democrats to dislike.
There are some parts of the budget package both sides can agree with including closing the Sununu Youth Services Center in Manchester, and increasing revenue sharing for cities and towns although the rate is lowered from 4 to 3 percent of the rooms and meals revenues, and a dedicated fund is established to hold the money.
There is money for clean water grants, $50 million in general fund money to shore up the Highway Fund, $25 million for affordable housing and money for additional child protection workers.
But that is not going to be enough to offset the other provisions that Democrats dislike.
This is truly a Republican budget as only Republicans signed the conference reports that will be voted on in the House and Senate Thursday.
And the irony is, it is a budget propped up by significant amounts of federal COVID-19 relief money approved by only Democrats in Congress — no Republicans voted for it — and signed by a Democratic president.
Politics indeed does make strange bedfellows.
Garry Rayno may be reached at garry.rayno@yahoo.com.
Distant Dome by veteran journalist Garry Rayno explores a broader perspective on the State House and state happenings for InDepthNH.org. Over his three-decade career, Rayno covered the NH State House for the New Hampshire Union Leader and Foster's Daily Democrat. During his career, his coverage spanned the news spectrum, from local planning, school and select boards, to national issues such as electric industry deregulation and Presidential primaries. Rayno lives with his wife Carolyn in New London.