By NANCY WEST, InDepthNH.org
CONCORD – The state Department of Corrections is testing more state prison inmates since the numbers have been dramatically increasing over the last three weeks and now stand at 193 inmates and 25 staffers testing positive for COVID-19.
Most of the state positive tests have been at the New Hampshire State Prison for Men in Concord where 143 have tested positive, with 47 at the Northern New Hampshire Correctional Facility in Berlin, according to the Department of Corrections' website. It states 2 are at the men's prison's psychiatric unit and one at transitional housing.
There have been no positive tests at the New Hampshire Correctional Facility for Women in Concord.
"More residents are being tested which means we are seeing more positive results," said spokesman Tina Thurber in an email. "This helps to remove the asymptomatic positive results from the rest of the population. Our departmental staff are fully engaged in monitoring the health of the residents under our care and triaging their needs."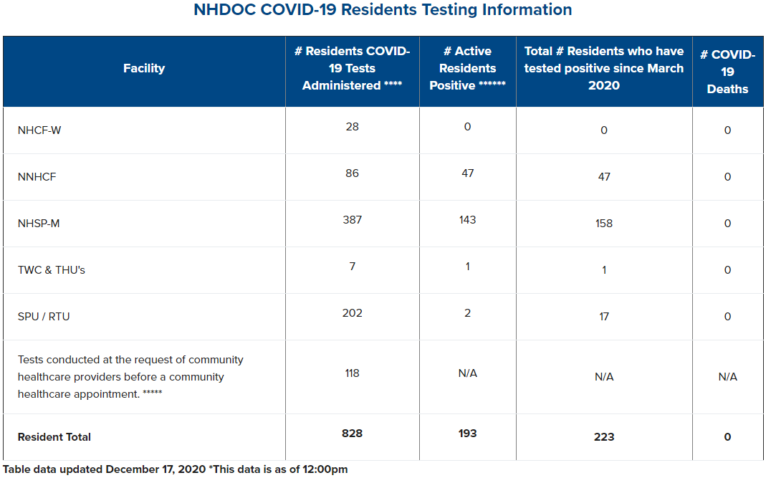 She said the department is doing everything in its power to mitigate and further reduce the spread of COVID-19.

"As community exposures increase, we continue to see an increase in our population as well. As this has been a very fluid response, our guidelines have been very fluid and update as needed. We are following CDC guidelines and working closely with NH Public Health," Thurber said.
The department has also called in help from the National Guard.
The state's news release Thursday said the Merrimack County Jail had 26 inmates and 4 staffers test positive and in the Strafford County Jail, 28 inmates and 21 staffers tested positive for COVID-19.
The Federal Correctional Institution in Berlin reported 1 active COVID-19 case among inmates and three staffers on Thursday.