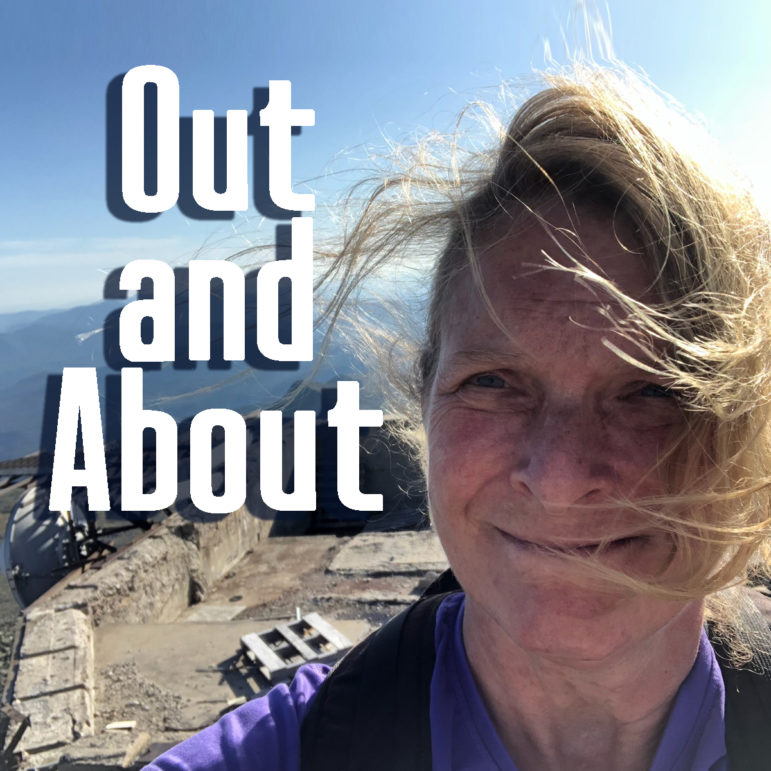 By PAULA TRACY, InDepthNH.org
There is a mystery in my neighborhood.
It is a dark one in New Hampton.
On nights when the owls are hooting, when it's wet and foggy and the small cemetery doors creek back and forth, the spirits are passing on their way out each Hallows' Eve and appear to have set 24 Jack-O-Lanterns on their stone wall.

Then, they disappear.
No one seems to put them out.

No one lights them.

Never, when I have driven past on one of these late fall nights have I seen anyone blowing out their candles.
It's as if the wind snuffs them out.

There are houses in the neighborhood near the cemetery, but no clues as to who may be the mystery lantern carver or carvers. It could be the whole neighborhood is in on it.

Or, were spirits from the past the carvers all along.
And then, each year on some gray November morn, the lanterns are gone.
Like magic.
This year, the display is a really good one, borne perhaps of boredom.

This one is a good one to describe the year.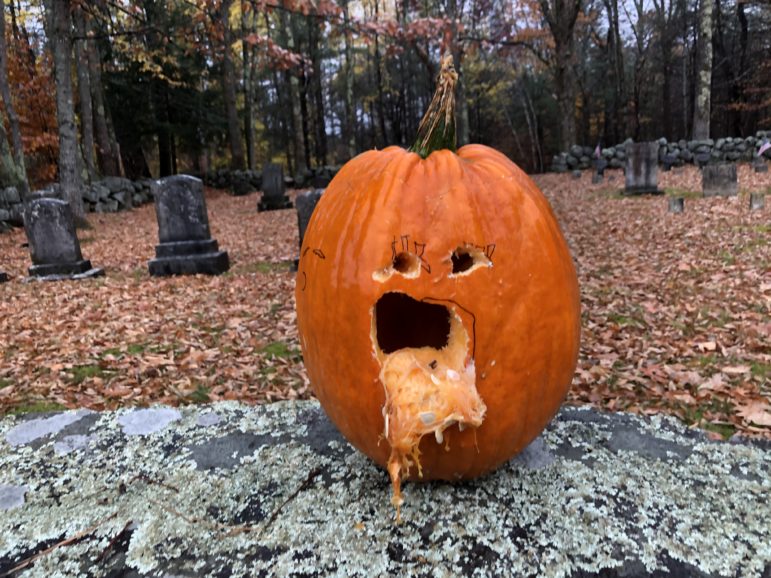 There is even a lantern showing off his COVID-19 mask.
And another being bothered by a wicked nasty looking spider on its head.
I like the happy, simple one, done by little spirits, I would assume.
The idea for such a display, to buy a bunch of pumpkins, carve them up and set them out in a public spot, or even your own yard, is a particularly fun idea that might be a good activity this week as we lament what Halloween used to be before a pandemic snatched the candy out of our hands.
I recall those spooky nights for what they used to be growing up in Concord.
I recall those dark cold nights as a child, and how scary it was just to be outside in the dark in our costume with a flashlight. (Think "Scout" in the woods in a ham costume in To Kill a Mockingbird).
It was always cold, sometimes snowy.
We traveled through paths in the woods telling spooky stories. Every noise caused a fright.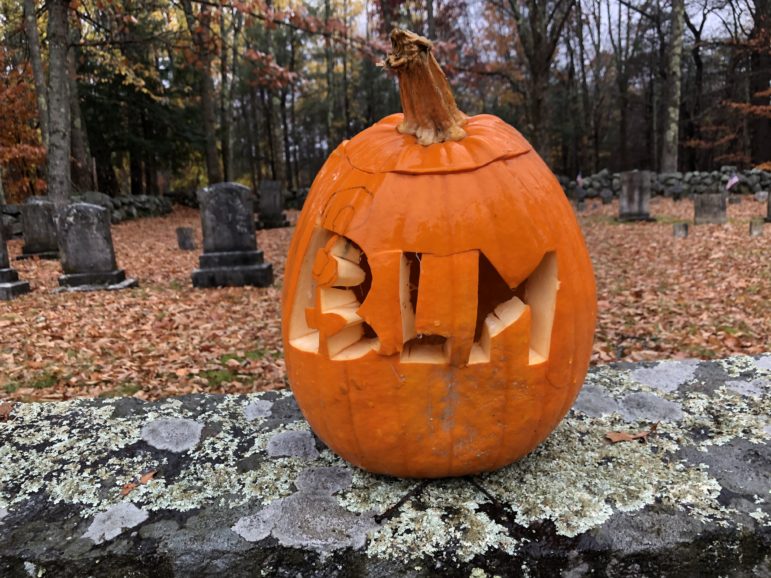 For me, Halloween was more about the walk in the dark and not so much the candy or interaction with the neighbors who wanted to see our lame costume and sometimes take a photo before giving us a bag full of sweets. We then hurriedly gobbled the candy when we got home.
This was in the 1970s before there were scary stories about really scary people who might want to harm us.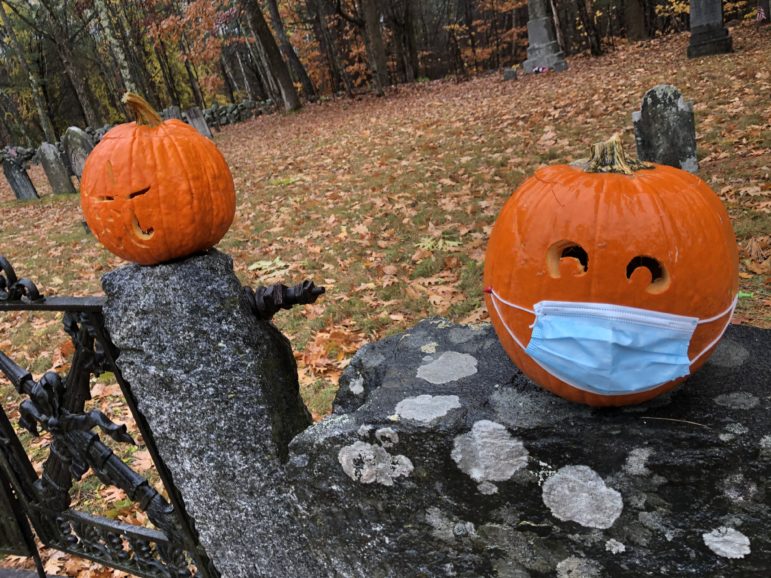 But there has always been something wonderous about being outside on that dark night that I still find intriguing and something about the lanterns in the hood make me want to solve this mystery. I may just need to go out there myself and hide in the woods until I see who or what is responsible for the awesome display.
So don't just give up on the day of spooky celebration because this is COVID Halloween. Be creative and get outdoors at night to just feel that scary rush, without knocking on any doors.
Try doing what my neighbors – either dead or alive – are out there doing down the road from my house, at the old graveyard.
Paula Tracy's first big hike was in 1975 with classmates from Concord up Mount Lafayette with teacher and outdoor enthusiast Ned Bergman. She was 13 and was immediately captured by the wonders of New Hampshire's great outdoors. It would lead to a lifetime love of exploring the woods, water, and wildlife in the Granite State. As a staff reporter, for 25 years at the NH Union Leader and then for WMUR.com, she has written about the subject extensively and continues here with the hope of connecting New Hampshire's residents with their own backyard.