WRITING ON THE FLY
By GEORGE LISET
What's better than slowly floating on a pond or a lake on a sultry, sunny summer afternoon? How about floating on a tube on a quiet pond or lake with a fly rod in your hand? I'm sure you are asking yourself, "Why didn't I think of that?" Well, because it is my job to remind you.
Float tubing with a fly rod is not a novel idea. The idea has been around awhile. The idea of the float tube probably came about from a little American ingenuity. Some industrious fly fisher wanted to get to the bigger fish out in the middle of the pond and didn't have a boat or canoe but did have the old tire tube the family used to navigate the waters. So, with a little imagination and some rope, and no doubt duck tape, because any good invention uses it, fashioned a seat and headed out on the maiden voyage.
Float tubes have come a long way from the early days. Float tubes now are like sitting in your easy chair, complete with drink holders and serving tray. Sounds great, right? It gets better, you do it with a fly rod. I know, genius!
My first experience in a float tube was when I accompanied my friend Charlie to Jackman, Maine, for a few days. Charlie was a big float tube guy and had just bought a super deluxe float tube. I got a great deal on his old one which was pristine and off we went.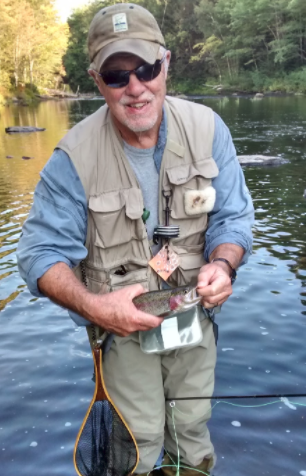 Charlie had been telling me tales of all the small ponds that he had found in the Jackman area that "only" the Maine guides knew about. Charlie made it sound like all you had to do was go down a few logging roads and pull up to the pond and hop in. Not so much.
When we arrived in Jackman, we unloaded and headed to the first pond. We drove about ten minutes on a paved road before we hit the logging road. After driving slowly for another twenty-five minutes on the logging road, Charlie slows down and pulls into an overgrown road and stops, then declares "We are here!" I look around and all I see is woods, and I reply "Where?' He again replies "Here."
Apparently lost in the translation of just pulling up to the pond was the fact that the logging companies couldn't log within a certain distance of the water's edge, which meant we had to bushwhack into the pond with the float tubes on our backs. OK I am thinking, then I ask, "Where's the trail?" "No trail," Charlie responds, "Because the guides don't want anyone to find this pond."
So off we headed into find the pond on what looked like a game trail. Now I am 6'3" and with a float tube on my back as wide as a house, trying to traverse a thickly wooded area. Charlie, who was about 72 years old and about 5'6" is off like a shot and I'm getting hung up on any and every branch possible.
It was like running the gauntlet. Twenty minutes later we made it. On the shore were about six or seven canoes chained to the trees that the guides used when they brought their "Sports" into fish.
Charlie gave me some quick instructions on float tube use and pointed out a few good spots to fish and then he was on the water in a heartbeat. I gently got into my tube and floundered around for a while trying to figure out how to steer the thing. By this time Charlie was already into his second trout.
The fishing picked up as it got toward dusk. I was able to land a number of beautiful Maine rainbows. Once I relaxed and got into a few fish, I realized how lucky I was to have this experience. Over the next few days we hit about five other ponds that required the same routine. I was hooked, needless to say on float tubing.
My son Reed just sent me some pictures of him in a float tube on a Lakes Region pond. He had gone out with a friend that had an extra tube. I mentioned to Reed he could use mine anytime he wanted, Reed replied, "That's OK dad, I'm going to get my own so we can go together."
Perfect I thought. Just no bushwhacking.
George Liset of Dover is an outdoor writer and avid fly fisherman who shares insights of his time on the water exploring New Hampshire streams and rivers as well of those around New England. George is a graduate of Wheaton College, Illinois, and the University of New Hampshire.