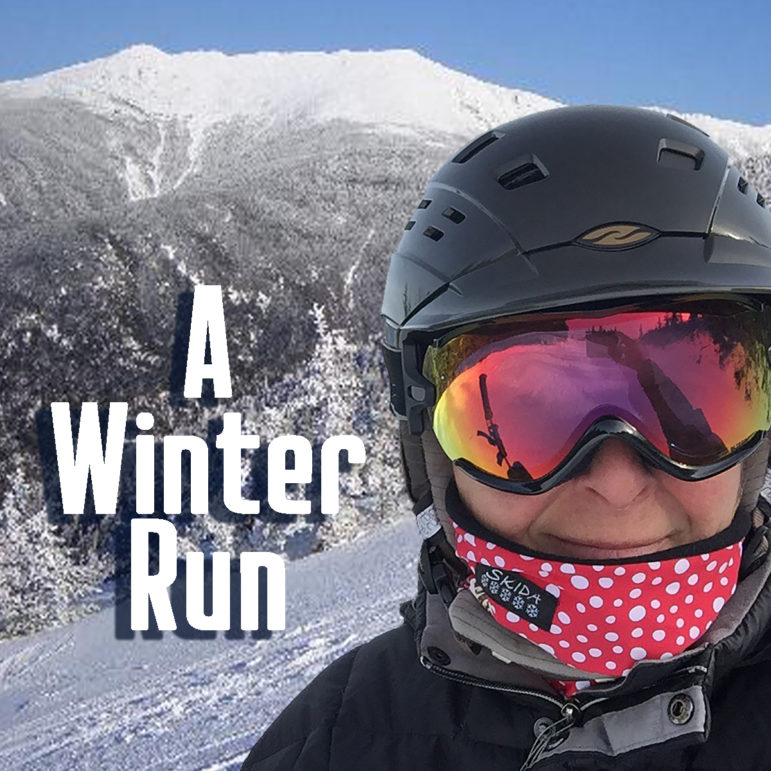 By PAULA TRACY, InDepthNH.org
DANBURY – Looking for a friendly ski area to spend some family time this February?

Think of Ragged Mountain in Danbury with its low-key atmosphere, fast lifts and lots of room out on the trails, which are, right now in great shape.

With a vertical of 1,250 feet, Ragged is not the biggest ski area in the state but it is by no means the smallest.
It has 57 runs and over 250 acres of skiable terrain, with a lot of it on the easy side. There are enough bumps, glades, steeps, and natural snow trails to challenge the kids, too.
Combined with its impressive lift system, it spreads the crowds out nicely on a day when most of the trails are open. I was there Sunday. It was packed.
Although the size of the lift line was frightening (Think congested TSA checkpoints at Laguardia or Logan when you are late to your flight) the lifts gobbled up the crowd quickly and made it a five-minute wait in most cases for a five-minute ride to the summit.
We paid about $50 a person for adults because they offer a 4-hour lift ticket. (Ask for it as it is not advertised.) On Sundays during non-holiday periods, there is also a deal offered for New Hampshire residents in the afternoons.
The lodge is looking a little weathered but not too bad and there was room for us upstairs to put on our boots and leave our boxed lunch for later.
Outside, all but about two of the 57 runs were open and the lift system was fully operational with a six-pack chair and one high-speed quad to Spear Mountain being the critical lifts to use.
For beginners, there are two surface lifts and a double chair.
The mountain has snowmaking on 85 percent of the terrain and we were able to ski a few of the natural snow trails which were in pretty good shape, though some rocks, and grass were visible among the moguls.
For those who like the jumps and the terrain parks, the ski area has a nice selection, as it also has some easy glades.
I was with folks who were interested in the groomers so I did not get into the glades. We found such fun on trails like Showboat and Upper Exhibition.
The ski area opened when I was a kid in 1965.
Back then there was a T-bar and about a half dozen top to bottom runs and no snowmaking or much grooming at all. It was a lot of rocks, ice, and grass mixed with some snow.
The lack of grooming and man-made snow, combined with some lousy snow years forced it into bankruptcy by 1974.
That year, the state bought the area and immediately sold it to a group of people involved in the ski industry. That was another disaster and it closed in 1984.
Some unlikely folks from Massachusetts in the construction business, actually are the reason the place is still on the map, I think.
Al and Walter Endriunas bought the area, cleared trails with their big construction equipment shipped up from Massachusetts, installed snowmaking and added a new beginner slope, along with another T-bar.
It once again opened in 1988.
The Endriunas brothers installed two more double lifts and cleared and opened the Spear Mountain area in about 1992.
What killed the place, temporarily, was the acquisition of the fancy six-pack detachable chair in 2002.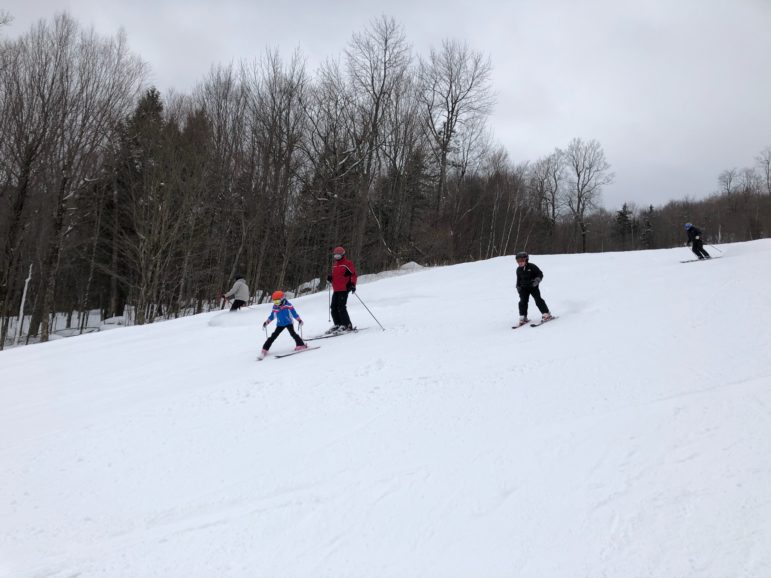 That investment led to bankruptcy again.
It was sold to RMR-Pacific, LLC, an affiliate of Utah resort developer Pacific Group in 2007 which is the current owner.
The company added a tubing park, which is a hoot (give it a try!) and it invested in more dining options at the base and a new quad chair for Spear Mountain which was a key investment in about 2015.
Enjoy a brick-fire roasted pizza after an afternoon of runs.
Lift tickets are a bit less expensive than a typical ski area and can be purchased in advance at a discount.
The views from the mountain are rural, mid-state and lovely. They include views in the distance of Newfound Lake, Cardigan Mountain in the foreground and on a very clear day, you can see Mount Washington.
I skied with my niece, Susannah, who lives in Cambridge, Mass., and other family members.
She led us on a top to bottom run on Upper Exhibition.

Skiing during busy holiday times requires a bit more patience because there are a lot more people than normal. But if you look around at the kids, the families together and how much they are enjoying it, it makes you feel proud to be able to have these wonderful places for them to explore here in the Granite State.
We saved money by packing our own lunch.
Make an effort to get out during the next two weeks with your family and friends to one of the state's many ski areas and enjoy a piece of New Hampshire's winter beauty for yourself.
For a map to see the trails and to look at the conditions visit https://raggedmountainresort.com/Trail-Map/
InDepthNH.org's Paula Tracy learned to ski at Pats Peak in Henniker in 1972 and has been looking for ways to fit it into her work life ever since. Her first ski column First Tracks was for the Salem (Mass.) Evening News. She then wrote one for the New Hampshire Union Leader and later for WMUR. Paula now writes A Winter Run for InDepthNH.org when she is not busy on her State House reporting.
InDepthNH.org is New Hampshire's online nonprofit news outlet. More information by emailing nancywestnews@gmail.com