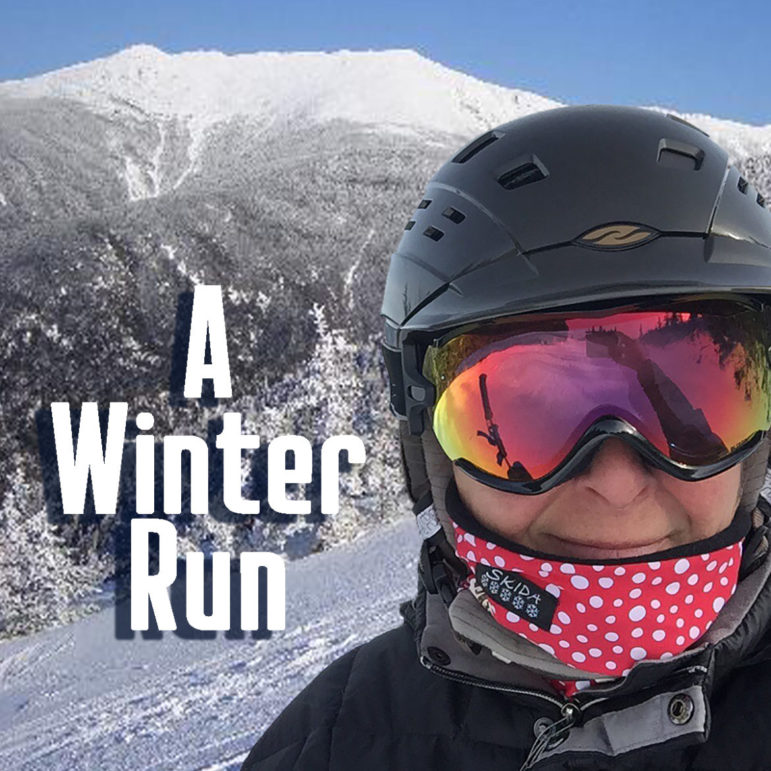 By PAULA TRACY, InDepthNH.org

TREMBLANT, Quebec – Last week, I drove 300 miles north of the Lakes Region of New Hampshire to Quebec to ski and visit with my Canadian cousins at Tremblant.
With over 100 trails and glades on its front, back, south and edge sides, there is just about something for everyone here high in the Laurentian Mountains.
The conditions were fluffy packed powder and excellent from Wednesday until Saturday when the heavy rains came and swept all the good stuff down the mountain and into beautiful Lac Tremblant at the foot of the resort.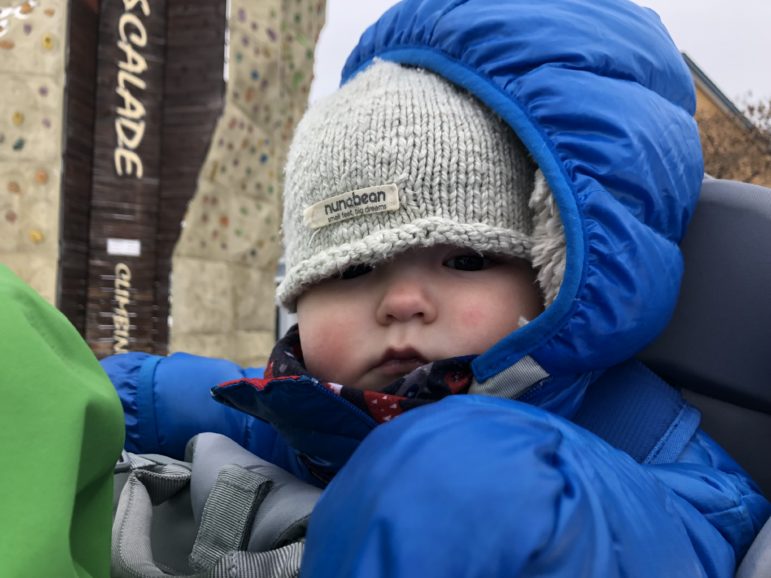 I had not been back in almost 20 years and found it more built up with beautiful slope-side condos, a snug and attractive base area with attractive shops and great food, and 14 fast-moving lifts replacing the older, slower ones I recall.
With many of the lifts top-to-bottom, you get a lot of vertical feet in a day of skiing and my legs are feeling stronger from the experience.
Tremblant is now owned by Alterra Mountain Company, which recently purchased Sugarbush in Vermont.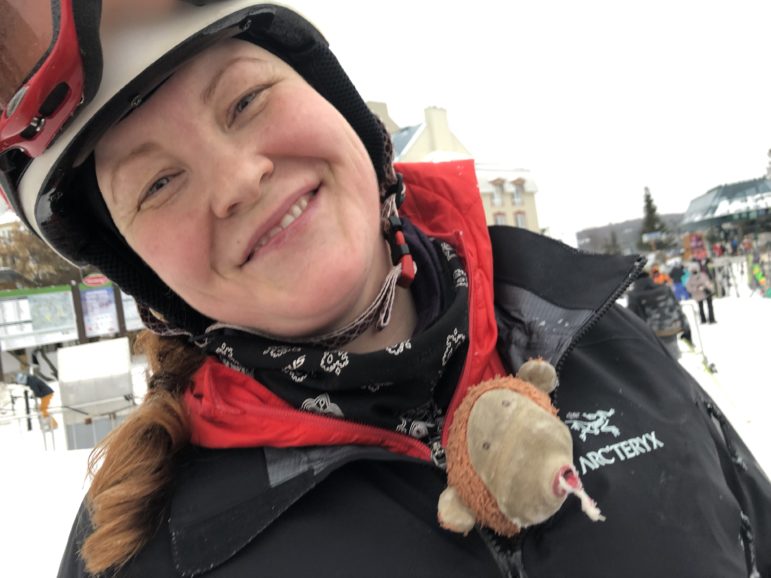 Good Deal
The price is right in Canada, too, as the currency exchange rate favors American visitors. For $100 U.S., you get about $130 Canadian.
While I was able to use my IKON ski season pass there and entirely skipped the ticket window and went right to the lift, my cousin was able to buy a day weekday pass for $54 a day.
An added bonus to my IKON pass was that I got a 15 percent discount on food on the hill which turned out to be great as I bought lunch for three at the summit for $27.
The name of the mountain, Mont Tremblant, was derived from the Algonquin indigenous people, who called it the "trembling mountain."
It is about 80 miles north of Montreal. From the 2,871-foot summit, all you can see below are trees and lakes for miles.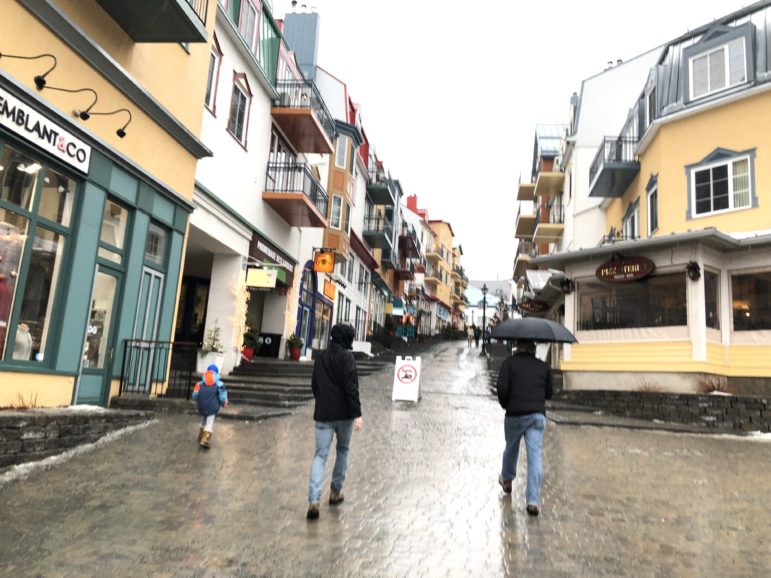 Speaking French
While most of the workers and skiers speak French, most can also speak English.
My high school French classes came in handy particularly when I was reading signs and literature, but I found it pretty useless when someone would ask me a question in French or I tried to follow the fast-talking voices on the radio.
The mountain has a number of different faces, each with its own personality: The north side, my favorite with its wide, undulating terrain, the Versant Soleil or the south side, the front face which has the steep stuff, and The Edge, which is primarily glade skiing. We did not get over to the Edge this time.

The mountain and resort are part of the Mont-Tremblant National Park and are both located near the quaint village of Mont-Tremblant, where I stayed in a lovely bed and breakfast, Le Lupin Auberge, with a wonderful and filling breakfast and private room with bath for $70 U.S. a night.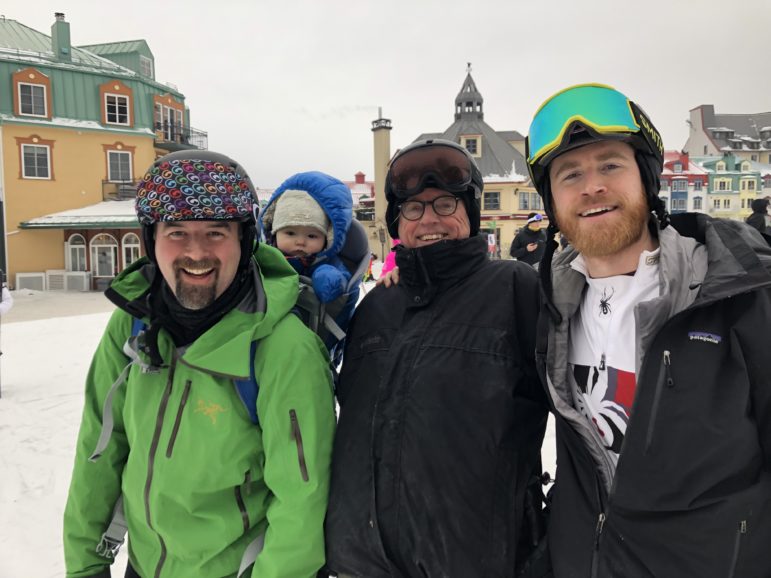 My cousin Tracy Smith and his son Simon came from Ontario and we were joined by my cousin Jane's daughter, Meredith Davis, of Ottawa, and her husband, Jason Kerr, and their young boys, Simon, 4, and Harrison, 5 months.
First Timer

Young Simon had a break-through first big ski day on Friday at the ski school with his coach, Lucy, and when his parents came to pick him up he was still on the hill laughing and making turns.
He was so enthusiastic, but I think his parents were even more thrilled that his first big adventure skiing went so well.
Friday was not as cold as Thursday on the mountain but the higher elevations were shrouded in thick fog so it was hard to see what sort of surface you were skiing.
Fortunately, they had done a great job of grooming the surface and it wasn't at all icy.
Here's this week's Winter Run, which I shot Thursday.
History
The history of this mountain is influenced by Americans. Joseph Bondurant Ryan, an explorer from a wealthy family from Philadelphia, came to the region prospecting gold in 1938.
Accompanied by Lowell Thomas, the American broadcaster and a local man who had developed Grey Rocks ski area nearby, the three skinned up the mountain using seal skins for traction.
To this day, there are a good number of uphill skiers who use this same method to access the mountain, and some trails are miles long so it would be exhausting for me.
Ryan vowed that day to change the landscape into a world-class alpine village and a year later, opened the lodge at the base of the pedestrian village. Thomas helped popularize Tremblant by broadcasting ski shows from the site and many Americans began to come North to check it out.
After a number of owners, it was picked up by one of the first ski industry conglomerates, Intrawest. It created a quaint resort village with cobblestone streets and multi-colored buildings which are beautiful when viewed from the mountain as you are skiing.
Since Alterra took over in 2018, the resort has seen some major investments. For winter 2018-2019, a new high-speed quad ski lift was installed to replace the old Lowell Thomas lift on the backside.
Alterra has sunk another $16 million into the resort for this season and a new hotel is planned for the Soleil Side.
Fun and Food
We found delicious food in the very French village outside the base area with tremendous cheese fondue one night, and great Italian food at a restaurant called "Deli."
In addition to skiing on Tremblant, winter activities include cross-country skiing, dog sledding, helicopter tours, ice-climbing, ice fishing, ice skating, paintball, sleigh rides, snowmobiling, snowshoeing, tubing, and spas.
The drive was pretty easy and about five hours from the Plymouth area.
For more information, visit https://www.tremblant.ca/