By PAULA TRACY, InDepthNH.org
CONCORD – A grant that would have meant $46 million in federal funds to help create new public charter schools across the state was in limbo Friday after the Democratically controlled majority of the Joint Legislative Fiscal Committee voted to reject the first round of $10 million.
The vote along party lines was 7-3.

A packed hearing room at the Legislative Office Building in Concord included many children who are students at the state's existing charter schools.
Republican Gov. Chris Sununu said he was "sickened" by the vote. In a news release, Sununu indicated it was the whole $46 million that was rejected. But a legislative spokesman confirmed the vote Friday was only on the first $10 million and it was unclear what that would mean for the grant or what would be the next step.
Sununu said Democrats must explain to every single student why they rejected this unprecedented grant.
"For a party that claims to care about public education, their actions today make clear that they will always stand with special interests over the well-being of our students," Sununu said. "I would like to thank the hundreds of kids who made the trip to Concord today to advocate for what they believed in – the right thing to do is always worth fighting for."
New Hampshire was awarded the largest grant in the country, with Alabama receiving the next largest amount at $25 million.

Democrats argued that this grant would not help existing schools and only burden the future of the state's education costs by creating new charter schools.
Rep. Mary Jane Wallner, D-Concord, chairman of the Joint Legislative Fiscal Committee, said: "We need to support our existing traditional public schools and charter schools, work to reduce the 1,000 open enrollment spots and waiting lists at existing charter schools, and protect New Hampshire taxpayers.
"…New Hampshire charter schools are still working to recruit students and build their financial stability and our state as a whole is struggling to adequately fund public education—this is not the time to divert funds from those existing educational facilities," Wallner said.
State Rep. Kenneth Weyler, R-Kingston, argued that by taking the first $10 million of the $46 million grant, the state could avoid spending $30,000 on students who need individualized education programs in public schools and let the money go to a less expensive option where students find success in charter schools.
After the vote, he accused Democrats of playing politics with education and said they fulfilled their job to public teachers' unions, who ostensibly oppose the continued expansion of public charter schools.
State Sen. Lou D'Allesandro, D-Manchester, called that comment "the lowest" and asserted that all who voted on the measure were doing so with the state's best interest in mind.
Some Democrats said that if this were money to help existing charter schools the vote might have been different.

Peter Leishman, D-Peterborough, argued that the money would not be used to help existing charter schools which are now struggling financially and receive about 75 percent of their money from the federal government. He noted that at least one school has a tax lien.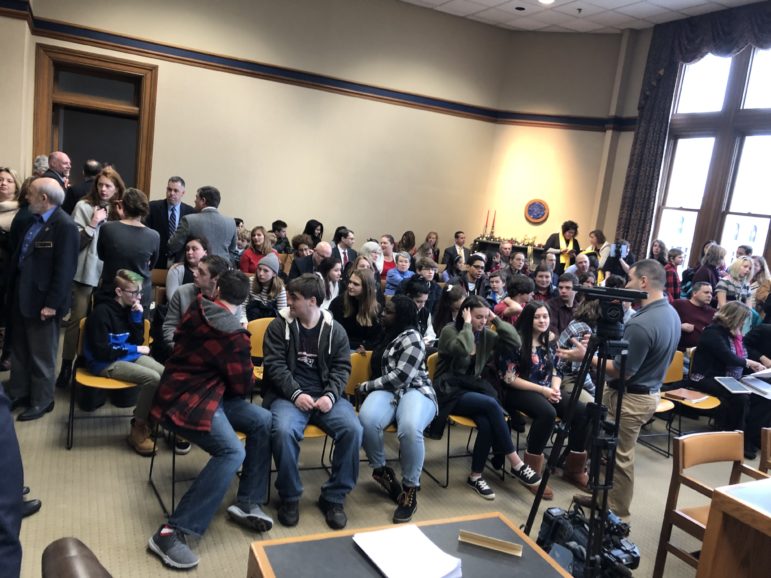 Senate Republican Leader Chuck Morse, R-Salem, a member of the committee, said after the vote: "Increasing funding for an adequate education has not been an easy task, but when $46 million for education was offered by the federal government, and with more than 1,300 New Hampshire students on waiting lists for spots at charter schools, it is disappointing that some of my colleagues turned it down, jeopardizing the educational opportunities of these children.
"We as a legislature are better than this, but unfortunately today, politics got in the way of our children's success," Morse said.
Michael Facques of Amherst, who came to hear the vote, said he was disappointed by the vote.
The fiscal committee also voted along party lines to move forward with $3.2 million in family planning funds that were appropriated in the state budget.

Rep. Weyler called it an end-run around Title 10 or provisions that prohibit federal funds from being used for abortions. These funds, however, are not federal. They are state monies that will be able to be used for reproductive health.

State Sen. Dan Feltes, D-Concord, Senate majority leader, said he was pleased by the 7-3 vote.
"I'm glad New Hampshire is finally moving forward with these critical family planning funds that will protect access to quality, affordable reproductive health care for thousands of women and men," Feltes said.