By NANCY WEST, InDepthNH.org
CONCORD – Attorney General Gordon MacDonald has amended the conclusion to the investigation into the 2016 shooting death of Cody Lafont by then-Claremont Police Cpl. Ian Kibbe to say he could no longer conclude it was "legally justified."
The change was due to the fact that Kibbe was later convicted of crimes that implicated his credibility as a police officer, not because there were any flaws in the original investigation, according to a news release MacDonald issued on Tuesday.
The Attorney General's Office conducted a new investigation of the Sept. 25, 2016, shooting after Kibbe was convicted of crimes related to a police search he and another officer conducted 18 months later.
It found the evidence that supported the conclusion that Kibbe acted reasonably when he used deadly force against Lafont was unchanged, meaning that the state could not disprove Kibbe's self-defense claim, according to the release.
"Nevertheless, Mr. Kibbe's subsequent criminal convictions of crimes of dishonesty committed in his capacity as a police officer have negatively impacted this Office's evaluation of his credibility. While Mr. Kibbe was deemed credible in the original investigation, his credibility is now in doubt given his criminal convictions.
"As such, the Attorney General's Office can no longer conclude that the 2016 officer-involved shooting of Mr. Lafont was 'legally justified,'" the release said.
The amended conclusion now states: "Accordingly, based on a review of the case and considering all the evidence, including Mr. Kibbe's subsequent criminal conduct and the questions it raised about his credibility as a police officer, the Attorney General's Office can no longer conclude that Mr. Kibbe's actions were legally justified. Instead, the Office has concluded that it could not disprove Mr. Kibbe's self-defense claim, beyond a reasonable doubt, and therefore no criminal charges will be filed against Mr. Kibbe as a result of Mr. Lafont's death."
The announcement comes one week after Lafont's estate filed a civil suit in federal court against Kibbe, Claremont Police Capt. Brent Wilmot and the city of Claremont claiming Lafont was the victim of excessive force and discrimination because of a mental health disability. It was filed one day before the statute of limitations would have run out.
Lafont, 25, who was known to suffer from depression and call police when he was drunk, died in the early morning Sept. 25, 2016, after Kibbe shot him three times in the chest one minute after arriving at the scene. Kibbe had been dispatched to Lafont's home to tell him to stop calling 911.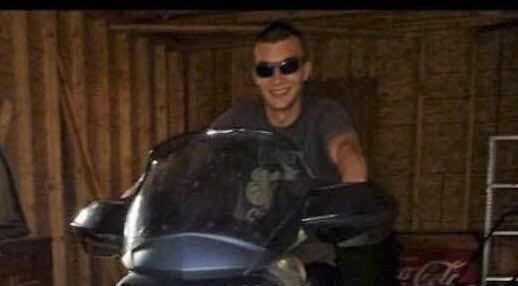 Several family members have spoken out since Cody's death not believing the original official version of events.
His mother, Tracy McEachern, said that she received an email from the estate's attorney giving her a heads-up that the announcement would be made Tuesday. She has long been distrustful of the original investigation.
"I'm shaking," McEachern said by phone on Tuesday. "I feel sick to my stomach. I do feel some justification for Cody."
McEachern sent the email to her mother and asked her to read it to her because it was hard to believe.
"It was senseless and we all just knew. Cops investigating cops," McEachern said.
The lawsuit filed by Concord attorneys Jared Bedrick and Chuck Douglas, said: "(T)he City of Claremont—and its agents Brent Wilmot and Ian Kibbe —knew or should have known that Cody Lafont was suffering from a mental disability such that he was a 'qualified individual with a disability' as defined by the Rehabilitation Act or the ADA.
"Under the ADA, Wilmot and Kibbe had a duty 'to make appropriate efforts to determine whether perceived strange or disruptive behavior … is the result of a disability.' Instead of perceiving Lafont's disruptive behavior as being the manifestation of mental illness, ignored obvious pleas for help, and instead instructed an officer to respond to the house to tell Lafont to stop calling for help," the lawsuit states.
On Tuesday after the release, Bedrick said: "We're pleased the attorney general was willing to take another look at this case. We look forward to continuing our investigation."
It was then-Attorney General Joseph Foster who ruled the shooting justified soon after Lafont's death. Kibbe told investigators that Lafont pointed a revolver at him with a "strange smile" on his face and refused to put down the gun and that he shot Lafont because he was in fear for his life.
The release said in March 2018, the attorney general became aware of criminal allegations that ultimately resulted in the conviction of then-Cpl. Kibbe of falsifying documents related to a police search, unsworn falsification and obstructing government administration.
"Those crimes were committed about a year and a half after Mr. Lafont's death and were unrelated to the incident that led to his death," the release said. "Nonetheless, the Attorney General's Office undertook a further review of the incident that led to Mr. Lafont's death. The purpose for this further review was to reexamine the facts and circumstances of the 2016 incident in light of the crimes Mr. Kibbe committed that implicated his credibility as a police officer."
The new review consisted of a re-examination of all the evidence, taking into account all of the information gathered during the 2018 investigation into Mr. Kibbe's unrelated crimes, the release said.
"That review turned up no new information or any significant discrepancies between Mr. Kibbe's statements concerning the shooting of Mr. Lafont and the evidence gathered in 2016. In addition, Dr. Marilyn Miller, a nationally recognized expert in crime scene reconstruction was retained to review the 2016 shooting incident.
"Dr. Miller concluded that 'the crime scene investigation was done in an effective manner' and that the physical evidence at the shooting scene was generally consistent with Mr. Kibbe's statements about the incident," the release stated.