By PAULA TRACY, InDepthNH.org
CONCORD – A measure that supporters say would allow six biomass plants to stay open for at least three years was largely supported Tuesday during a Senate committee hearing.
They say an amendment to HB 183 will preserve the state policy that was passed last year in SB 365,but has yet to be enacted because of legal disagreements.
It will save an estimated 1,000 jobs and allow for continued forest recreation and open space, supporters say.
But Marc Brown, a representative of the New England Ratepayers Association, said the wood-to-electricity plants in the state have never been economically profitable and never will be.
Its workers could find other employment in this economy, he said, rather than cost the average ratepayer $1.40 a month to preserve their jobs.
This "infuriated" former Executive Councilor Joe Kenney who said the workers at these plants and those who provide the fuel from the state's forests and those who depend on open space for recreation are "the fabric of our state."
Currently, the six plants throughout the state that produce 100 megawatts of electricity a year through wood chips remain idle despite a bill last year that was meant to preserve them.
The plants are Indeck Alexandria, Bridgewater Power Company, Springfield Power Company, DG Whitefield, Pinetree Power Tamworth, and Pinetree Power Bethlehem.
Senate Bill 365, essentially a wood-burning subsidy, was vetoed in 2018 by Gov. Chris Sununu but it was overridden. However, the matter has been in the courts ever since and the price supports that would have kept them going have not flowed to the plants.
A bipartisan amendment, House Bill 183, has been introduced in the Senate and was heard Tuesday before the Senate Energy and Natural Resources Committee. The entire committee co-sponsored the bill.
It has bipartisan support and would rectify the law passed last year, supporters say.
Sen. Jeb Bradley, R-Wolfeboro, said rather than forcing the purchase of wood chip power on the electric grid, they would purchase renewable energy credits for it.
David Schwartz, a utility attorney from Washington, D.C., said there would not be federal or Constitutional concerns if the bill is shaped the way it is.
But Marc Brown said attorneys for his association believe there may be some Constitutional issues and they have not had a lot of time to review the amendment.
"We can't protect all jobs," Brown told a room full of loggers, wood lot owners, conservationists and wood chip generators who maintained their jobs are on the line without this bill's passage.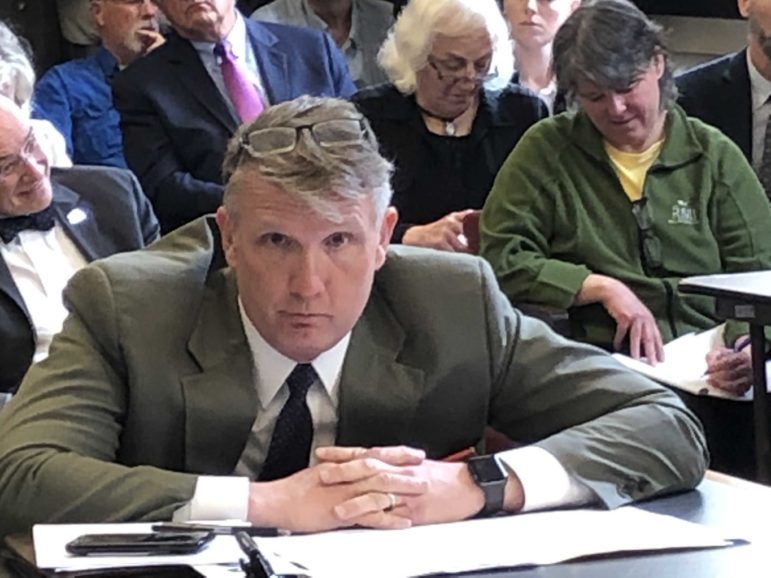 Sen. Bob Giuda, R-Warren, challenged Brown on whether he thinks the ratepayers he represents might be willing to support the maintenance of 1,000 jobs and the health of the state's forests each month by supporting the measure.
Brown said polls would suggest that some would not want to pay a cent to do so, while others might support it.
Giuda said the job of legislators is to find "balance" adding "we are better off maintaining" the biomass plants.
Sen. Dan Feltes, D-Concord, said this bill is "the right thing to do" and that it enjoys overwhelming bipartisan support.
It is, however, possible, that the governor might veto it, as he did to SB 365 last year citing costs to consumers.
Bradley acknowledged that there are costs, but the benefits far outweigh those costs, he said.
Tom Thomson of Orford said he and his wife strongly support the amendment. They own an extensive woodlot and noted that just like a garden in someone's yard, it needs to be weeded or tended so the best products can grow.
Without a place to sell this lower grade product, "the situation grows worse day by day," Thomson said.
The biomass plants, he argued, saved the state from devastating fires after the January 1998 ice storm because it used downed limbs and trees to make electricity. Had those plants not been in business, he said the state would have faced the danger of forest fires like no other time in the past.
While some have described this as a North Country issue, Thomson said the county with the highest yield of such wood product is Merrimack County.
Preserving the plants also would help utility costs and contribute to local, renewable power, he said.
The committee did not take immediate action on the bill but listened for hours to hear from many residents who came to testify, almost all in support of the amendment.