Sununu Hosting Three 'Black Tie Optional' Inaugural Celebrations (InDepthNH.org, Dec. 22, 2016)
Updated Sununu Inaugural Celebration website
Gov.-elect Chris Sununu's inaugural celebration website has added a more detailed sponsor list since it went online, but its $25,000 major donors – including Eversource – are still the most likely to raise concern.
Some who oppose Eversource's 192-mile Northern Pass transmission project as currently proposed from Pittsburg to Deerfield see the company's donation as a conflict because it is seeking approval from the state Site Evaluation Committee. Project spokesperson Martin Murray has said Eversource always donated the maximum amount to inaugural events in the past.
Mark Orzeck, an engineer from Westport, Mass., who owns property in Stark, was critical of Eversource's inaugural participation.
"I can't even wrap my head around the fact they are allowed to attend!" Orzeck said in an email. "Maybe not necessarily conflict of interest, but it certainly seems at the very least unethical. I also can't help but think what are the odds that the only candidate who supported Northern Pass in its current form got elected."
Eversource, NextEra Energy, and Gallagher, Callahan and Gartrell Realty have their logos on the Sununu website as allowed for $25,000 sponsors. But the updated website has also added the firm Centene as a $25,000 donor on the printed list, but Centene's logo doesn't appear on the site.
The Missouri-based health care management firm is one of the companies that manages New Hampshire's Medicaid program. Centene was a major donor to Maggie Hassan's gubernatorial campaigns, according to a report in the New Hampshire Union Leader. In October, Republicans criticized donations from Centene to Hassan as "pay to play."
Sununu, who is hosting three black-tie optional celebrations during January after he is sworn in as governor on Thursday, will be the first governor required by law to report all inaugural donors to the Secretary of State.
The new law, which requires inaugural committee financial reporting by March, went into effect in May. Former Democratic Gov. John Lynch voluntarily reported who donated to his inaugural events; former Gov. Maggie Hassan did not report. State Sen. Jeb Bradley, R-Wolfeboro, pressed for the change to require inaugural sponsorship reporting.
The newly listed donors at varying levels include BAE, Unitil, Waste Management, The Provident Bank, Pike Industries, Fairpoint, Reynolds America, Harvard Pilgrim, PhRMA, and many well-known businesses and corporations. (See full lists below.)
While Sununu reported some categories of donors who contributed less than the $25,000, it is not clear whether there are smaller donors than $1,000. And there is a category called "partners" that doesn't state a donation level. The donations are not tax-deductible.
Sununu didn't respond to questions from InDepthNH.org about the inaugural website and Northern Pass except to say through his spokesman that he will comply with state law.
Sununu was criticized before the election for accepting donations from Eversource employees. His spokesman David Abrams said in an email:  "Here's a comment you can use and attribute to me as a spokesman for the transition:
'The Sununu Inaugural Celebration will file itemized statements of receipts and expenditures with the Secretary of State as required by state law.'"
Sununu inaugural sponsorships cost anywhere from $1,000 as a Mt. Cube level sponsor with two tickets to one celebration and access for two to the VIP reception to a $25,000 Mount Washington sponsorship.
The $25,000 package allows the buyer a table for 10 at each of the three celebrations, preferred table location, access for 10 to Nashua and Seacoast VIP receptions, inclusion in all press materials, recognition logo on signage, programs, and other materials, and logo on home page of Sununu Inaugural website.
Sununu's first inaugural celebration will be Jan. 6 at the Sheraton Harborside Hotel in Portsmouth, which is already sold out; the second one will be at the Crowne Plaza Hotel in Nashua on Jan. 7. The third will be at the Omni Mount Washington Resort on Jan. 21.
The events in Portsmouth and Nashua each include an extra half hour "VIP reception" before the public reception at 6:30 followed by dinner at 7:30.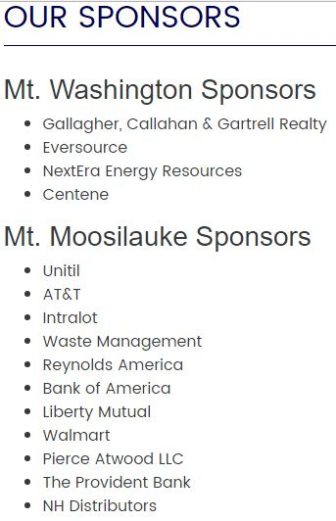 Mount Washington donors pay $25,000 and Mt. Moosilauke, $10,000