Click here to see the website for The Sununu Inaugural Celebration
By Nancy West
Gov.-elect Chris Sununu is hosting three pricey inaugural celebrations sponsored by Eversource, Nextera Energy and the Gallagher Callahan and Gartrell law firm, but he wasn't talking on Wednesday about how much they are paying or what they might expect in return.
Sununu's spokesman David Abrams responded to an e-mailed question on Wednesday about InDepthNH.org not receiving Sununu's news release that announced his staff. He said it was sent and must have gone to spam.
But Abrams ignored questions posed in the same email asking if Sununu was concerned about a possible conflict with Eversource being a key sponsor of the "black tie optional" affairs. He also didn't address a request for a list of  all sponsors and how much they paid.
Eversource is seeking state approval to build Northern Pass, the controversial 192-mile high-voltage transmission line from Pittsburg to Deerfield. The project would bring hydroelectric power from Hydro-Quebec through New Hampshire and on to the New England grid.
Sununu refused to speak with InDepthNH.org about the inaugural dinners. Many elected and appointed officials today deal with reporters through their spokesmen, press releases and emails rather than answering questions by phone or in person.
Sununu, who has said publicly that he supports Northern Pass, was criticized by Democrats and Republican challengers before the election as "selling out" to Northern Pass for accepting more than $18,000 in campaign contributions from Eversource employees.
Tickets to The Sununu Inaugural Celebration range from $200 at the Sheraton Harborside in Portsmouth with VIP Reception Tickets ($1,000), which includes access for two to the VIP reception and two dinner tickets, and a table reservation for $2,000. Prices are the same at the Crowne Plaza in Nashua, but there are no VIP receptions at the Omni Mount Washington in Bretton Woods event so prices are $100 for tickets and $1,000 for table reservations.
Sponsorships cost anywhere from $1,000 at a Mt. Cube level sponsor with two tickets to one celebration and access for two to the VIP reception to a $25,000 Mount Washington sponsorship.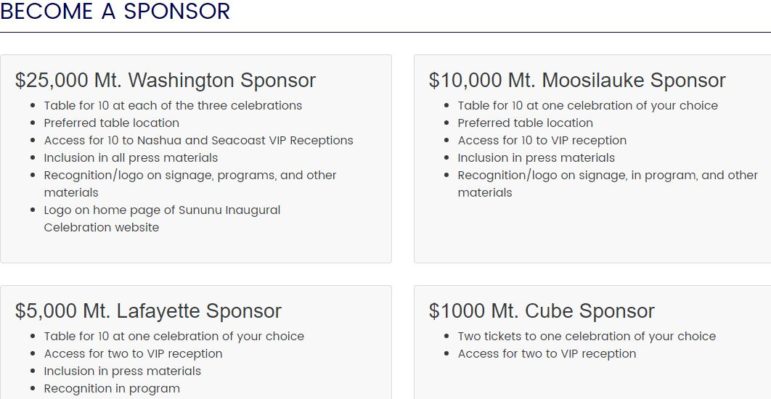 The $25,000 package allows the buyer a table for 10 at each of the three celebrations, preferred table location, access for 10 to Nashua and Seacoast VIP receptions, inclusion in all press materials, recognition logo on signage, programs, and other materials, and logo on home page of Sununu Inaugural Celebration website.
A new law requires governors to file financial information about inaugural activities and Sununu's spokesman said he will follow the law.
State Sen. Lou D'Allesandro, D-Manchester, said it is a governor's prerogative to hold inaugural events, although historically there have only been two in New Hampshire, one in the North Country and one in southern New Hampshire.
"We have made these things into such big deals. It's the nature of the event and the grandeur that surrounds them," D'Allesandro said. "We might think instead of having massive events, we take that money and invest it in supporting the poor." He said he wasn't sure what the law requires as far as disclosing inaugural event sponsors, but will research it.
Sununu's first inaugural celebration will be Jan. 6 at the Sheraton Harborside Hotel in Portsmouth and the second one will be at the Crowne Plaza Hotel in Nashua on Jan. 7. The third will be at the Omni Mount Washington Resort on Jan. 21.
The events in Portsmouth and Nashua each include an extra half hour "VIP reception" before the public reception at 6:30 followed by dinner at 7:30.
According to the website, The Sununu Inaugural Celebration is a non-political 501C4 organization and contributions are not tax deductible.
Northern Pass spokesman Martin Murray said: "Eversource (formerly PSNH) shareholders have supported every New Hampshire Governor's inaugural celebrations as far back as we can recall; and, we are proud to join dozens of other companies and individuals this year. Outside of a reserved table, we've never received special treatment in return."
Asked how much Eversource paid to sponsor the event, Murray said: "I don't have the current amount but we have in the past provided support at the highest donor level and I anticipate that will continue this year."
Asked how much that is, Murray said: "I don't have that. You should be able to obtain from the Gov's team."
Updated to show Sununu's spokesman said he will follow a new law requiring filing financial information about inaugural activities.