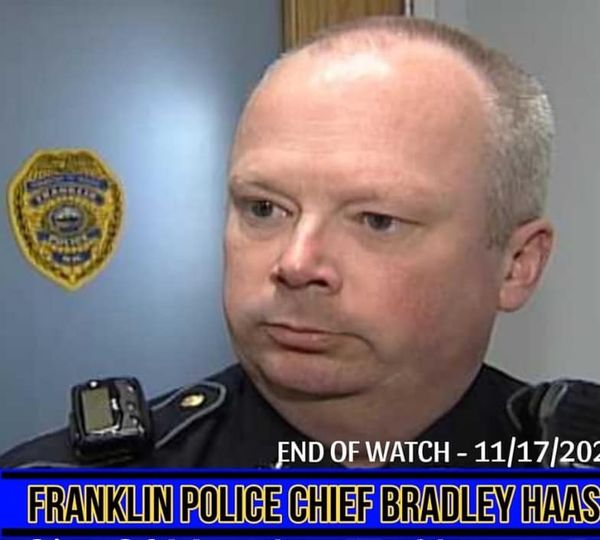 Above, Franklin Police Department posted photo on social media of their former chief Bradley Haas who was working as a security officer Friday when he was shot to death. "Chief Haas dedicated 26 years to the City and department culminating in his tenure as chief. He retired in 2008. He continued to dedicate his time to the NH community by serving as a security officer helping and protecting those at the NH State Hospital. The FPD will honor his memory by flying our flags at half staff and wearing mourning bands in our badges."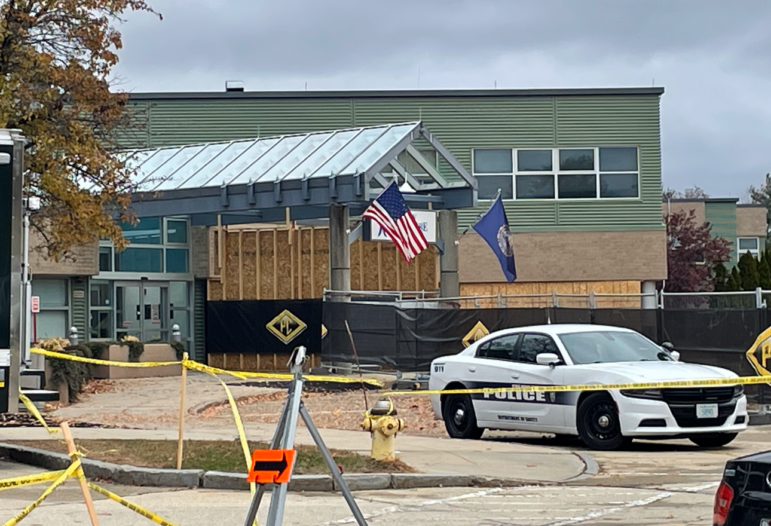 The scene outside New Hampshire Hospital on Clinton Street Saturday morning. PAULA TRACY photo
UPDATED Saturday at 3:10 p.m. to show John Madore was previously a patient at the New Hampshire Hospital.
UPDATED Saturday at 8:20 p.m. to show former Franklin Police Chief Bradley Haas and the man who killed him, John Madore, both died from multiple gunshots and the manner of their deaths was homicide.
By PAULA TRACY, InDepthNH.org
CONCORD – State officials said they believe John Madore, 33, a transient who had lived in the Seacoast area most recently and in Concord, was shot and killed by state police after he killed unarmed security officer Bradley Haas at the state's secured psychiatric hospital Friday afternoon.
A running U-Haul van found in the parking area outside New Hampshire Hospital, which police said they have linked to Madore, had a number of weapons inside including an AR style rifle, tactical vest and several rounds of ammunition.
His motive is not known, according to Attorney General John Formella, who said the homicide investigation is beginning, at a press briefing in Concord at 10 a.m. Saturday. Madore had previously been a patient at the New Hampshire Hospital, according to court records.
Formella said Madore used a 9mm pistol to kill Bradley Haas, the security officer who was a former Franklin Police Chief and a resident of that community. His family has asked for privacy.
Madore had previously been a patient at the New Hampshire Hospital stemming from an arrest in January of 2016 in Strafford, according to court records.
When Madore was 25 and living in Northwood he was charged with simple assault, second-degree assault and reckless conduct on Jan. 8, 2016, according to court records. Those charges were later dismissed.
Those records show Madore's competency to stand trial became an issue during a number of court hearings and orders, many of which were sealed.
It is unclear from the records how long Madore spent in the psychiatric hospital, but Madore was transported a couple of times from the hospital to court for competency hearings. It is also not known if Madore was again a patient more recently. The Strafford case was closed on Oct. 19, 2017.
WMUR reported that Madore worked as a peer support specialist at Riverbend Community Mental Health for about a month in the summer of 2019.
Formella issued a news release after autopsies were conducted Saturday showing former Franklin Police Chief Bradley Haas and John Madore both died from multiple gunshot wounds and the manner of their deaths was homicide.
Gov. Chris Sununu called Haas a "hero" and said that the efforts by the unidentified state trooper who shot Madore undoubtedly saved the lives of others.
Formella said there were other people in the lobby at the time of the shooting who were not injured and there is video footage of the lobby and the encounter.
He said New Hampshire is the safest state in the country.
While there may be concerns in the community, he said that law enforcement works very collaboratively and there is no reason to believe there is any ongoing threat from the incident.
"We will investigate this thoroughly," Formella said.
He declined to identify the State Trooper involved, as is customary until after the trooper is interviewed.
Lori Weaver, commissioner of the state Department of Health and Human Services, which operates the psychiatric facility, said the staff worked courageously through an unspeakable situation and kept the place surprisingly calm. She mourned the loss of Haas and said unquestionably, that he was a hero.
At a press briefing at the state's incident command center off Sheep Davis Road, Formella began with extending condolences to Haas's family.
He said Haas was shot in the line of duty.
Haas served for 28 years for the Franklin Police and rose to be its chief and prior to that served in the Armed Services.
"He was already a hero given his service," before the attack, and was just beginning his shift at a job he had held since 2019, and he died "protecting patients."
"Words cannot express the condolences," Formella said.
He said the trooper "saved a lot of lives."
He declined to give more information on Madore, and any possible connection he had to the state psychiatric unit or how he got the weapons and where.
Autopsies are being conducted Saturday by the chief medical examiner's officer.
The encounter in the lobby was reported at 3:38 p.m. Friday.
State Police Col. Mark Hall said his agency is shifting now to an investigations mode and asked the public to help with any information by calling 603-628-8477.
The State Police bomb squad, using a robot, was able to process the vehicle, which did not pose a public safety threat.
Hall said he was extremely proud of the state police officer involved in the conflict and extended condolences, as well.
"It was a tragedy," he said. but "the incident was contained swiftly."
"Make no mistake," he said. "This tragedy could have been much worse."
Weaver said the state's forensic hospital suffered "an unspeakable tragedy. Our hearts are heavy with shock, grief and sadness."
She said there were big and small acts of heroism she observed from the quick and decisive actions to volunteers from her department and homeland security staying to deliver meals to the staff.
She said they also provided comfort and solace and she said she was "proud of my colleagues who have kept the hospital running."
Weaver said patients are able to communicate by phone with their families and will work toward reopening visitation. For those with concerns related to the patients, they can call 603-271-3004.
Those who are in emotional crisis, she said, should call 9-8-8.
She asked the press to "respect the privacy of our staff as they come and go."
Formella said Haas was not armed and that was typical for that role, he said.