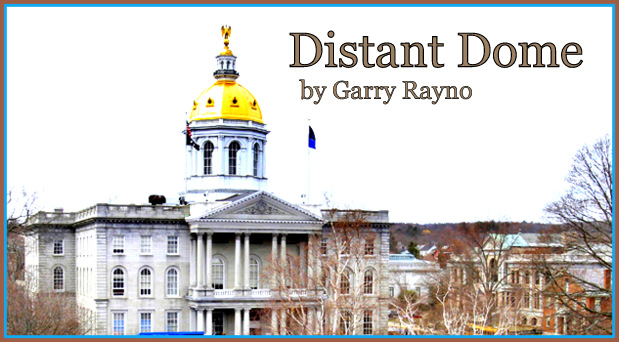 By GARRY RAYNO, InDepthNH.org
New Hampshire has been slow to progress to renewable energy sources compared to other New England states.
More than a decade ago, the New Hampshire legislature passed a renewable portfolio standard that went into effect in 2008, pushed by then Rep. Mandy Merrill, D-Durham, and others.
The standard requires electric utilities to include an escalating percentage of energy generated by renewable sources in their power supplies.
Currently that figure is 23.4 percent having begun at 4 percent in 2008 and will top out at 25 percent in two years.
How does that compare to the other New England states?
Connecticut will require 100 percent renewable energy by 2040, while Maine will require 100 percent by 2050.
Massachusetts law requires zero carbon emissions by 2050, and Rhode Island will require 100 percent renewable energy by 2033.
Vermont law currently requires 75 percent renewable energy by 2032, but a bill will be introduced in the 2024 session to change that to 100 percent by 2030.
New Hampshire certainly is the outlier in New England when it comes to carbon reduction goals for electricity generation.
New Hampshire also sends what it earns through the carbon offset auction for the Regional Greenhouse Gas Initiative to ratepayers instead of using the money to encourage greater renewable energy production in the state as most other states do.
The state instead has renewable energy certificates utilities buy to meet their renewable energy goal, and that money is used to encourage development of renewable energy projects from small to large.
If the utilities do not meet their portfolio goals by purchasing enough renewable energy credits, they make an alternative compliance payment.
That money funds the Renewable Energy Fund for grants and rebates for small residential solar installations and energy efficiency projects.
That is not exactly a big commitment on the state's part to encourage more diverse sources for energy generation that is not fossil fuel.
New Hampshire's generation is heavily weighted to natural gas with coal at Merrimack Station in Bow and Schiller Station in Portsmouth and oil at several other plants.
And the state's energy plan emphasizes low electric rates over expanding energy diversity for generation.
Another problem is the transmission system has been slow to upgrade to handle the renewable resources which do not generate power 100 percent of the time, like at night or in a snow storm for solar or when the wind drops to near zero for wind power.
The power from the state's largest renewable energy generator, is the Granite Reliable Wind Farm in Millsfield and Dixville, producing 99 megawatts, but 55 percent of that power goes to Vermont because the Coos Loop transmission line in the North Country is not large enough to handle all of the electricity the project generates.
Groton Wind just west of Plymouth produces 48 megawatts of electricity, but it is sold to NStar in Boston.
The other wind farms are in Lempster, Jericho Mountain near Berlin and Antrim Wind and together can produce a little under 40 megawatts of power.
In 2021, 16 percent of the state's power generation came from renewable sources according to the US Energy Information Administration, with most of it from hydro, biomass and wind, although the number of residential and larger solar arrays is growing.
According to the EIA, hydro is 7 percent of the state's generation, biomass represents 6 percent, wind 3 percent, and solar 1 percent.
But the fledgling renewable power industry may face a bigger roadblock than it experienced before.
The chair of the House Science, Technology and Energy Committee, Rep. Michael Vose, R-Epping, will introduce a bill in the 2024 session to establish a clean energy portfolio standard that would include nuclear power from Seabrook Station which provides 56 percent of all the electric generation in New Hampshire.
While nuclear power may not generate carbon emissions, calling it clean power is a stretch due to the uranium mining process, storage and then disposing of it in facilities built to withstand the centuries it will take to lose its radioactivity and no state wants to host a nuclear waste dump.
If you are old enough to remember the hue and cry that erupted when Hillsborough was picked as a potential site for a nuclear waste dump, you know no one wants one anywhere near them.
The controversy over the carbon release from damming rivers in Quebec for Hydro Quebec power pales in comparison to what a nuclear waste dump would generate. And without a dump, the spent fuel rods will remain at Seabrook until a solution is found.
Few details have been available about Vose's bill, but he did tell Energy News Network that Seabrook would be producing power into the future and shouldn't be driven out of business by subsidized renewable energy.
That would appear to mean the clean energy portfolio would be combined with the renewable energy portfolio, which would give Seabrook Station more than half of the renewable energy certificates in the state.
Unlike small renewable projects, the nuclear power plant does not need additional money from the sales of the certificates to make a profit or break even.
Consequently, the nuclear plant could drive down the value of the certificates which would make it more difficult to finance renewable projects or all but dry up any new projects, according to several renewable energy advocates.
While proposals like Vose's usually take several sessions to come to fruition, those lawmakers not crazy about renewable energy subsidies may want to push this through as quickly as possible.
Gov. Chris Sununu has never been a big advocate for renewable energy and his family has long been affiliated with the fossil fuel industry. He is stepping down at the end of his term.
A new governor, particularly a Democratic governor, may not be receptive to a proposal to protect Seabrook Station over renewable energy projects for the state's future.
Republicans have a razor thin majority in the House and a comfortable majority in the Senate for the 2024 session.
If the special House elections are any indication, and many political junkies will tell you they are, the Democrats could be controlling the House for the 2025-2026 session.
No need to expect Democrats will control the Senate any time soon given how gerrymandered the districts are in favor of Republicans.
If Vose's bill passes, all the Hydro-Quebec power coming into the state through the new Twin State Clean Energy Link may not be enough to offset Seabrook Station's holding the majority of the state's renewable certificates.
That would certainly put New Hampshire even further behind than it already is, other New England states to diversify its power production.
Garry Rayno may be reached at garry.rayno@yahoo.com.
Distant Dome by veteran journalist Garry Rayno explores a broader perspective on the State House and state happenings for InDepthNH.org. Over his three-decade career, Rayno covered the NH State House for the New Hampshire Union Leader and Foster's Daily Democrat. During his career, his coverage spanned the news spectrum, from local planning, school and select boards, to national issues such as electric industry deregulation and Presidential primaries. Rayno lives with his wife Carolyn in New London.