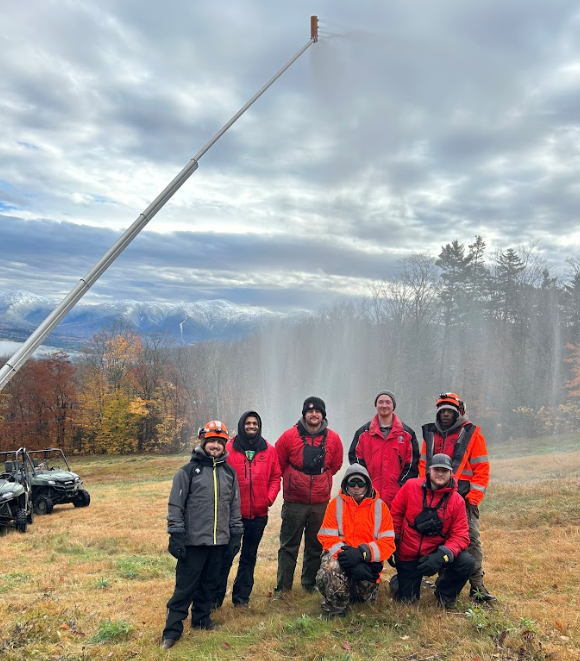 Above, This crew has been working in the cold air making snow this past week at Bretton Woods. Courtesy photo.
By PAULA TRACY, InDepthNH.org

JACKSON – The hiss of snow guns is filling the cold mountain air at night across northern New England this week as ski areas come back to life and prepare for the 2023/24 season.

While some resorts are using the cold weather to test equipment, others are starting their snowmaking efforts in earnest in hopes of being open for Thanksgiving, weather permitting and still others are headed to Boston to promote the season at the Snowbound Expo, Nov. 3-5 https://snowboundexpo.com/.

Some others will hold off a bit on the hill for more reliable temperatures into December as many are still scrambling to find enough labor to open for the season, though it appears that that will not prevent the lifts from soon turning.

Devotees of the historic Black Mountain in Jackson got a bit of a scare long before Halloween when it looked like the Fichera Family-owned ski area could not open due to financial and staffing issues.
But the resort is now set to open with 143 skiable acres and five lifts, and is at least for this season, getting a boost as part of the 180-plus resort Indy Pass, which is sold out, but taking a wait list.

Indy is one of four major multi-area season passes offered now in North America and abroad including the Ikon, Epic and Mountain Collective but this one is strictly for independently owned and operated areas.
Skiers and riders on the Indy pass get two day passes at each of the resorts, discounts on more.

This will allow Black Mountain to be explored by folks who have a pass and perhaps have never been. The pass is about a third of the retail cost on other multi-mountain season passes, costs $399 for the base and $499 with no blackout dates but was sold out in April, officials said, as they limit the capacity, unlike other passes.

In the East those Indy mountains include Cannon, Pats Peak, Waterville Valley and in Vermont, Bolton, Jay Peak, Magic, Saskadena and in Maine, Saddleback, Big Rock and Black Mountain of Maine.

On Oct. 18, the Colorado based Entabeni Systems, affiliated with Indy, reached an agreement with the Fichera Family, which has them operate Black Mountain for one more season and be included in the Indy.
Entabeni – which means mountain in Swahili, is owned by Erik Mogensen who is providing the resources to run the ski area, with the plan to find a buyer within the year.

It has also brought on Andy Shepard, an industry consultant who has been helpful in reviving independent ski areas in Maine, among other locations.

State-owned Cannon Mountain in Franconia Notch began blowing snow on Oct. 31 and up the road, Bretton Woods is hoping to start its 50th anniversary season soon, with its guns blasting there as well at night.

Loon Mountain in Lincoln has 400 new acres of terrain for skiers and riders to explore this winter on its South Peak with a new four-passenger Timbertown chairlift to access the 11 new trails. They recently unveiled the new trail map and are working toward an opening day soon.
Over at Cranmore Resort in North Conway, finishing touches are taking place on Phase IV of a master plan which includes a new lodge and the opening of an 89-unit hotel at the base.

The Fairbank Group has spent over $60 million advancing its mountain operations, real estate and hospitality efforts at the resort and it hopes to have its Lookout development project with 17 residences completed in 2024, according to its website.

At Bretton Woods, spokesman Craig Clemmer said they have a new core group of locally-based snowmakers this winter who are here from all around the country. Spending a northern New Hampshire winter are workers from Georgia, Texas, North Carolina and New York.

"These guys are excited to get their feet wet and their fingers cold," Clemmer said this week noting that crews there will work around the clock, weather permitting to open Bretton Woods, which is part of the Omni Mount Washington Resort.
Clemmer said Bretton Woods has been actively recruiting through various channels to build upon its locally-led snowmaking crew.

"Those outside of our local area primarily applied online and were interviewed virtually. One of the first questions we asked was, 'why do you want to come live in northern New Hampshire for the winter', and the answers were all very similar:  'I have visited, lived or seen photos of New England before and love the area' and 'I want to try something new and find a permanent place to live with good work. I need housing to get on my feet.'"

Clemmer said "being able to offer employee housing was a huge draw to enable them to relocate quickly and easily, as well as the opportunity to earn up to a $1,500 bonus and transition to full-time/year-round employment with full benefits."

Because the weather is getting down, in some cases the teens at night "we're running around the clock and will open as soon as conditions allow.  We will very likely be open by Thanksgiving and have some great events planned as part of our Homecoming weekend and kick off to our 50th Anniversary season," he added.

Jessyca Keeler, executive director of Ski NH said Waterville Valley, King Pine, Loon, and Ragged, were making snow on Halloween night.

She said Attitash plans to open the new chairlift, the Mountaineer over Christmas week, and Waterville has their new deck off the Freestyle Lounge being completed.

Most ski areas in New Hampshire are part of SKI NH, including Black Mountain.

"It was heartening to see that Black Mountain's partner Indy Pass, along with their owner Entabeni, are working with the independent mountain and its owner to ensure that skiers can enjoy its classic New England trails this winter. Communities – local and industry-wide – are so important for ski areas' success regardless of their size, and Black clearly has a community that cares about it. I look forward to seeing how plans evolve to rejuvenate the historic ski area and to seeing how Ski NH can be a resource," Keeler said.

She added that some ski areas have learned new things post COVID-19 and some continue to be cash-free, and have installed kiosks to make the ticketing process more efficient.
That helps also in not having to hire more staff and is "one little way to solve a workforce issue."

"During the pandemic people really liked that there weren't boots and helmets and gloves and such stashed all over the place and so many ski areas added storage for such things," she added.

Up the road in Dixville Notch, The Balsams Resort remains idle for the winter but received a permit to operate the former Wilderness Ski Area, officials there have said.

Longtime industry entrepreneur Les Otten of Maine and a group of investors are still working on a plan to reopen the resort for year-around recreation and lodging in the future, said Scott Tranchemontagne, spokesman.

At McIntyre Ski Area in Manchester, owner Ross Boisvert said the hope is to have the ski area open the first or second week of December.

He said the area was in good shape last season in terms of labor and he expects the same for the coming season.
McIntrye is part of the 14-resort Freedom Pass program and is an affiliate of the Indy Pass.
A few ski events of note, according to SkiNH:
Anniversaries: Nov. 24-26 – Bretton Woods will host events in celebration of its 50th Anniversary; Dec. 26 – Mount Sunapee kicks off its 75th anniversary with season-long events; Crotched Mountain will be celebrating its 60th anniversary in 2024.

Waterville Valley Resort is hosting the Moguls World Cup in January, and then will offer the US Freestyle National Championship in late March

A number of ski areas are working on plans to host skiers for a unique way to experience the solar eclipse.

Whaleback is offering "Inclusive Ski Touring" on Sundays mid-January through close