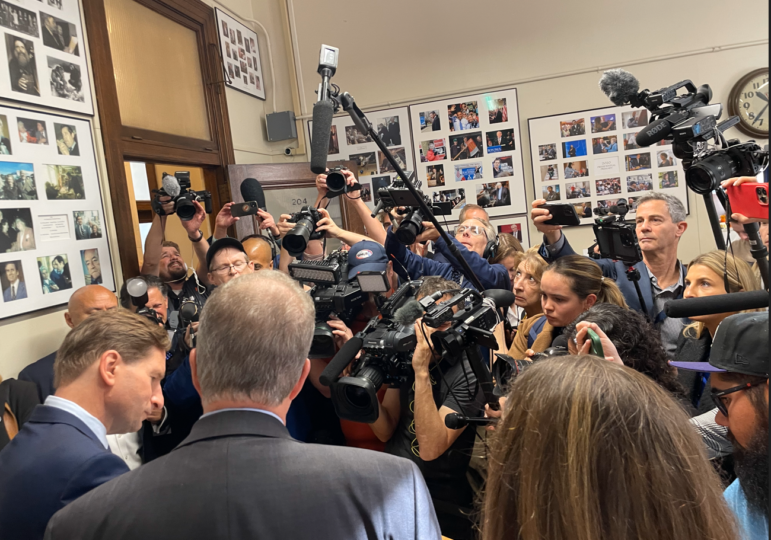 By PAULA TRACY, InDepthNH.org

CONCORD – U.S. Rep. Dean Phillips, D-Minn., a self-described dark horse presidential candidate, was endorsed Tuesday by former Democratic New Hampshire House Speaker Steve Shurtleff of Penacook.

"He's a breath of fresh air," Shurtleff said of Phillips. Shurtleff is in his 20th year as a state legislator and was House Speaker from 2018 to 2020. Shurtleff has also held roles as Majority and Minority leader of the 400-member state House of Representatives and has served as a Concord city councilor.

Shurtleff said in a telephone interview Tuesday he is sure he is going to get pushback from the Democratic National Party and its local faithful, but said he is troubled by its decision to try to take away the state's first-in-the-nation primary.

"It means a lot to the people of New Hampshire," Shurtleff said, noting more than 100 years of primary history.
"We do it right here," Shurtleff said, noting the state has among the highest percentage of voter turnout in a primary.

Biden announced last week he would not be filing for the first-in-the-nation primary here after the Democratic National Committee authorized a calendar for the primary which placed South Carolina in the lead-off spot. It was at Biden's suggestion that the national party rejiggered the primary calendar.
Biden won the 2020 South Carolina primary by 29 points after a number of losses in early states, which helped him win the Democratic nomination.
New Hampshire state law requires New Hampshire go first and both Republican and Democrats here supported that position.

While Shurtleff noted that both Biden and the Democratic party have said the state lacks racial diversity "we make up for it in the way we embrace the primary."

Shurtleff said he, like Phillips is a "left of center Democrat" and as a Vietnam veteran, he is also touched and aligned with Phillips who as an infant lost his father to the war.

Recalling other candidates who have come from obscurity, Shurtleff said New Hampshire looks at candidates like Phillips and takes them seriously, not based on polls, pundits, endorsements or campaign finances.

Many have scoffed that Phillips can't win against incumbent President Joe Biden for the nomination and he will not likely get the support of Democratic party loyalists.
While that may be true, some see a chink in the armor after Biden decided not to run in New Hampshire and is not on the ballot here.
Now a write-in campaign for the Delaware Democrat is launching with most other well-known state Democrats signing up.

But not Shurtleff.

In a statement, Shurtleff said, "We are at a critical moment in the history of our country. It's time for a new generation of leadership, and Dean is ready to take the helm right now.
"In New Hampshire, we know politics, and make our choices independent of party leadership. I call on my friends and colleagues to join me. Everyone is invited," Shurtleff said.
On Monday, Phillips toured Harvey's Bakery in Dover, and met with attorney and DNC member Billy Shaheen of Madbury in his Dover office. Shaheen, whose wife is U.S. Senator and former governor Jeanne Shaheen, D-NH, has not said whether he will endorse Phillips but told reporters it is New Hampshire's tradition to welcome and listen to all candidates.

The new Biden write-in website https://www.writeinbiden.com/ says the decision by the DNC is "misguided." It urges voters to take a Democratic ballot at the polls on primary day and fill in a write in for Biden.

Phillips told reporters in Concord last Friday when he filed on the last day allowed that he would not be a third party candidate and would support Biden if Biden wins the nomination.

Phillips said he would do everything to ensure that a Democrat is chosen, calling former President Donald Trump an existential threat.

All he asked was to give him a shot, and to listen to his vision for the future, Phillips said.
On Tuesday, Phillips packed an auditorium at St. Anselm's College in Manchester before heading to the University of New Hampshire for another student event.

On Wednesday, Phillips will host his first official town hall at the Rex Theatre in Manchester. Doors open at 4:30 p.m. and all are welcome.
A link to his website is here https://www.dean24.com/

Phillips tried this summer to recruit a candidate to run against Biden to no avail, and that was at a time before it was certain that Biden would not be on the New Hampshire ballot.

Politico reported before Shurtleff's endorsement that "turmoil over the calendar is a factor for former New Hampshire House Speaker Steve Shurtleff, who said he 'hopes' Phillips runs 'because of the way things have been lined up by the DNC,' who are 'trying to take it out of the hands of the people.'"

"I've got respect for Phillips that he may decide to get in the race, knowing what the price he might pay," Shurtleff told Politico. "By challenging the president, for someone like Dean, it could be the end of his political career."

The list of prominent elected Democrats in the Granite State on the Biden write-in committee is here https://www.writeinbiden.com/about-1 and includes both Democratic candidates for governor, all 10 Democratic state senators and the House minority leader.