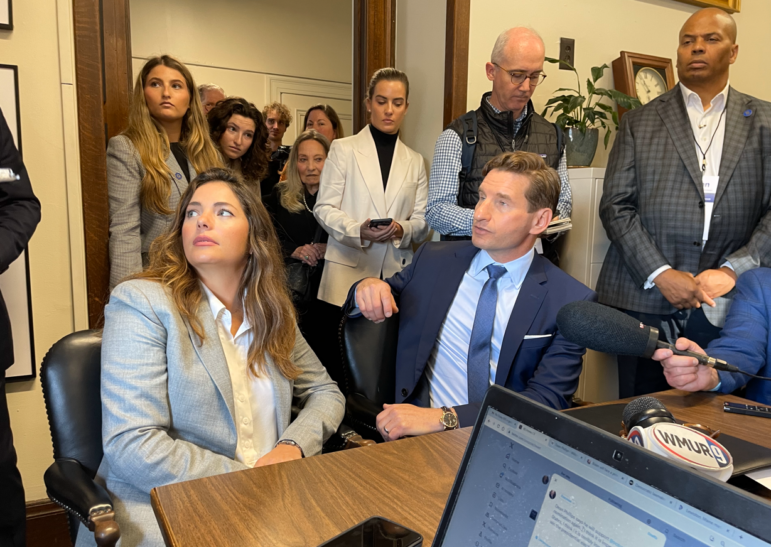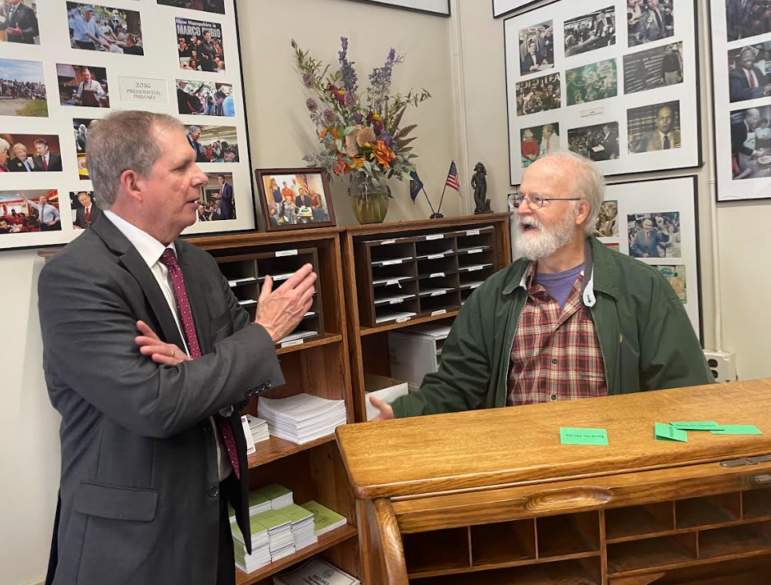 John Vail of Easton, right, is pictured talking to Secretary of State David Scanlan Thursday when Vail filed to run for president as a Democrat. Paula Tracy photo
See list of all candidates who have filed by Friday's deadline at end of this story.
By PAULA TRACY, InDepthNH.org

CONCORD – Saying it is time for a new generation to lead this nation, Minnesota 3rd District Congressman Dean Phillips, 54, filed to be on the New Hampshire Presidential Primary ballot as a Democrat on Friday, acknowledging he is a long-shot challenger to incumbent Joe Biden, 80.
He is eager to meet the state's voters "and see what they think."

Phillips said it is about new ideas more than age and noted he stressed he would not run as a third party candidate or put the country in a position of having former President Donald Trump, the leading Republican, return to office.

It was the last day to file to be on the ballot for the first-in-the-nation primary in the Granite State Friday.
The list of candidates had 18 Democrats and 25 Republicans vying for their respective party's nomination bt it does not include Democratic President Joe Biden, whose supporters intend to launch a write-in campaign on the New Hampshire Democratic ballot.
Biden told New Hampshire Democratic leaders this week he has declined to file here. It comes after the Democratic National Committee chose South Carolina to host the first primary, arguing it has a more diverse voting population than New Hampshire. The Republicans have maintained New Hampshire should have the first-in-the-nation primary.

Secretary of State Dave Scanlan has refused to bow to DNC pressure and threats, noting state law calls for New Hampshire to go first.
While he has not announced the date for the primary, it is expected to be sometime in January.
Scanlan said the number of candidates filed is pretty typical. Generally, he said, fewer sign up on their party's ballot when an incumbent is running.
The day also included the filing of a man named President, who is legally blind, and said he has chosen to run because God ordered him to do so. This is his second time running here. In 2020, he finished 18th out of 28 and will be running as a Democrat.

"Joe Biden? I love him," he said. President said his platform is "God first, Unite Israel and America as one country."

Phillips said he "believes in tradition" calling New Hampshire the most civically engaged state which has served the nation well in going first, by fully vetting and participating in the voting process.

He said if elected, he would restore New Hampshire's spot on the calendar taken by the DNC.
Phillips went to summer camp in Fryeburg, Maine, and spent summers here hiking Mount Washington and paddling the Saco River.

He began what he called a long-shot campaign traveling across the state in a bus with a big "DEAN" sign on it and noted he never imagined as a 12 year old, in North Conway that he would one day be signing documents to run for president in Concord.

It was here, he said, "I learned to love America," and its people of both political parties, its landscape, its rural communities.

He thanked the large contingent of press for attending the signing and thanked them for "doing the most important work in a Democracy. And you do it at risk and you do it with peril," and then pivoted to Scanlan and said, "you sir, for what you do. No more important role in this country than yours.

Secretaries of State in this day and age are under attack by despicable people that want to undermine democracy. I won't have it. And that is why I am here today. We are going to preserve it and protect it. Pursue life, liberty and happiness. And I can't wait to get going."

Sitting down with reporters in Scanlan's office with his wife, Analise Glick, their two daughters and his mother who was widowed when he was a baby, while serving in Vietnam War, Phillips said he feels it is imperative that a Democrat win this election, and he will bow out if necessary to ensure a Democrat is elected again.
"I will do anything. I will give everything I have, every moment of my time, every ounce of my energy to ensure that the nominee, whether it be me, of course, President Biden or someone else, becomes president. It is that existential."

He said he has made it clear to "No Labels," an organization seeking a bipartisan effort to find a new leader, that he will not run as a third party candidate.

"Anything that might undermine whoever the Democratic Party might be, I do not favor. They (No Labels leaders) have made it very clear to me, right to my face, that they are on exactly the same page and they will do nothing, nothing, to help Donald Trump win again. They will do just the opposite," Phillips said.

While not calling Trump by name he said "the man, not his supporters, the man is an existential threat to the United States more so than any foreign threat," he said. "We should wake up and use our votes to defend America against him."

He said he is the only member of Congress who takes no PAC money, no lobbyist money, no money from fellow members and no leadership PAC and is serious about campaign finance reform.
"Money in politics is destroying the country," he said.

He said he once was on the other side, writing checks and it was "disgusting."

He said his colleagues spend 10,000 hours raising re-election money, largely from rich people.
He said he plans to be calling five, $5 donors every day on his bus to say 'thank you' because let me assure you, that was a much bigger gesture, about their passion for democracy than any $5,000 donor…"

He said he is willing to admit when he is wrong. "I want to tell the truth. I will tell the truth. I will be honest. Sometimes, I get it wrong. And when I do, it's the job of the American president, as a member of Congress, to say you got it wrong, not to hide it, not to ignore it, and I don't know the answer to the questions. And if I don't know the answer to the question I will tell you, too."

Phillips said if elected he would make the White House the "people's house, legitimately" and he would populate his cabinet positions with the brightest and best, regardless of party affiliation, who care about managing agencies, customer service and zero-based budgeting.

He said he would create a youth cabinet position to engage the young, and a common sense cabinet position, whose sole responsibility is to identify ways to do things better.
"Government is not business. It should not be operated like one. But the spirit of business, where you have competing ideas, competing perspectives, you have competition, by the way, that is when things get better," he said.

While he recognized he is a long-shot, he talked about hope that others want to see the same change in America that he does.

"It takes people who want to preserve, protect, and promote democracy. It takes people who are really sick and tired of this nonsense. It takes people doing the biggest responsibility, most important obligation in a free country like ours to just go vote."

While he said there is not much that he liked about former President Donald Trump, but "he got people to come out and vote. And I am not saying it will be his only legacy, but I will be honest, I think there is something really important about someone who at least gets people who believe that they don't matter, that no one cares, that all is lost, to get out and exercise…their rights," Phillips said.

"The fact that this great country has such low turnout in primaries is appalling, it's embarrassing, it's really dangerous," he said.

All it takes, he said is not a miracle, but the "exhausted majority to come out and vote."
He asked voters to "give him a chance."

"It's time for us to declare independence again from this nauseating, disgusting, repulsive and disenfranchising system that our founders, including some from this very state, would be appalled by."
After filing for office, he signed the visitors book at the State House, which has been filling over the past few weeks, and his wife helped pin his first political button on his lapel, reading "I'm keen on DEAN."
The following is the list of candidates to appear on the New Hampshire Presidential Primary Ballot as collected by the Office of the Secretary of State, Election filing division as of the deadline Friday.
Republican
Donald J. Trump, Palm Beach, Fla.
Rachel Swift, Hagerstown, MD
David Stuckenberg, Tampa, Fla
Samuel Howard Sloan, Oakland, Calif.
Hirsh V. Sing, Linwood, NJ
Tim Scott, Hanahan, SC
Vivek Ramaswamy, Columbus, Ohio
Mike Pence, Zionsville, IN
Darius Mitchell, Lowell, Mass.
Scott Peterson Merrell, Norwalk, Conn.
Glen J. McPeters, Essex Junction, Vt.
Mary Maxwell, Concord, NH
Donald Kjornes, Watertown, SD
Perry Johnson, Bloomfield Hills, MI
Peter Jedick, Rocky River, Ohio
Asa Hutchinson, Rogers, AR
Nikki Haley, Kiawah Island, SC
Richard Giardino, Mayfield, NY
Ron DeSantis, Tallahassee, Fla.
Chris Christie, Mendham, NJ
John Anthony Castro, Mansfield, TX
Robert S. Carney, Jr. Minneapolis, MN
Doug Burgum, Bismarck, ND
Ryan Binkley, Dallas, TX
Scott Alan Ayers, Carpentersville, Ill.
DEMOCRATS
Dean Phillips, Wayzata, MN
Marianne Williamson, Washington, DC
John Vail, Easton, NH
Paperboy Love Prince, Brooklyn, NY
Donald Picard, Cambridge, Mass.
Mando Perez-Serrato, Orange, Calif.
Jason Michael Palmer, Baltimore, MD
Derek Nadeau, Portsmouth, NH
Frankie Lozada, Valley Stream, NY
Star Locke, Port Aransas, TX
Paul V. LaCava, Worcester, Mass.
Tom Koos, Woodside, Calif.
Mark Stewart Greenstein, West Hartford, Conn.
Gabriel Cornejo, Las Vegas, NV
Eban Cambridge, Hayward, Calif.
Terrisa Bukovinac, Washington, DC
President, Atlanta, Ga.
Vermin Supreme, Rockport, Mass.