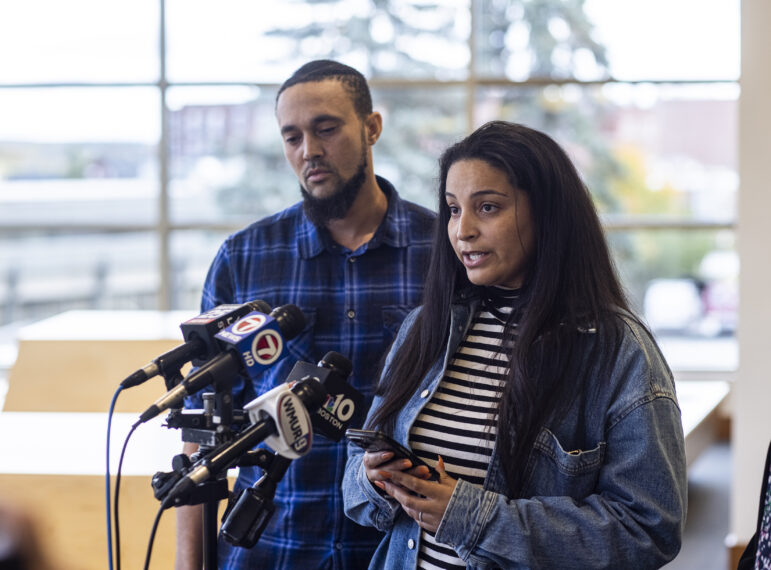 By DAMIEN FISHER, InDepthNH.org
CONCORD — Logan Clegg's fate was sealed Monday when jurors in Merrimack Superior Court found him guilty in the 2022 murders of Stephen and Wendy Reid of Concord.
The jury deliberated for a day and a half, starting Friday, before returning with the verdicts early Monday afternoon. A poll of the jury found unanimous agreement that Clegg is the killer.
Prosecutors never presented evidence directly linking Clegg to the shootings, nor did they offer jurors a motive for the brutal crime. But jurors found enough evidence in Clegg's suspicious actions surrounding the murders, including burning his home, wiping his computer, and fleeing the state, to justify nine guilty verdicts.
The Reids son Brian Reid and his wife, Jacqueline Reid, expressed gratitude for the investigators who brought Clegg to justice.
"Lifelong humanitarians who were loved worldwide, may Steve and Wendy rest in peace," Jacqueline Reid said.
Some print, online and television reporters along with a few non-journalists were not allowed to leave right after the verdict for about five minutes, but weren't told why. The courtroom door was locked and a member of court security stood blocking the door.
Av Harris, communications manager for the New Hampshire Judicial Branch, told InDepthNH.org after the hearing there is no new policy allowing the court to lock the courtroom door and keep anyone from leaving.
"So with regard to what happened in court today, my understanding is that the court security personnel at Merrimack County Superior Court were trying to let the victims' family leave the courtroom first and there was some miscommunication," Harris said. "There is no new court policy, they were just trying to give the family some space."
Stephen and Wendy Reid met when Mr. Reid was serving in the Peace Corps, and traveled the world together throughout his career with the United States Agency for International Development. The couple was enjoying retirement in Concord, where Stephen Reid had grown up, when they were killed on April 18, 2022.
Clegg now faces decades in prison on the convictions including second-degree murder, falsifying physical evidence, and being a felon in possession of a firearm. Clegg has been jailed since his arrest last year and will stay incarcerated pending his sentencing hearing set for December.
The verdicts come after weeks of testimony from the state that did not resolve gaps in the evidence. The Reids were killed while they were out hiking on the Marsh Loop Trail in Concord, and their bodies dragged into the woods.
Clegg was living in a tent in the woods around the trail. He has maintained he never met the Reids and he did not kill them.
The defense brought in expert Amber Smith who testified DNA evidence from the scene found at least one to two other people were present for the murders, and neither was Clegg.
The state's best physical evidence, shell casings from Clegg's gun, are also problematic. The casings were found near the scene by then-Senior Assistant Attorney General Geoffrey Ward.
The defense showed the casings were not found during the intensive searches that started on April 20, 2022 when the bodies were found. Those searches featured metal detectors, evidence sniffing dogs, and dozens of trained investigators combing the ground. Instead, Ward testified he found them on the ground, nearly in plain sight, on May 20, 2022, a month later.
Defense expert Jason Latham analyzed a May 10, 2022 FBI photo of the area where the casings were found, and testified he could not find them.
"I was not able to identify objects in the (May) 10th images consistent with any casings," Latham said.
Concord Police Det. Wade Brown testified the investigation kept the area where the Reids were killed and their bodies dragged to, closed to the public for about three days. After that, there is evidence members of the public were walking in the area. Police captured visitors in one game camera set up around the site. Brown said another game camera trained on the area was found to be malfunctioning.
Stephen Reid's cell phone is another question. Stephen Reid had a cell phone where he was killed, but that phone was not found with the bodies and has never been recovered.
Robbery is not considered a motive for the crimes. There were no signs of struggle, and the couple left their wallets and two other cell phones at their Alton Woods apartment. Data analyzed by FBI agent Kevin Hoyland testified Stephen Reid's missing phone was downloading and uploading a large amount of data about an hour after the murders, indicating it was being used.
Defense Attorney Mariana Dominguez said during her closing argument that data usage indicates someone involved in the killing was looking for something on the phone, and may have known Stephen Reid's password in order to unlock the phone.
None of these questions seemed to matter to the jury when stacked up against Clegg, a slight and odd homeless man whose paranoid maneuvers the week of the murder made him a suspect.
Clegg burned the tent he lived in sometime between April 15, 2022 and April 20, 2022. When and why depends on who you believe. The state said Clegg burned the tent after killing the Reids to cover his tracks. But the defense said Clegg burned the tent before the April 18 murders.
A Concord Police Officer found Clegg's tent in the woods while on patrol on April 15. The officer reports he did not see Clegg, but Clegg claims he remained out of sight during the April 15 encounter. This event spooked Clegg and set in motion his strange reactions.
At the time, Clegg was wanted for a probation violation in Utah on burglary, shoplifting and gun charges. April 15 scared Clegg, a man so paranoid he refused to use a free food kitchen in Concord for homeless people because he feared the government would use it to track him.
Police next encountered Clegg on April 20, 2022 during a search for Stephen and Wendy Reid. The couple at that time was considered missing. Their bodies had not yet been found.
Clegg gave police an alias, Arthur Kelly, and said he had never seen the Reids. In the next few days, Clegg would use aliases to book a bus ticket out of the state.
Clegg disappeared, but police used his burned tent site to find him. Investigators found hundreds of propane bottles at the site and were able to find out where they were purchased and used surveillance video from the stores to get images of Clegg.
They started backtracking his movements and found he had worked at the Loudon Road in Concord McDonald's. Soon, police found his Utah record and learned something new. While on probation for the Utah charges, Clegg left the country. He flew to Portugal and stayed in Europe for months before the COVID pandemic forced him to return to the states.
Federal law enforcement tipped off Concord police last year that Clegg bought a one-way plane ticket to Germany. Clegg used his aliases and prepaid cell phone numbers, and police used his cell phone to find him living in South Burlington, Vermont.
When police arrested Clegg in October of last year, he had just finished his job at the Price Chopper grocery store. Clegg had given his manager two-weeks notice before he planned to leave the country.
Clegg had $7,000 in cash saved from his job, a Romania identity card under an alias, his own passport, the plane ticket, and a Glock 17, 9 mm pistol.
This isn't the first time Clegg was investigated for homicide. In 2018, Clegg stabbed a man on his way to work at a McDonald's in Washington state. That case was later determined to have been self -defense, and Clegg was never charged. However, he may not have known he was in the clear. Police in Washington state say Clegg left town before they could tell him he wouldn't be charged.