By PAULA TRACY, InDepthNH.org

WHITEFIELD – On a quiet overlook of the magnificent Cherry Pond, framed by the rocky Northern Presidential Range, U.S. Senator Jeanne Shaheen, D-NH, met Friday afternoon with local conservation leaders to discuss legislation she hopes will bind and strengthen their collective efforts within the 7.2 million acre Silvio O. Conte National Fish and Wildlife Refuge, of which the meeting location is a part.

The senator was in the North Country for the day, first visiting the U.S Canadian border at Pittsburg, then to Colebrook to visit a federal health initiative, and to Whitefield on an infrastructure grant for the downtown.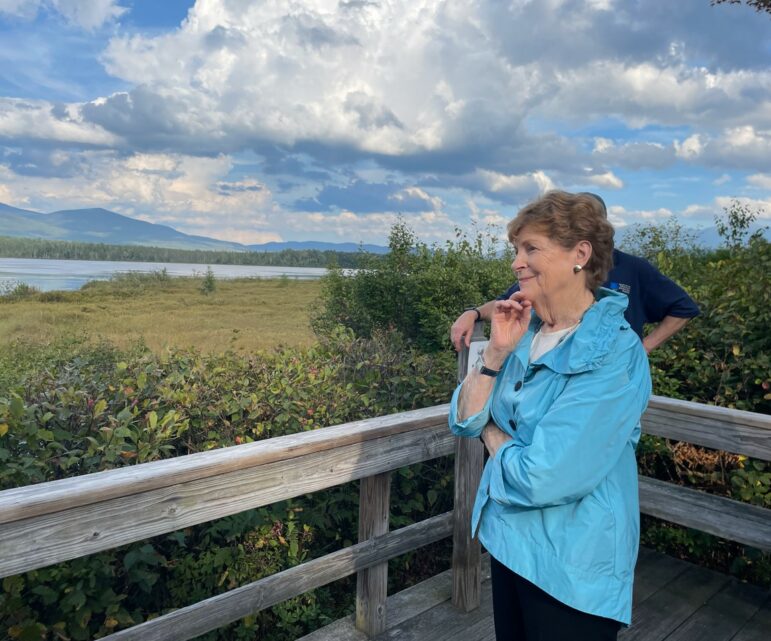 But there was also an opportunity for her to leave the pavement and have some face-to-face time in the forest with conservation resource partners working to help further protect and expand the Conte National Fish and Wildlife Refuge.
In 1991, President George H.W. Bush and Congress passed a law establishing the entire Connecticut River watershed for land protection, cooperative management and environmental education.

This enabled the government to work on acquiring important tracts in the watershed.
Starting with its headwaters north of Pittsburg, the Connecticut River winds and rolls to the sea through New Hampshire, Vermont, Massachusetts, emptying into the Atlantic in Connecticut.

On either side of the River, for miles on each side from to the East and West, the land forms a watershed.
It is New England's largest river watershed and it is used for clean drinking water for millions, habitat preservation, and increasingly is becoming a hedge against the changes in climate for species migrating north to cooler climes.

In 25 years, more than 40,000 acres have been conserved for the Conte, including this scenic northern New Hampshire tract which is 6,500 acres in size.
The Pondicherry as it is known is available for walking, cycling, birding, cross country skiing, snowshoeing, fishing and hunting.

In 2005, a friends group for the Conte formed what now has over 70 public and private organizations and individuals. They work in partnership to benefit its many various resource values, including habitat for endangered species but their expertise and funding resources vary.

Walking 1.5 miles in along the ledge pack of the Pondicherry Rail Trail to the Tudor Richards overlook of Cherry Pond, in the heart of the 10 square mile preserve were policy representatives for the Society for the Protection of NH Forests, The Nature Conservancy, the Audubon Society of New Hampshire, the Appalachian Mountain Club and state officials who all are part of the Friends of the Silvio Conte National Fish and Wildlife Refuge.

There, they met with the Senator to discuss her Connecticut River Watershed Partnership legislation which she plans to introduce this fall in Washington.

This is a bill to direct restoration and protection efforts across the watershed region. She said local partners like those present greatly help abilities to collaborate on projects and get progress needed as demands for water, recreation and habitat needs grow.

She said one thing New Hampshire does really well is to collaborate around a table with various groups to make important things happen for conservation.

Her bill, she said "is an effort to formalize the partnership between local state and federal governments to help protect the resources and educate people about the resource and provide some grants."

"I feel, having helped protect the IP (International Paper Company) lands, and working on the Connecticut Headwaters deal with (former Vermont) Gov. (Howard) Dean, it's great to see it continue and to see the preservation efforts," firsthand.
Shaheen said the bill is in its early stages and would state "funding as appropriated" which would be a second step in the process.

Preservation efforts in this massive partnership are ambitious and involve New Hampshire among the four states.

The Friends of the Conte recently published a fund request for Fiscal Years 2024 and 2025 which identifies project requests totaling $27.1 million for the entire watershed including $11.2 million for New Hampshire.

The largest project is on the Mascoma River for protection of some 5,204 acres for $9 million with the partner Wild Landscapes International.

There are also projects on the friends group's wish list for 169 acres for Pondicherry, where the Senator was visiting with the Nature Conservancy as a partner. Two other projects totaling more than 700 acres in the northern Blueberry Swamp and the southern Ashuelot River both with the Nature Conservancy.
The list includes about $6 million for Connecticut, $5.7 million for Massachusetts and $3.9 million for projects in Vermont.

There are 51 active and near-term land conservation projects already in the works according to the Friends of Conte published appropriations request, which include dam removal, trail and culvert restoration and floodplain restoration in Clarksville, Bath, Lancaster, Lisbon and Fitzwilliam, New Hampshire.

Shaheen noted that there is a lot of cross-over among groups to collaborate to protect.
It includes those working on the drinking water resource for millions in the Northeast United States who all drink the water, to those focused on providing habitat to keep ahead of changing migration habits due to climate warming, and as a source of recreation important to the region's economy.

This is among 568 national wildlife refuges and on average they return $4.87 to the local economy for every $1 Congress puts in, according to the Friends of Conte.

Shaheen said the recreation economy is critical to New Hampshire, providing 28,000 jobs.
This one rail trail path through the Pondicherry, which extends for more than 20 miles to Gorham and can be ridden on bicycle, saw more than 2,000 riders in July alone, officials said.

Shaheen met with Matt Leahy, public policy director for the Society for the Protection of NH Forests; Chris Thayer, director of External Affairs and Contracts for the Appalachian Mountain Club; Jim O'Brien, deputy state director for The Nature Conservancy Clinton Savage, district supervisor for the NH Division of Trails; and others.
Leahy has long ties with land conservation in the north and with Shaheen. He was working with former U.S. Sen. Judd Gregg, R-NH, on efforts to conserve the 171,000 acre Connecticut Lakes Headwaters Tract at the tip of the state 20 years ago, and later worked for Shaheen before going to the Forest Society.
The Headwaters tract, mostly in Pittsburg, has been in private hands for recreation, habitat and logging with an easement paid for through federal and state funds to keep the land open.

The tract has again emerged on Shaheen's radar as there is local concern that a new Headwaters owner, Bluesource has assumed the 146,500 acres and has as a corporate goal to convert former industrial logging land into use as storing carbon credits, without cutting the trees.
Shaheen recently wrote officials of the company to underscore the importance of the logging components to the land and said while she has not received a formal reply, she is expecting to have a further discussion on the matter with the company.

"Part of the issue for communities in protecting the land was to make sure the logging and other uses of the land would remain so the revenue would be there for the small towns that are affected, also so that the public can continue to use it," for recreation, including snowmobiling and hunting.

"And I think part of it is helping people understand that a forest that is logged appropriately is a healthier forest," Shaheen said.
Further south but still a part of the Connecticut River watershed is the Pondicherry Division of the Conte.
Andrew J. French, project leader there for the US Fish and Wildlife Service told the gathering of the importance of such land protection as the desire for clean drinking water and climate change continues to warm animals and plants.

Springfield, Boston, Hartford all depend on drinking water from the Connecticut River watershed, he said, but "we don't talk about that as much. And we need to talk about it because drinking water is important every day."
Residents in those major cities "have a vested interest in what is going on here every day," French said.
"The thing I think we should be doing right now is protecting land, because it is not going to get easier," French said. "One of the things that the Nature Conservancy mentioned to me about a year ago…species are moving north about ten miles and up in elevation 35 feet every decade. So, when you start thinking about protecting…it's buying us time for species to continue migration…and buying time for potential adaptation. So that is why we need to be doing everything we can do now," to protect it, he added.
Such preservation "is really based on partnerships," French said, federal and state as well as local groups "because there are a lot of changes coming."

He noted NH's Audubon's former President, the late Tudor Richards, started the conservation at Cherry Pond for its rich migratory bird habitat.
It still owns the land around it in fee and the state owns the water.

"It was the seed," for the expanded preservation effort in Whitefield and Jefferson which is now the Pondicherry Division of the Conte Refuge.

Over 278 bird species use the pond and its little pond and its environs and over half of those nest here and rear their young, French said. It is particularly busy in the migratory season.

Since NH Audubon's start at conservation federal Land and Water Conservation Fund dollars – generated from offshore oil drilling payments and not taxpayer funds – have been used to expand the preservation from the Great Pond out in all directions so the view from the pond is largely protected lands including the White Mountain National Forest.

While walking back on the rail trail, Markelle Smith, director of the Friends of Silvio Conte NFWR and an employee of Massachusetts Audubon, explained that for years the LWCF money was not a reliable year-to-year funded source with it going up and down as Congress redirected its revenue.

But during the Trump Administration, it became a federally mandated, fixed $900 million appropriation each year to the LWCF fund which conservation groups can now count on to help provide and leverage funds for such land acquisitions.
Shaheen's bill would be separate from that LWCF funding source but augment and formalize collaborative efforts.
Thayer, of the AMC, said the bill could help fill in gaps for projects and allow for more collaboration.
"Your introduction of the Partnership Act is huge because partners bring all different types of skill sets along with that capacity to fill those gaps," he told Shaheen, and thanked her for doing so.
Markelle said the opportunity is right now, with federal funding available "all the agencies can come together and kind of identify where we have the most impact, then we can use those dollars in the most impactful way, so 'thank you,' for all your support," she told Shaheen.
Shaheen responded by saying, "And now we have to get it done."

FOR MORE INFORMATION ON CHERRY POND
Fall is a great time to visit this portion of the Conte in its Pondicherry Division. Located at 289 Airport Road Whitefield a website with more information is here https://www.fws.gov/refuge/silvio-o-conte/visit-us/locations/pondicherry-division

OTHER VISITS IN THE NORTH COUNTRY

Shaheen began her day, Friday visiting the U.S. Border in Pittsburg.
She said there are significant border crossing issues which have been building for years.

While she said illegal border crossings are more common in other parts of the massive Swanton Sector of the northern border with Canada for which New Hampshire is a part (Stretching from Ogdensburg, N.Y. through to New Hampshire) she is listening to the needs for more resources at New Hampshire's border.
She then headed south to Colebrook to tour the new Coos County Family Dental Clinic and Federally Qualified Health Center.

She met with officials there and discussed efforts at the federal level to deal with the shortage of dental services in rural areas like the state's North Country.

FQHC uses a sliding-scale fee system to ensure no one is left out of health care services, regardless of insurance status.
After her visit to Cherry Pond in Whitefield, her day concluded on Whitefield's Union Street where Shaheen secured a $1.4 million congressionally directed spending award to support major infrastructure upgrades, including resolving long standing drainage problems replacing water mains, reconstructing the roadway, building new sidewalks and adding street lighting.