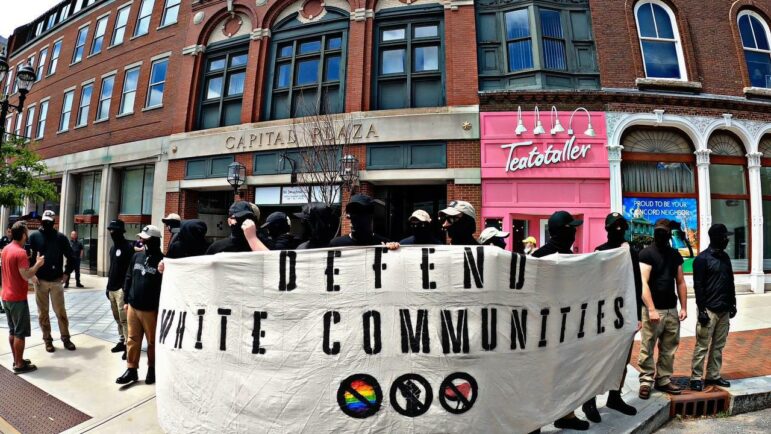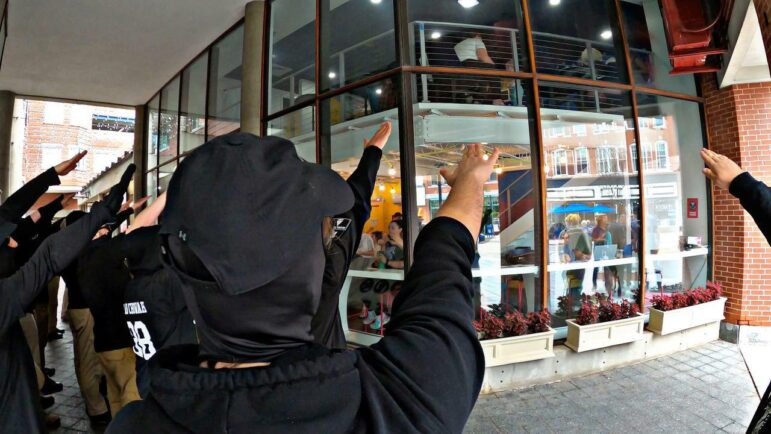 By DAMIEN FISHER, InDepthNH.org
A day after New England-based white supremacist group NSC-131 tried to intimidate people at a drag queen event in Concord, the group's Granite State leader is reportedly dead.
Posters on NSC-131's Telegram channel reported Monday that Leo Anthony Cullinan is dead. No cause of death was reported. A poster on the Telegram channel also reported members of white supremacist group Patriot Front and the anti-fascist organization Antifa were "desecrating" Cullinan's memory online.
"Send screenshots of these incidents to (NSC-131 member handle) so these individuals can be identified and dealt with," the poster states.
Cullinan, 35, headed the New Hampshire Chapter of NSC-131, which is considered a terrorist gang. The group was founded by Christopher Hood, who also has ties to several other violent extremist groups.
Kristofer Goldsmith, head of veteran operated anti-fascist group Task Force Butler, does not expect Cullinan's death to result in any NSC-131 internal strife.
"He was the leader of the New Hampshire chapter, and Chris Hood is still the undisputed leader," Goldsmith said. "I don't imagine there will be any power struggle. Hood is raising money on (a website) for Cullinan's funeral costs."
Both Hood and Cullinan were charged by the New Hampshire Attorney General's Office for civil rights violations after they hung a banner off a Route 1 overpass in Portsmouth last year that proclaimed "Keep New England White."
These charges were dismissed this month when Rockingham Superior Court Judge David Ruoff ruled the demonstrations are protected by the First Amendment. The state is appealing that ruling.
Mike Garrity, spokesman for Attorney General John Formella said: "We have learned of Mr. Cullinan's death from our law enforcement partners. We are currently asking the court to reconsider our case against Mr. Hood and NSC-131."
Cullinan also had a pending assault case in Manchester stemming from a violent NSC-131 incident last year. According to the Task Force Butler report on NSC-131, Cullinan and Hood stalked and threatened a person they identified as being in Antifa.
"On May 1, 2022, members of NSC-131 conducted surveillance on a gathering of individuals who were celebrating May Day at Veterans Memorial Park in Manchester, NH. NSC-131 members then followed an individual they claimed was a so-called 'antifa leader' approximately 1.25 miles to the parking lot of St. Mary's Bank located at 200 McGregor St, Manchester, NH. Once in the parking lot, New Hampshire regional leader Leo Anthony Cullinan and national leader Chris Hood walked over to the parked vehicle with the driver inside and began threatening the occupant of the vehicle. After a few seconds, Cullinan punched the driver's side window, shattering it," the report states.
Cullinan had a long criminal history before he became part of NSC-131, according to the Task Force Butler report, including drug charges and helping to steal a gun used in a murder.
"Cullinan was arrested on September 4, 2009, for possession and transportation of a controlled drug and possession of a firearm, while on bail for helping to steal a gun that was used in a 2007 murder, and served seven-and-a-half years in prison. Cullinan became engrossed in neo-Nazi and NSC-131 activities not long after his release. He became the primary propaganda creator for the group in 2021 and likely became the regional leader for New Hampshire around that time. Cullinan frequently posts anti-Semitic rants about Jews and advocates for violence against them," the report states.
Cullinan was known for his large frame and aggressive manner. He allegedly took part in numerous assaults, many caught on camera and posted to NSC-131's Telegram channel. While not taking part in violent, racist terrorism, Cullinan worked as an HVAC technician in Manchester, according to the report.
It's not known for sure if Cullinan was at Teatotaller Cafe in Concord on Sunday, where NSC-131 members tried to intimidate patrons and staff during the cafe's drag queen story hour. The group posted photos of videos of their demonstration, shouting bigoted slogans and giving a Nazi salute outside the restaurant.
The drag queen event continued despite the neo-Nazi intimidation.