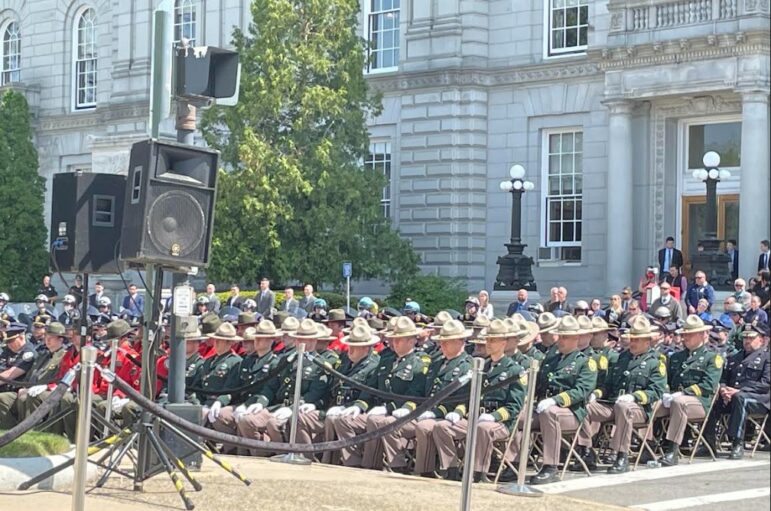 By PAULA TRACY, InDepthNH.org

CONCORD – The state honored the lives of service and sacrifice from three law enforcement officers, Friday at the 31st annual Law Enforcement Officers' Memorial Ceremony.

Joining what is now a list of 55 officers were Hillsboro Police Officer Rory Bohanan, Department of Corrections Officer Lawrence Prather, and Manchester Patrolman Frank J. Dustin.

Bohanan was the school resource officer at Hillsboro-Deering High School when he was stricken just about a year ago; Prather was also stricken and died at work on a double shift in January; and Dustin was off duty for the Manchester Police in 1918 but died of a heart attack while on a foot pursuit in the area of Stark Park. He was finally honored for his service more than 100 years later.
Family and friends of the other 52 honored officers, members of law enforcement from all over the state, Gov. Chris Sununu, and the state's Congressional Delegation attended the services outside the state Legislative Office Building in Concord.
There was a motorcycle procession, bagpipes, marching officers, a gun salute, and taps.
Sununu, who offered the keynote address, said it was a sad day but also a proud one for the state noting that New Hampshire and its many successes are rooted in community and service and it is recognized and valued.

He said New Hampshire is the safest state in the country and it is in large part due to those who put duty before themselves.

Sununu called on others to find a way to serve their community and to help carry the "heavy burden."
"Let's be the gold standard when it comes to pride in law enforcement," Sununu said.

The ceremony was the first to mark the service of K-9 service dogs and what they contribute to the safety of the state.
Attorney General John Formella, the state's top law enforcement officer, read the names of each of the fallen officers while family members placed a single red carnation in a wealth of white and two officers from their department saluted.

U.S. Senators Jeanne Shaheen, Maggie Hassan, and Congresswoman Annie Kuster along with Congressman Chris Pappas, all Democrats, sat together along with Executive Councilor Janet Stevens, R-Rye.
Kevin Jordan, colonel of New Hampshire Fish and Game was the master of ceremonies for the memorial said.
Sununu ordered the flags in the state to be flown at half-staff Friday in honor of law enforcement.