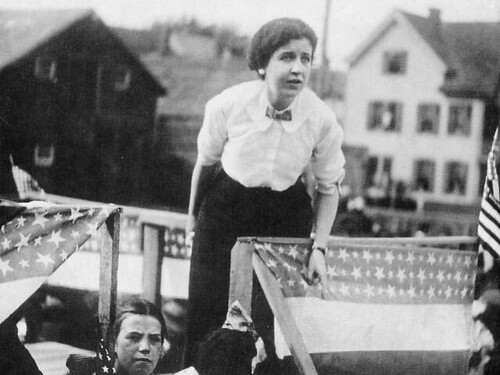 By NANCY WEST, InDepthNH.org

CONCORD – The controversial state historical marker at the 1890 birthplace of Elizabeth Gurley Flynn in Concord was removed Monday morning after Executive Councilor Joe Kenney, R-Wakefield, and others complained about hosting a marker for someone who once headed the nation's Communist party.
Kenney said it was outrageous to recognize Flynn with a historical marker, but on Monday said he didn't know it had already been removed. He planned to get details on how the process works at the next meeting of the Executive Council Wednesday.
When asked if Gov. Chris Sununu ordered the marker removed, his spokesman Ben Vihstadt said via email: "All policies and guidelines were followed in removing this controversial marker.
"Through their public statements, the City of Concord made clear they were not advocating to keep the marker up. In their communications with the state, it was learned that the marker was located on state property, not city property as previously believed, and therefore the marker was removed this morning," Vihstadt said.
Flynn's supporters were not happy.
They describe her as "a 20th century champion for labor, gender equality, and civil liberties.
"We still say that under the Department's own guidelines, Elizabeth Gurley Flynn's birthplace in Concord is a fitting location for a historical marker," said Mary Lee Sargent of Bow, a longtime labor and feminist activist with five decades of experience teaching American history at community colleges and universities.
"The marker was removed shortly after the Division of Historical Resources changed its guidelines for establishment and retirement of historical markers only a day after Sargent and Arnie Alpert delivered to Commissioner Sarah Stewart a letter once again emphasizing Flynn's significance as a historical figure," Alpert and Sargent said in a news release.
"Even under the policy's latest revision, there is no provision for markers to be retired because of objections to their content," Alpert said.
This green and white marker was unveiled on May 1 at the corner of Court and Montgomery streets in Concord, near Flynn's birthplace.
It said: "Elizabeth Gurley Flynn was a nationally known labor leader, civil libertarian and feminist organizer.
She joined the Industrial Workers of the World at age 17 where her fiery speeches earned her the nickname 'the Rebel Girl'".
Kenney said he received an email with the revised guidelines for historical markers late Friday afternoon from Sarah Stewart, commissioner of the state Department of Natural and Cultural Resources. The new guidelines say the commissioner has final say over who gets a marker.
Stewart's email said: "I have been working with the Governor's staff to amend the guidelines and policy for the Historic Highway Marker Program. These will be uploaded to the Historical Resources website. We are also going to put together a very succinct 'application check list' document that summarizes the application process."