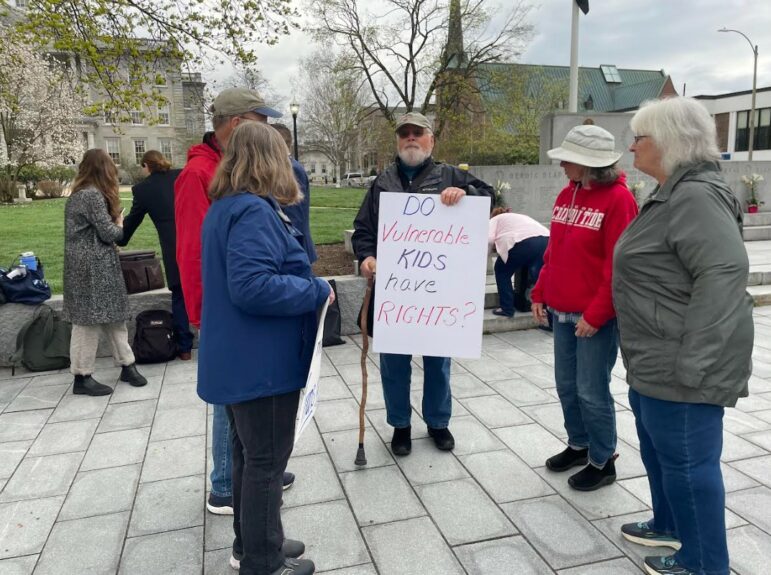 Editor's note: This story was updated to include afternoon testimony.
By PAULA TRACY, InDepthNH.org

CONCORD – In a packed Representatives Hall, opponents and supporters of the Parental Bill of Rights in Education testified on whether Senate Bill 272 would harm or help children and their parents.

A copy of the bill is here. https://www.gencourt.state.nh.us/bill_status/billinfo.aspx?id=1079&inflect=2

Members of the state's LGBTQ community came out in force to oppose the bill and held competing rallies with supporters of the bill before the hearing on different areas of the State House grounds.

 Members of the NH Peacekeeper Project planned to limit conflicts as the LGBTQ community was warned that members of the Proud Boys were expected to be present at the rally in support of the bill.

The hearing began with legislators speaking before the many citizens could get a chance to testify.

State Sen. Sharon Carson, R-Londonderry, the bill's sponsor, said there is a need to let parents know why their child is being bullied in school or what is going on and the legislation would allow parents to be informed if they ask.

This would particularly impact those who identify by another gender from which they are enrolled and could lead to conflicts, and suicide, opponents warned.

"Parents love their children. They care about their children and they want to do best for their children. Schools can't do that," Carson said. "They only have them a few hours of the day.
"Why is it OK for a school to lie to parents? What kind of a lesson is that?
"Unfortunately, a lot of this conversation revolves around transgender students," Carson said.
Opponents said this is part of a national effort on the conservative right to suppress the rights of individuals.
The bill passed the Senate on partisan lines 14-10 with no support from Democrats.
It declares that "no institution may withhold information about a child, the child's health, the child's school environment or the child's in-school behavior from the child's parents or parents absent a compelling government interest."

It makes schools liable stating "any parent claiming violation of any provision of this chapter may bring an action for declaratory and/or injunctive relief and monetary damages against the school or school personnel. If a parent prevails in any such court action, the court shall award the parent his or her reasonable attorneys' fees and court costs…"

Carson said more than 20 years ago, she was told three weeks after one of her children was assaulted. She asked why she wasn't called immediately and was told that the call was just a courtesy and there was no requirement to do so.

"I don't want any other parent to go through this," Carson said as a group of third graders was escorted into the gallery.
In the afternoon, the committee heard much more testimony from parents, former or current students, teachers, and administrators who have direct experience on the issue of "coming out," with many saying it should be up to the individual child, not forced by law.
But some said they thought the bill made sense to bring parents and school officials together to support the child and avoid secrecy.
Paula Hurley of Concord, a 30-year employee of the judicial branch which she said heard thousands of abuse cases, said most parents are caring, gentle, and kind where children likely feel comfortable.

"But I am here to remind you that there are a lot of homes…that are abusive," and she said those children are scared.
"They depend on us, they depend on you. You will never know who they are, their pain if they experience rejection," and she said if they commit suicide, they will never know.

"Please consider them," Hurley said and reject the bill.

A vote on the bill is scheduled for April 25 at 10:30 a.m.
Some national activists also testified. Chloe Cole spoke in support of the bill. A detransitioner, or a person who transitioned back to her original gender, Cole said she was abused by doctors as a child who she called "butchers" and said the medical community failed.
She said many who are going through feelings of gender dysphoria will "grow out of it."

Nancy Brennan said it was hard to stand and speak after hearing Cole's "heartbreaking" story and others but she said, "We need to remember that each person is an individual" and that she could not support the bill.

New Hampshire should be talking about a good education for all kids, funding it, and getting the services they need.
"Demonizing public teachers has spread across this country," she said.

Nancy Martland of Sugar Hill, who holds a doctorate degree in child development said SB 272 is a veiled attempt at attacking and harassing transgender children. She noted that the bill does not address child depression.
At one point, two women were asked to leave the chamber by the chair for arguing and they were escorted out by the sergeant at arms.
Beth Scaer of Nashua, a mother said nothing in this bill forces teachers to spontaneously tell parents their child is LGBTQ, it only requires them to say something if they are asked.
She gave examples of teachers who were accused of abusing their students in New Hampshire schools.
Juliet DiPietro of Manchester, a nurse, supported the measure. She noted her school system is being sued by a parent over this very issue. In the medical field, parental involvement is critical when a child is experiencing gender dysphoria, she said.
"Every parent has a right to know," she said.

Julia Smith of Nashua supported the bill.
She said the bill is about transparency and parental notification not about "coming out."

Bill Blum of Portsmouth said he has been at the State House far too often on this subject.
"Why are we here wasting our time?" he asked, "when it was already decided," referencing the fact that a similar bill died earlier in this session.
"Do not force someone to tell their coming out story," he said.
Chuck Morse, former state senator and its president from Salem, said at its core, this is about allowing parents to know what is going on with their children.
Morse said the bill also protects parents' right to opt their children out of programs and activities that they find objectionable.
"It's about empowering parents," Morse said.

Enshrining a parent's bill of rights into law sends a message that parents are central to the success of their children, he said.
Sen. Daryl Abbas, R-Salem, said the bill is about promoting honesty when a parent inquires about a child's sexual identity.
"In my opinion, it is more harmful to lie to parents," Abbas said.

Republican State Rep. Bob Lynn, former Supreme Court chief justice, said the problem is the teacher or school system that believes it's OK to protect a child from having to have an uncomfortable conversation with their parents.

Rep. Tim Horrigan, D-Durham, said he does feel parents have rights but children have rights too and they don't have the right to tell their children what to think.

He said the bill was an unfunded mandate to schools and will create a lot of cases where teachers will have to track information about student clubs which they don't have to do.

Horrigan said it is wrong for a parent to tell their child not to be who they see themselves.

Members of the state's LGBTQ community said supporters were using the "parental rights" part of the bill to justify requiring public school staff to "out" transgender and gender-nonconforming students to their parents if parents ask.

They noted the bill also notifies parents of student club attendance, targeting Gender-Sexuality Alliances, and allows parents to sue teachers.

"This bill puts a target on the back of LGBTQ students and spreads distrust between them and their teachers," said Linds Jakows, co-founder of 603 Equality.

"Most parents know that the best way to build trust with their kids is open and honest communication, not passing a law that tells our overworked teachers to out students or be sued."

Speaking at a rally before the hearing at the granite arch bridging Main Street in Concord and the State House Plaza were Courtney Reed, Policy Advocate ACLU-NH, Chris Erchull, attorney for the GLBTQ Advocates and Defenders (GLAD), Ansley Peacock, a parent, Willow Young, another parent, Quincy Abramson, Executive Director, New Hampshire Youth Movement, Jess Goff, Community Outreach & Education Coordinator, Seacoast Outright, Keith Kuenning, Waypoint, Deb Howes, AFT-NH, and Megan Tuttle, NEA-NH.
Reed of the ACLU said the bill would harm students in New Hampshire.
Howes said in a news release:
"Students need to have a level of trust in the adults in their school. By requiring teachers and school staff to act as parents' surveillance agents against their students, this bill would destroy that trust. By singling out LGBTQIA+ students or behaviors that indicate a student might be part of that community, this bill would require teachers and school staff to discriminate against students to uphold so-called parents' rights. And to add salt to the wound, the small group of extremists supporting this dangerous bill want teachers and school staff who refuse to discriminate to be sued for damages and legal costs.

"Students need to know that they can turn to a trusted adult in school, especially if they don't have one at home. This bill erodes trust and will diminish the quality of some students' educational experience and cause them to lose a place and person that feels safe to them," Howes said.