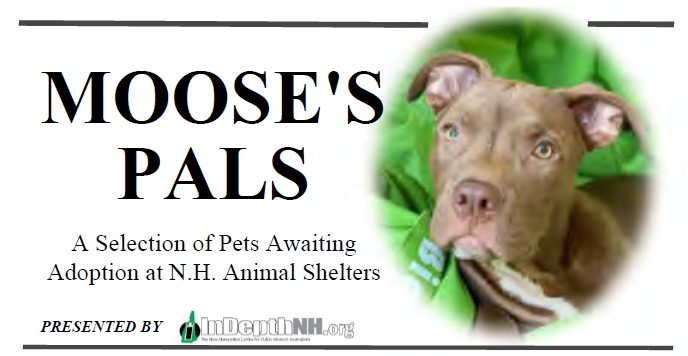 Welcome to this edition of Moose's Pals, a column devoted to pets that are available for adoption at local animal shelters. Moose is our mascot here at InDepthNH.org, and each week he and his mom select those who are waiting for new homes. He scans the websites of New Hampshire animal shelters and randomly selects five pets available for adoption to feature in this column. Contact the shelter listed for each pet to find out their process and adoption fees.
1. Luca is a 1-year-old, male, 66-pound, German Shepherd and Siberian Husky mix with a tan and dark brown medium coat. Luca is looking for a German Shepherd experienced home that can help teach him basic commands and manners. Luca is very vocal, but once focused he is very attentive and wants to learn. His history with children and small animals is unknown, but he may do well with another like-minded dog to help teach him basic skills.
Available at the Pope Memorial SPCA Concord-Merrimack County, 94 Silk Farm Road, Concord, NH 03301. Phone: (603) 856-8756.
2. Kukri is a 6-year-old, male, black, domestic short hair. Kukri is loves treats and is very food motivated. He is comfortable with new places and enjoys relaxing in his cat bed. Kukri is reserved with new people and does very well when given the time to acclimate and smell you first. He is used to a quiet home where he can be himself. He is selective with other cats so an introduction would be necessary, and Kukri may be able to meet dogs and older children too.
Available at the Monadnock Humane Society, 101 W. Swanzey Road, Swanzey, NH 03446. Phone: (603) 352-9011.
3. Chuck is a 3-month-old, male, black and white, Labrador Retriever mix. Chuck is a happy and adorable little boy who would love to be the newest member of your family! He is very young, so training with basic commands and manners, as well as potty training, are things that will take time and patience and are a must.
Available at the Salem Animal Rescue League, 4 SARL Drive, Salem, NH 03079. Phone: (603) 893-3210.
4. Mr. Man is an adult male, black and white, domestic short hair. Mr. Man was living on the streets, and is an active and curious guy who is ready for a new home of his own. He is very playful and adventurous, and has a cuddly side when he is tired. He is selective about other cats, and does not like dogs at all, so Mr. Man would probably do best is he was the only pet in the home.
Available at the Manchester Animal Shelter, 490 Dunbarton Road, Manchester, NH 03102. Phone: (603) 628-3544.
5. Remi is a 2-year-old, male, 64-pound mixed breed with a brown and white coat. Remi is a very timid, quiet boy who needs a slow and gentle introduction to people and places. He responds well to calm, happy voices and a nice offering of cheese! Remi just wants to be truly loved and cared for, but needs time to acclimate before he shows you his silly, fun-loving side. He will need a patient family who will be able to give him time, reassurance, and a calm and quiet home. He may do well with the right doggy sibling, but would need to have some introductions first. Remi does not have a history with cats or other small animals, and any children would need to be over 16 years old and very respectful of Remi's boundaries.
Available at the Pope Memorial Humane Society, 221 County Farm Road, Dover, NH 03820. Phone: (603) 749-5322.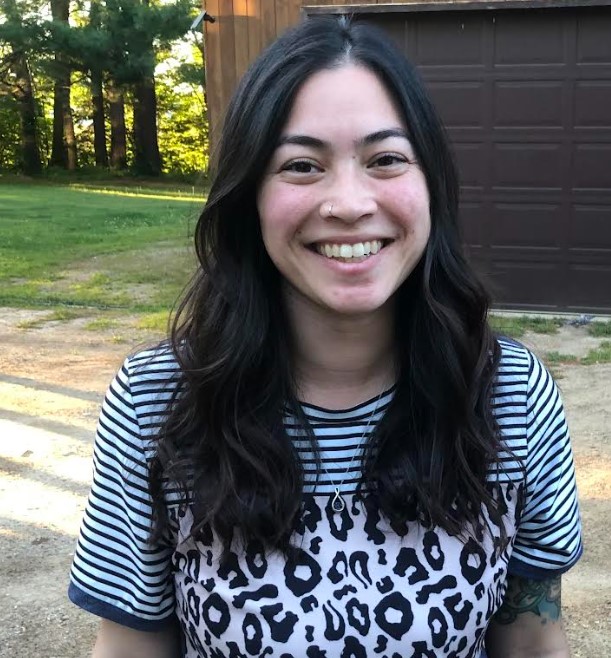 Chelsea Hensley graduated from Salem State University with two bachelor's degrees: Geological Sciences and Communications in Advertising. She worked in the environmental consulting field for multiple years after graduating, and currently is a stay-at-home mom and assistant editor for InDepthNH.org.