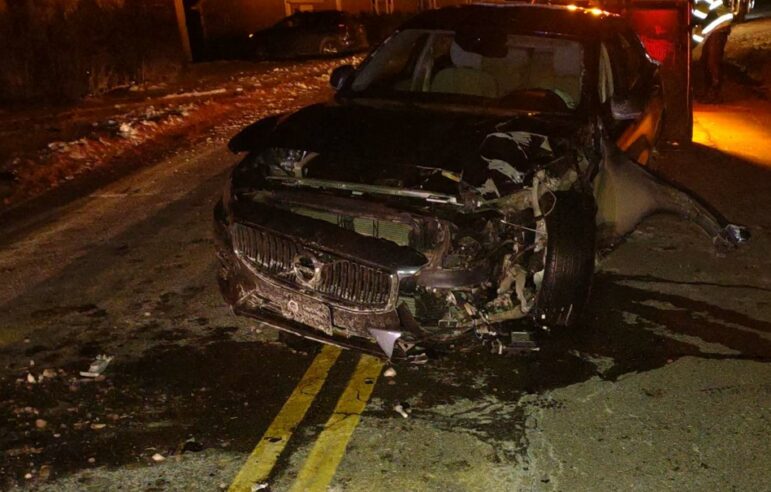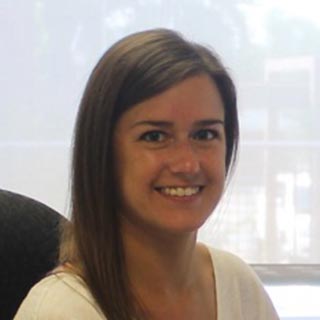 By NANCY WEST, InDepthNH.org
PORTSMOUTH – The crash involving Jackie Burnett, Portsmouth Police Chief Mark Newport's executive assistant, appears to have been more serious than first reported, but many of the details remain confidential.
Burnett, 35, of Hampton, was originally charged with DUI impairment in the 1:58 a.m. Peverly Hill Road crash Feb. 25 in which she hit a utility pole after admitting to having a "couple" of drinks – one IPA beer at a benefit event at The Rusty Hammer and a second one later at TJs, according to documents provided by New Hampshire State Police.
But during a court hearing March 13, District Court Judge John T. Pendleton – who accepted Burnett's plea reducing the DUI to reckless driving – said she collided with "multiple vehicles" and a utility pole.
It was the first mention of multiple vehicles being involved along with the utility pole in the public documents made available to InDepthNH.org.
During the brief hearing, Pendleton questioned Burnett whether she was agreeing to the reduced reckless driving plea "freely, knowingly and voluntarily."
"In regards to the single count alleges a violation of 265:79 (reckless driving) occurred on 2/25/2023 at 1:58 a.m. on Peverly Hill Road in that you operated a motor vehicle recklessly so that the lives and safety of the public were endangered in that the defendant collided with multiple vehicles and a utility pole. How do you wish to plead?" Pendleton asked Burnett.
Burnett responded: "Guilty."
Pendleton added if there are uninsured losses, there are 60 days to figure that out. He accepted the negligent driving guilty plea and sentenced Burnett to 60 days license suspension and $520 fine.
Pendleton's statement was handwritten in Burnett's plea agreement reducing the charge to reckless driving, but no mention of how many vehicles were struck or any other details were available in the court records.
Burnett's court hearing had been scheduled for March 29 at 8:30 a.m. in the 10th Circuit – District Division – Portsmouth, but was held on March 13 instead, according to the audiotape of the hearing purchased by InDepthNH.org through eScribers, which the New Hampshire Supreme Court has approved as the transcriber for all New Hampshire courts.
Below is the March 13 audio hearing in the 10th Circuit – District Division – Portsmouth with Judge John T. Pendleton, Jackie Burnett and her lawyer Andrew Cotrupi speaking.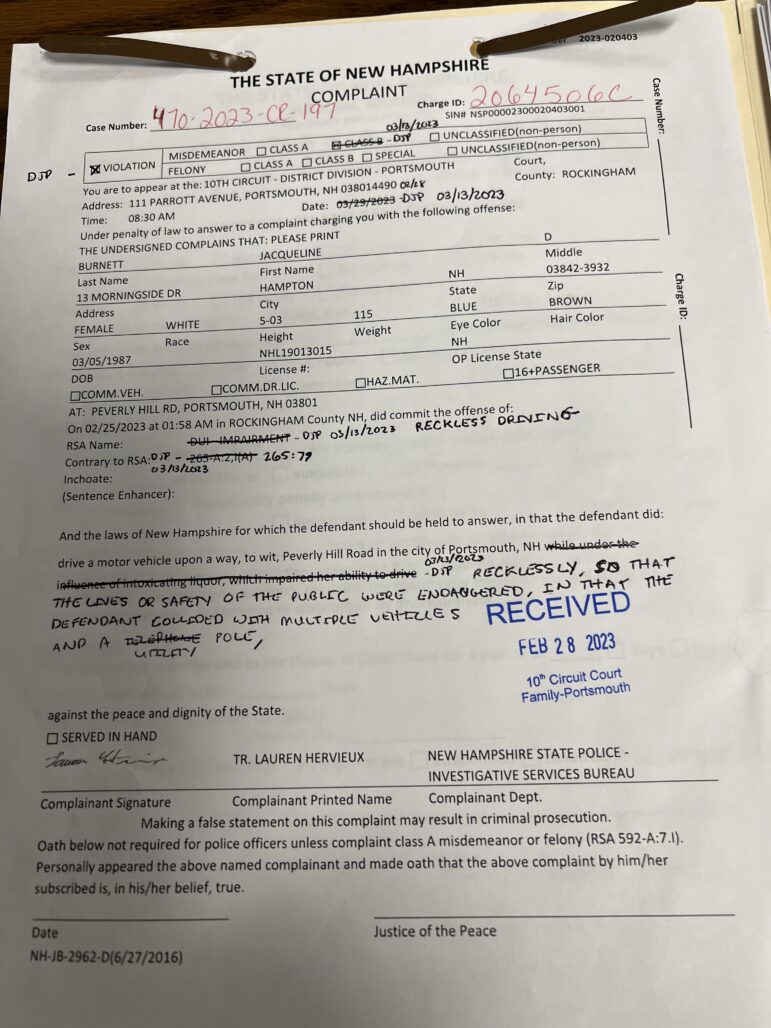 Arrest Narrative
Portsmouth police asked State Police to investigate because of Burnett's position with Portsmouth police.
State Trooper Lauren Herview met Burnett at the Portsmouth Regional Hospital sitting on a bed in the emergency room hallway wearing a neck brace after the crash, according to Herview's arrest narrative.
Burnett told Herview that she had one IPA beer at The Rusty Hammer that night at a benefit event after work and another at TJs. The event was a fundraiser for the Battle of the Badges CHAD charity hockey game.
Burnett told Herview she had recently bought a blue 2020 Volvo that wasn't yet registered in New Hampshire and to which she hadn't transferred her car insurance.
Burnett told Herview she didn't remember where she was coming from or where she was going when the crash occurred, but did remember wires being down and that she was driving alone in the car.
Burnett refused to do any field sobriety tests or blood tests, Herview wrote.
"I observed her eyes appeared bloodshot and I could smell the slight odor of an alcoholic beverage coming directly from her breath. I also noted that she mumbled and slurred her words at times so I had to ask her to repeat herself so I could understand what she said," Herview wrote.
…"Burnett's eyes remained bloodshot in appearance and I observed her pupils were of equal size. I also continued to smell the odor of an alcoholic beverage coming directly from her breath," Herview wrote.
When being walked to the bathroom by a nurse, "Burnett was unsteady on her feet and had to hold on to the hospital bed and the wall for balance. Burnett swayed as she stood/walked and walked into a chair while walking to the bathroom. Upon returning to her hospital bed, Burnett began crying and then fell asleep," Herview wrote, adding she later had to shake her awake.
"Based on the totality of the circumstances, I formed the opinion that Burnett was impaired by alcohol and unfit to safely operate a motor vehicle. I informed Burnett at that time that she was under arrest for driving under the influence. Burnett said 'ok,'" Herview wrote.
No Comment
InDepthNH.org sought more information and comment from Burnett, Chief Newport, and Burnett's attorney Andrew Cotrupi, but they did not respond. Portsmouth Police Commissioners Stefany Shaheen, chairman, Buzz Scherr and Kate Cole also didn't respond to repeated requests for more information about the Feb. 25 crash.
The only statement Chief Newport made was the day after the crash, telling InDepthNH.org in an email the CHAD event involving two members of his department was not department sanctioned.
State Police Staff Sgt. Joseph T. Ronchi sent the link to request the accident report through the Department of Safety several times after several requests.
"I am well aware that you have asked me for the crash report. However, as previously stated, the crash report will need to be obtained through: https://www.dmv.nh.gov/sites/g/files/ehbemt416/files/inline-documents/dsmv505.pdf
"Within the crash report you can find many pieces of information, such as how many vehicles were involved, property damage, if a residence was struck. As ever, Staff Sergeant Joseph T. Ronchi."
What Ronchi didn't say is the motor vehicle records are confidential under New Hampshire's Driver Privacy Act and can only be obtained by the record holder or vehicle owner, someone they approve, or a member of a bank, lien holder, tow company, private investigator, public utility or law firm under RSA 260:14, The Driver Privacy Act.
Ronchi cited the law when refusing to include details of the photos of the crash site.
"Thank you for addressing the driver privacy act. It is a document which can be found at: www.dmv.nh.gov.
"This Act was implemented by Legislation, which is also a direct result of voting. Consequently, the Act that you are referring to was put in place by voters. This is not a law-enforcement initiative, and it was developed in an effort to protect victims of crimes. As a law enforcement official though, I am in support of anything that could possibly protect the victim of a crime," Ronchi said.
DUI Reduced to Reckless Driving
By state law, all prosecutors must report to the Attorney General's Office any driving while intoxicated charge where the plea is negotiated or the original charge is reduced or otherwise negotiated.
State Police filed the notice this week stating why Burnett's DUI was reduced to reckless driving.
Under specific reasons for plea bargaining Burnett's case to a lesser offense, the form said, "Lack of past record, lack of physical tests, lack of witnesses."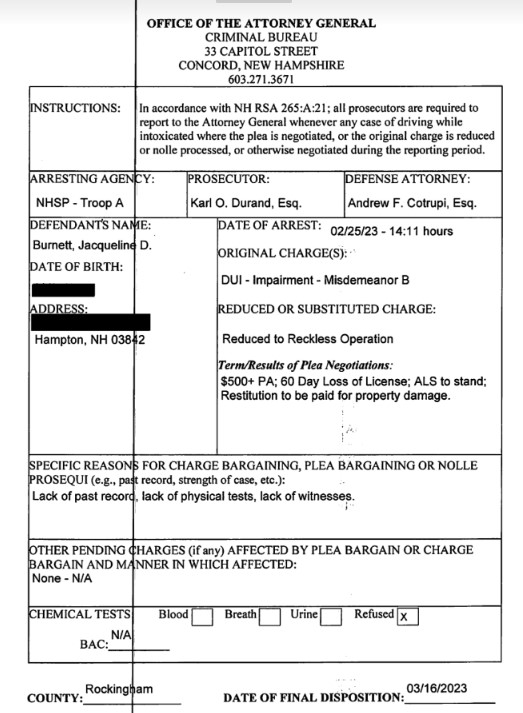 The form also said Administrative License Suspension to stand indicating Burnett faces an additional six-month license suspension for refusing to do any sobriety testing.
Assistant Attorney General Ben Maki is the traffic safety resource prosecutor who collects the DUI charge reduction statements.
The state has collected them since 1989 on paper, and electronically since 2008, averaging about 1,500 a year.
The idea is to maintain transparency in prosecuting drunk-driving charges, he said.
Maki reviews them to make sure they are sufficient and to look for patterns in certain departments to see if more training is needed.