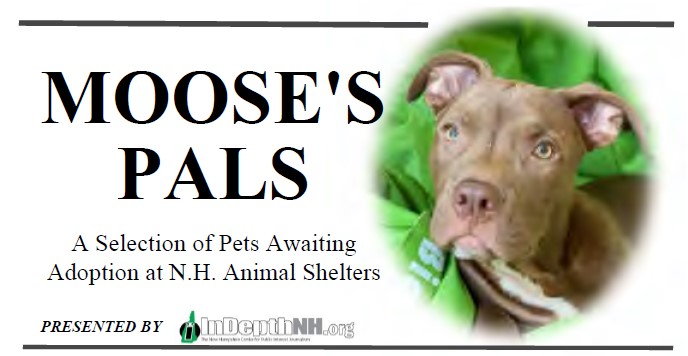 Welcome to this edition of Moose's Pals, a column devoted to pets that are available for adoption at local animal shelters. Moose is our mascot here at InDepthNH.org, and each week he and his mom select those who are waiting for new homes. He scans the websites of New Hampshire animal shelters and randomly selects five pets available for adoption to feature in this column. Contact the shelter listed for each pet to find out their process and adoption fees.
1. Silas is a 2-year-old, male, medium-sized mixed breed with a brown and white short coat. Silas is an adorable boy who has a ton of energy and loves to cuddle! He does well with other dogs and would love to have a sibling or doggy friend to play with.
Available at the New Hampshire Humane Society, 1305 Meredith Center Road, Laconia, NH 03246. Phone: (603) 524-3252.
2. Rose is a 3-year-old, female, 43-pound American Pit Bull with a black and white short coat. Rose is a staff favorite at the SPCA because of her sweet and playful personality. She was tested at her previous shelter and did well with other dogs in her play group, but her history with children and small animals like cats is unknown.
Available at the New Hampshire Society for the Prevention of Cruelty to Animals (SPCA), 104 Portsmouth Avenue, Stratham, NH 03885. Phone: (603) 772-2921.
3. Leslie is an 11-month-old, female, 45-pound, brown and white, Chocolate Labrador Retriever mix. Leslie lived outside and has spent the last few months learning how to be a "real dog." She is a sweet girl but is extremely nervous with new people and situations; however, dogs that are patient and calm with her make the introductions better. Leslie is learning all about normal dog things, like going potty outside and walking on a leash, but you will need to have patience and giver her time to adjust. Because of her fear, a fully fenced yard is required, and she cannot live with cats or children. A well-adjusted and people-friendly dog is also required to help her cope, or you could consider adopting Nipsy, another rescue at the shelter who gets along well with Leslie!
Available at the Animal Rescue League of New Hampshire, 545 Route 101, Bedford, NHJ 03110. Phone: (603) 472-3647.
4. Pom-Pom and Meowsie are both 2-year-old, male cats. Meowsie is an orange domestic medium hair, and Pom-Pom is a white and black American Bobtail. This pair can be easily scared as they were when they were dropped off, and they need to stay together! They were surrendered to the shelter when their dad had to move, and they were not able to go with him.
Available at the Sullivan County Humane Society, 14 Tremont Street, Claremont, NH 03743. Phone: (603) 542-3277.
5. Pepper Pearl is a 4-month-old, female, large-sized mixed breed with a brown, tan, and white coat. Pepper Pearl is a cute puppy that is currently being fostered with other dogs. Because she is a puppy, she will need the time and patience to be taught all the basics like walking on a leash, potty-training, and basic commands!
Available at the Mary's Dogs Rescue and Adoption, 984 1st New Hampshire Turnpike, Northwood, NH 03261. Phone: (603) 608-3374.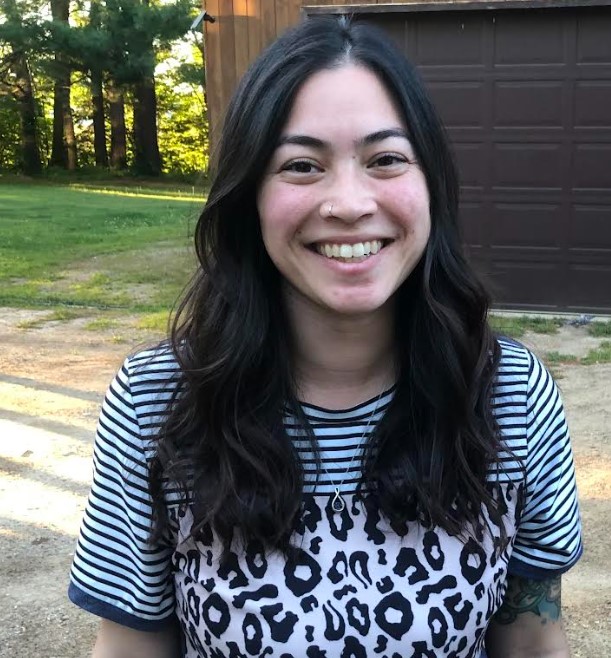 Chelsea Hensley graduated from Salem State University with two bachelor's degrees: Geological Sciences and Communications in Advertising. She worked in the environmental consulting field for multiple years after graduating, and currently is a stay-at-home mom and assistant editor for InDepthNH.org.