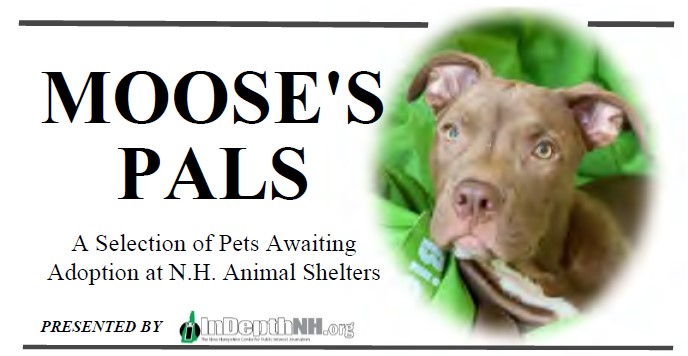 Welcome to this edition of Moose's Pals, a column devoted to pets that are available for adoption at local animal shelters. Moose is our mascot here at InDepthNH.org, and each week he and his mom select those who are waiting for new homes. He scans the websites of New Hampshire animal shelters and randomly selects five pets available for adoption to feature in this column. Contact the shelter listed for each pet to find out their process and adoption fees.
1. Patron is a 6-month-old, male, medium-sized Chihuahua mixed breed with a brown short coat. Patron is a wonderful and cute boy who is described as playful, sweet, affectionate, curious, and outgoing. He was left near the shelter with two siblings. Patron could work well in a home with other dogs.
Available at the Sato Heart Rescue, 765 North River Road, Milford, NH 03055. Phone: (603) 265-0303.
2. Mad Max is a 3-year-old, male, large German Shepherd with a black and brown coat. Mad Max is a handsome, extremely active dog who will need an equally active owner to take him for walks and play fetch with him daily. He is extremely intelligent and needs an owner who will be vigilant with him. Max has even created a game of his own with his toys, proving how smart he really is! He needs to be the only animal in the household, with no exceptions.
Available at the Franklin Animal Shelter, 19 Rescue Road, Franklin, NH 03235. Phone: (603) 934-4132.
3. Spice is an 8-month-old, female, medium, black and copper, American Bobtail/mix. Spice was born and grew up outdoors, but does enjoy the comforts of living indoors now. She is reserved, quiet, and calm, likes affection, and enjoys cozy places to sleep. She also does have a playful side and enjoys chasing toys like a stick or rattling mouse. Spice would be perfect as the only cat or in a home with another calm cat, but not with any dogs or small children.
Available at the Lakes Region Humane Society, 11 Old Route 28, Ossipee, NH 03864. Phone: (603) 539-1077.
4. Jack is an almost 12-year-old, 12-pound, male, orange and white, domestic long hair. Jack was surrended to the shelter when his previous owner could no longer take care of him. He is a sweet, snuggly, sleepy older kitty who does well with other cats and could most likely do well with dogs if given a little time to meet them. He would prefer a quiet home and other cat friends to befriend.
Available at the Conway Area Humane Society, 223 East Main Street, Conway, NH 03818. Phone: (603) 447-5955.
5. Ruby Sue is an adult, female, medium-sized Tortie/Calico/Tabby with a multi-colored coat. Ruby Sue is somewhere between 3 and 5 years old and was surrendered to the shelter due to being bullied at her home and having some skin issues. Her coat is looking a lot better, and she could be perfect for you if she can remain indoors and be kept up-to-date on her flea medication. She is very playful and active, and loves catnip and canned food. Due to her previous home situation, it would probably be best if she was the only animal in the home.
Available at the River Valley Animal Protection League, 60 Cummings Avenue, Charlestown, NH 03603. Phone: (603) 826-3061.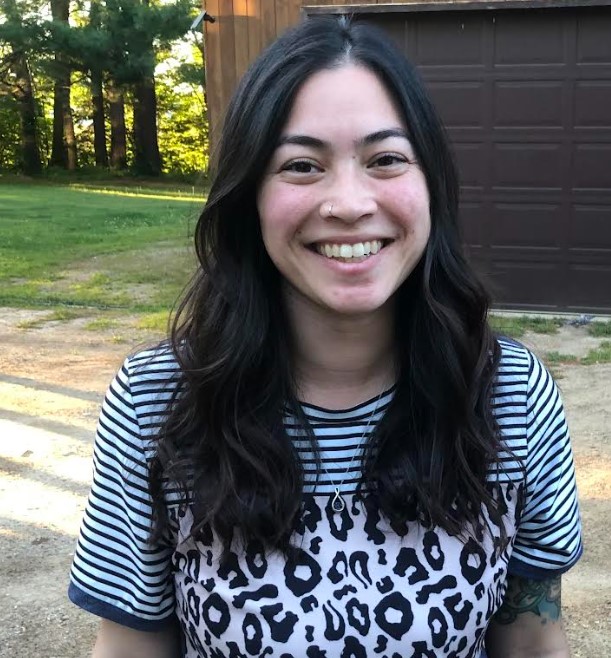 Chelsea Hensley graduated from Salem State University with two bachelor's degrees: Geological Sciences and Communications in Advertising. She worked in the environmental consulting field for multiple years after graduating, and currently is a stay-at-home mom and assistant editor for InDepthNH.org.