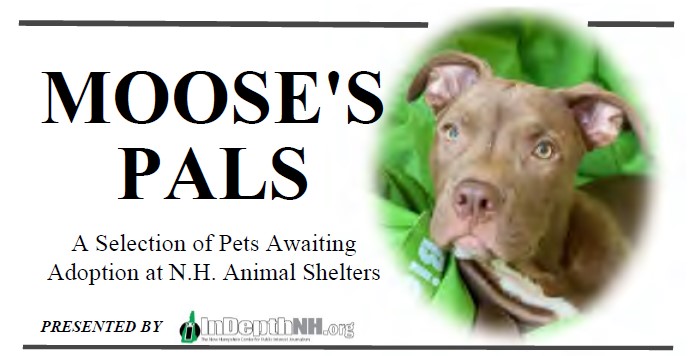 Welcome to this edition of Moose's Pals, a column devoted to pets that are available for adoption at local animal shelters. Moose is our mascot here at InDepthNH.org, and each week he and his mom select those who are waiting for new homes. He scans the websites of New Hampshire animal shelters and randomly selects five pets available for adoption to feature in this column. Contact the shelter listed for each pet to find out their process and adoption fees.
1. Piggy is a 5-year-old, female, medium-sized mixed breed with a white short coat. Piggy is an adorable girl who is so excited to meet her forever family! She is smart and knows her basic commands, especially when treats and toy s are involved. She hopes to be your one and only!
Available at the New Hampshire Humane Society, 1305 Meredith Center Road, Laconia, NH 03246. Phone: (603) 524-3252.
2. Pippi is a 5-year-old, female, orange, white, and black domestic short hair. Pippi was rescued from an abusive situation where her family pulled on her tail and ears. The kind woman that took her in tried so hard to make it work, but her cats picked on Pippi. So, her mom took Pippi in, but her cats picked on her, too! She needs to be the only cat or with cats that won't bully her.
Available at the Sullivan County Humane Society, 14 Tremont Street, Claremont, NH 03743. Phone: (603) 542-3277.
3. Zoey is a 2-year-old, female, Doberman Pinscher and Border Collie mix with a short, black and brown coat. Zoey is a sweetheart once she warms up and is comfortable with you. She is the perfect-sized dog – not too big and not too small. She walks nicely on a leash and hasn't been vocal since she has been at the shelter. She will have to be the one and only pet in the household and would do best in a quiet, predictable environment where she feels safe and loved! She looks like a smaller Doberman with the best ears and profile, and a regular-length tail.
Available at the Salem Animal Rescue League, 4 SARL Drive, Salem, NH 03079. Phone: (603) 893-3210.
4. Knight is an almost 2-year-old, male, black and white, domestic short hair. Knight spent the first year of his life living in a home with a colony of kitties and now he is ready to find his forever home. Knight and his fellow kitty companions are all friendly and ready to show you some love. Knight would like to go home with one of his feline companions if you do not already have one waiting for him at home. He just can't imagine life without a furry cuddle buddy. He has also lived with some canine companions so he may be open to living with a cat-friendly pup as well.
Available at the Upper Valley Humane Society, 300 Old Route 10, Enfield, NH 03748. Phone: (603) 448-6888.
5. Penguin is an 8-month-old, medium-sized, male, Terrier mix with a brown and white short coat. Penguin is a lovely, active boy who is looking for his forever family. He would like his family to be teens and up.
Available at the Humane Society for Greater Nashua, 24 Ferry Road, Nashua, NH 03064. Phone: (603) 889-2275.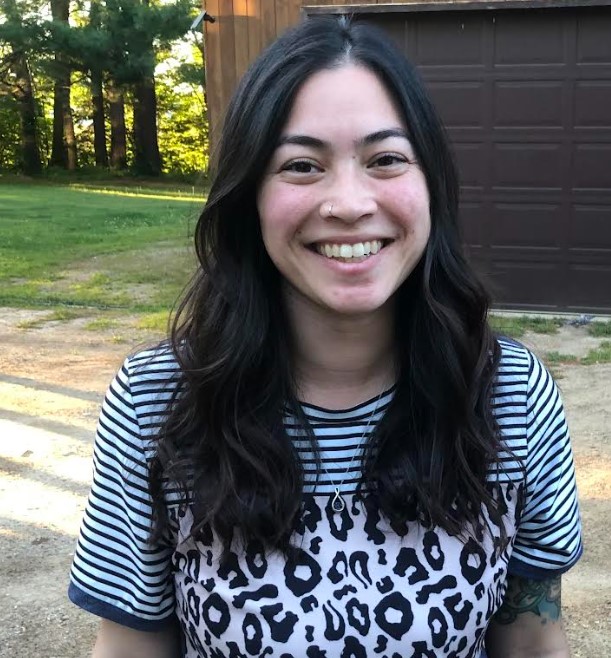 Chelsea Hensley graduated from Salem State University with two bachelor's degrees: Geological Sciences and Communications in Advertising. She worked in the environmental consulting field for multiple years after graduating, and currently is a stay-at-home mom and assistant editor for InDepthNH.org.