Welcome to our new column, Screenshots, about all the shows available on our many screens today. Screenshots starts with Brad Pitt's latest film, Babylon, which explores the depravity of Hollywood and silent movies in the 1920s as it deals with the introduction of talkies.
Babylon reminded me of what Brad Pitt started in Seven, David Fincher's take on the seven deadly sins. He continues these in Babylon. Nary a single sin is missed in Damien Chazelle's screenplay and direction. It's tough to find a few minutes of the three-hour and nine-minute film to escape from elephant poop, vomit, drugs, sadomasochism, zoosadism, murder, suicide, sex in every conceivable way, and racism.
Pitt, who plays Jack Conrad, is one of the reliable actors you can count on to guarantee that your time and money aren't wasted. Yet, he is nearly ruining his bankability with this dreary long, out-of-control film. Still, the guy can act, and he manages to elevate his character's arc from a successful silent film star to one who is falling in the new films that have sound, and we care for him and understand his pain.
Margot Robbie's stamina for this performance is astounding. She is playing Nellie LaRoy, a bit of a dirty girl from New Jersey and a wannabe star. Robbie is such a compelling actor. She draws you into her performance that is written so frenetically it makes us weary for her. She acts, dances, sings, and drinks, all at a manic pace.
Diego Calva, known to those who have watched Narcos: Mexico (of which all the Narcos series on Netflix are great), carries his role as Manny Tores, an aspiring Hollywood executive with the strength to stand up to Pitt. Calva is the heart of the film, and we get to see that at the very end of the film. He and Robbie have great chemistry, and I bought their relationship.
Jean Smart's character, Elinor St. John, is the Hedda Hopper-style, heard-hearted gossip columnist. Her reward in this film is delivering the best moments of quiet, powerful dialogue. The scene is mesmerizing as she speaks some brutal truth to Pitt's character explaining he should be happy with what he had.
Babylon is up for three Oscars for best original score, production design, and costume design. It is available now on Paramount Plus.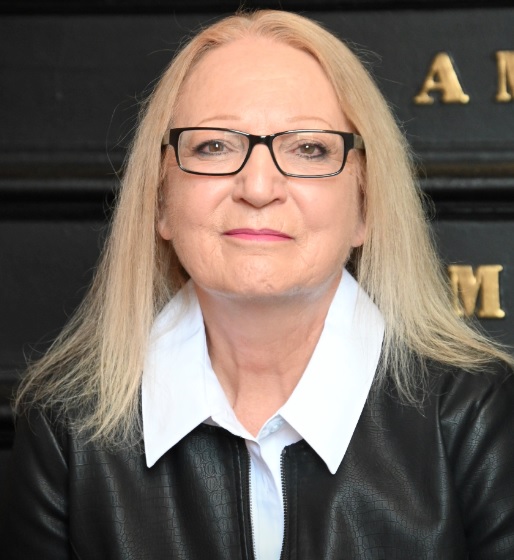 Beverly Stoddart is a writer, author, and speaker. She recently launched a new Zoom series talking with New Hampshire writers called The First Line. After 42 years of working at newspapers, she retired to write books and a blog. She is on the Board of Trustees of the New Hampshire Writers' Project and is a member of the Winning Speakers Toastmasters group in Windham and the Ohio Writers' Association. Her latest book is Stories from the Rolodex, mini-memoirs of journalists from the 1960s, 1970s, and 1980s. A prized accomplishment was winning Carl Kassel's voice for her voice mail when she won the National Public Radio game, Wait Wait…Don't Tell Me! She has been married for 45 years to her husband, Michael, and has one son and two rescue dogs.