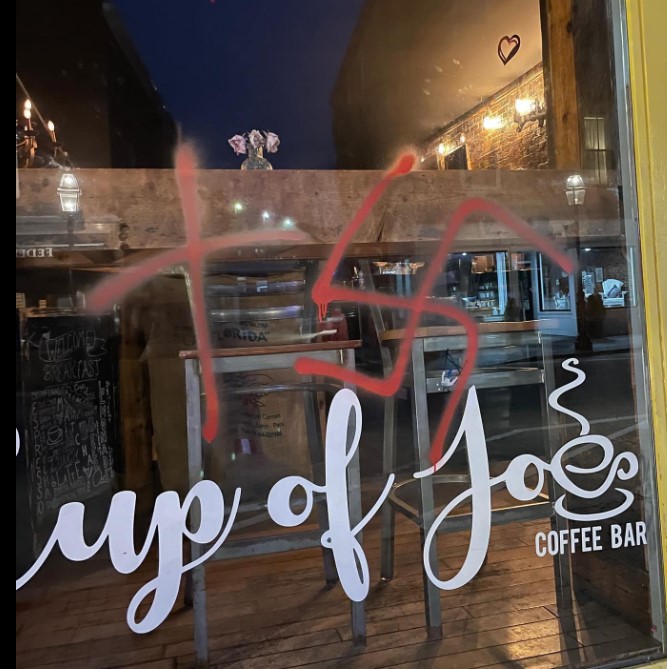 PORTSMOUTH – At least 10 instances of swastikas and other hate messages being drawn on properties around Portsmouth with red spray paint, including on a Jewish Synagogue, around 2:30 a.m. Tuesday morning in the downtown area are being investigated by Portsmouth police and the Attorney General's Office.
"This type of hateful and threatening criminal activity, motivated by racial or religious intolerance, particularly at places of worship, has no place in New Hampshire and will not be tolerated," said Attorney General John M. Formella in a news release. "We will work to find and prosecute whoever is responsible, to the fullest extent of the law. The New Hampshire Attorney General's Office along with our local, state and federal law enforcement partners encourage anyone with information to come forward."
State Sen. Rebecca Perkins Kwoka said with full support from the Democratic caucus that numerous locations around the City of Portsmouth were targeted and vandalized in the name of hate, anti-semitism and white supremacy.
"The vandalization of homes, businesses, government buildings, and places of worship in my hometown of Portsmouth is reprehensible and has no place in New Hampshire or this country.
"Tragically, such bigoted and hateful acts are now not uncommon, in this nation or in New Hampshire; these acts are a direct consequence of unchecked hate speech and rhetoric on the national stage that has gone on for far too long. Every member of the Senate Democratic Caucus, including myself, stands in solidarity with the citizens of Portsmouth, particularly the marginalized groups, members of the Jewish and BIPOC community, targeted in last night's string of attacks," Perkins Kwoka said.
Formella said investigators are looking for assistance from the residents and businesses of the downtown area, particularly with video surveillance that might capture whoever is responsible during this time period. The activity appears to be largely confined to the portion of the downtown between Deer Street, Middle Street, and Court Street, with additional instances on Marcy Street.
The Cup of Joe's cafe posted the following message on Facebook:
"It is with utter shock, disappointment, sadness, anger, and a wave of so many other emotions that I share this photo with you. Between the hours of 7 p.m. Monday and 6 a.m. Tuesday morning, cowards vandalized Cup Of Joe's storefront on Market Street.
"Since opening our doors in 2018, we've had the mission of being a place for all. A safe haven. Hatred of this kind is not welcomed in our community. It's hard to believe that this is still happening in 2023.
"I wish I could say this is the first time an attack on Cup has happened, but it's not. We know that hate-filled attacks like this happen to people of color and the LGBTQIA+ community everyday, all over the country. As we prepare to celebrate our fifth year in business, we will not be scared into silence. We will demand justice, we will not fear hate, and we will continue our mission."
Anyone with any further information is asked to call Portsmouth Police Detective Sergeant McCarthy at 603-616-7656, or remain anonymous by contacting Crime Stoppers at 431-1199 or 1-207-439-1199, or their website, www.seacoastcrimestoppers.org
The New Hampshire Council of Churches issued a statement saying it "stands with our colleagues and friends on the Seacoast who were targeted by acts of antisemitism and white supremacy in the overnight hours.
"Our friends at Temple Israel in Portsmouth, the local Masonic lodge, and many Black-owned businesses were targeted with graffiti, including Swastikas. Our faith compels us to speak out loudly and clearly against these acts of hate whenever and wherever we find them. We are particularly pained that cross imagery accompanied many of these acts of graffiti. These acts had nothing to do with loving our neighbors, or building a more just world in God's name."