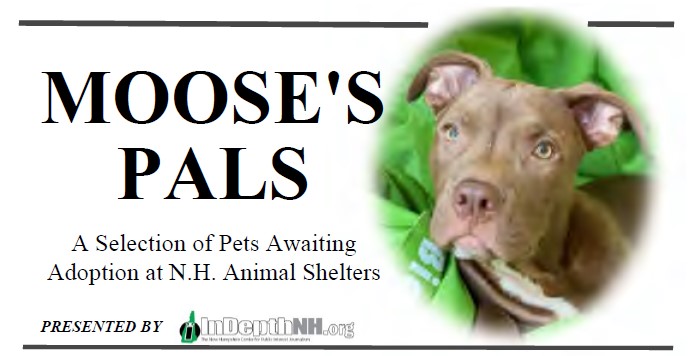 Welcome to this edition of Moose's Pals, a column devoted to pets that are available for adoption at local animal shelters. Moose is our mascot here at InDepthNH.org, and each week he and his mom select those who are waiting for new homes. He scans the websites of New Hampshire animal shelters and randomly selects five pets available for adoption to feature in this column. Contact the shelter listed for each pet to find out their process and adoption fees.
1. Oreo is a female, black and white, domestic short hair. Oreo is known as the Purr Monster! She is a real love bug and will cuddle with you while she takes breaks from her busy days. She recently had babies, but now they're old enough to not need her anymore so she is looking for a home of her own. Oreo loves to eat and watch the birds from windows, and she is a good with polite cats and dogs that aren't too big or loud. Some say she is the perfect cat!
Available at the Manchester Animal Shelter, 490 Dunbarton Road, Manchester, NH 03102. Phone: (603) 628-3544.
2. Finnegan is a 3-year-old, male, 15-pound Chihuahua with a tan short coat. Finnegan is a very friendly who loves playing with people and other dogs. He would love a home with a human who is home more often than not. He really enjoys the company of other dogs to build his confidence, so a family with another dog would be ideal. He is working on potty training and isn't quite sure what to make of a leash.
Available at the Greater Derry Humane Society, P.O. Box 142, East Derry, NH 03041. Phone: (603) 434-1512.
3. Skillet is a 2-year-old, male, 8-pound, domestic short hair mix. Skillet is a handsome young cat who would love to find a quiet, low-traffic home. He would benefit from having a cat-savvy family who will take things slow and work with him until they gain his trust, and he gets acclimated. Skillet is very curious and may enjoy exploring his new home once he is settled. He might do best in a home that has a friendly and outgoing kitty friend already, but no dogs. Skillet also might not mind gentle and respectful teenagers, but young children will make him nervous.
Available at the Pope Memorial SPCA, 94 Silk Farm Road, Concord, NH 03301. Phone: (603) 856-8756.
4. Bagheera is a 2-year-old, female, black, domestic short hair. Bagheera is good with cats and children and may do well with dogs after an introduction. She is a curious girl who likes to explore new places. She gives wonderful headbutts and enjoys pats and scratches. Bagheera loves finding nooks and crannies to curl up in, enjoys interactive play, and is an independent girl!
Available at the Monadnock Humane Society, 101 W. Swanzey Road, Swanzey, NH 03446. Phone: (603) 352-9011.
5. Charlie is a 2-year-old, 46-pound, male, Hound with a tan and white short coat. Charlie is a medium-sized dog with a large amount of love to give to whomever is lucky enough to adopt him! He is a triple-threat: cute, has a positive attitude for days, and has a playful nature. Charlie came up here as part of a transport from South Carolina, has been neutered and passed his health exam, and is ready to go out into the world and find his forever home! He is a bit bossy and would prefer to be the only animal in the home because he is picky with other animals. Charlie tends to be quite playful, but is protective of his people and home, so having others in the mix can make things too complicated for him. He is looking for an adult-only home with little visitors, as he doesn't seem to take very kindly to new people entering his space. Once he bonds, he is stuck to you like glue! He is a smart guy who aims to please those around him, and his charming personality is like no other.
Available at Animal Rescue League of New Hampshire, 545 Route 101, Bedford, NH 03110. Phone: (603) 472-3647.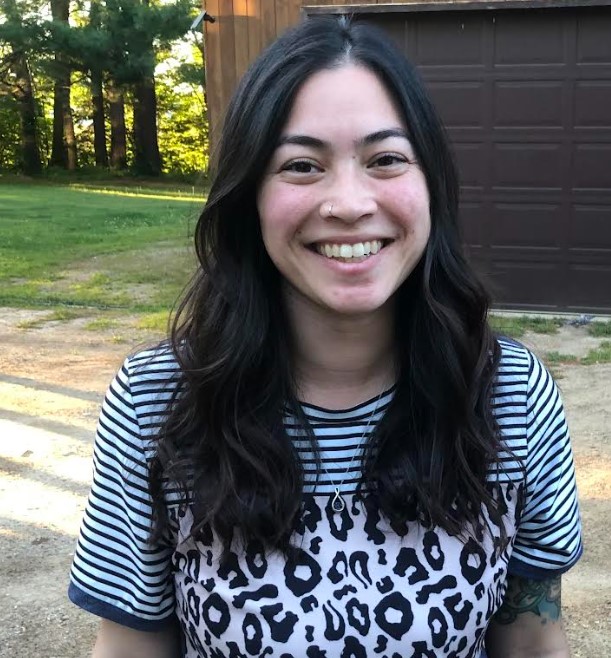 Chelsea Hensley graduated from Salem State University with two bachelor's degrees: Geological Sciences and Communications in Advertising. She worked in the environmental consulting field for multiple years after graduating, and currently is a stay-at-home mom and assistant editor for InDepthNH.org.