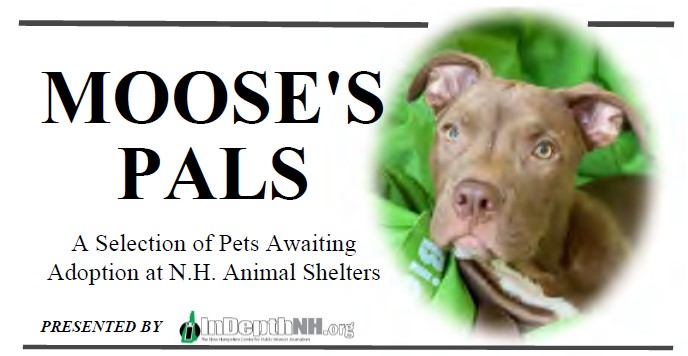 Welcome to this week's edition of Moose's Pals, a weekly column devoted to pets that are available for adoption at local animal shelters. Moose is our mascot here at InDepthNH.org, and each week he and his mom select those who are waiting for new homes. He scans the websites of New Hampshire animal shelters and randomly selects five pets available for adoption to feature in this column. Contact the shelter listed for each pet to find out their process and adoption fees.
1. Lacey and Little Bear are a bonded pair and must be adopted together. Lacey is a female, 9-year-old, gray, domestic long hair. Lacey is a friendly indoor cat who loves to play and jump at flying toys. She loves cuddles while you're sleeping and also loves to be perched up high in cat trees. Lacey is good with cats and children. Little Bear is a male, 8-year-old, white and gray, domestic long hair. Little Bear is very friendly, loves to cuddle with kids, loves to be pet and cuddle during the night, and is very friendly with owners. He likes to play with flying toys like Lacey, loves treats, and loves shoes and slippers. He can be shy with guests and usually stays in another room if people come to visit.
Available at the Greater Derry Humane Society, P.O. Box 142, East Derry, NH 03041. Phone: (603) 434-1512.
2. Chili is a 5-month-old, male, 5.75-pound, gray, domestic short hair. Chili is a playful little guy, but he can also be very nervous and a bit unsure at times, especially when there are loud noises or when he first meets you. He would like to find a home that already has a friendly and playful feline friend who will help him come out of his shell. Once he is settled, Chili loves to play and can be quite the talker when he wants attention! Due to how nervous he can get, Chili would prefer a home where there are no dogs or children right now.
Available at the Pope Memorial SPCA, 94 Silk Farm Road, Concord, NH 03301. Phone: (603) 856-8756.
3. Macy is a 6-year-old, female, Bullmastiff with a buff and black short coat. Macy can be shy and nervous with new people and new experiences. She will need a quiet home with patient adopters. Once she has settled in, she is all yours! She has a silly and playful side, but she is happiest snuggling up with her favorite humans. She has limited animal experience and because of her shy personality, she would do best in a home without young children.
Available at the Monadnock Humane Society, 101 W. Swanzey Road, Swanzey, NH 03446. Phone: (603) 352-9011.
4. Sophie is a 13-year-old, female, 8.4-pound, orange, white, and black domestic short hair. Sophie is an older lady but she has plenty of love left to give one lucky family! She found her way into the shelter after her previous owner developed allergies, but ultimately due to no fault of her own. Sophie is a sweet girl who seems to be easy to fall in love with, especially if you are in the market for a senior feline! As of right now, she is healthy and might be open to meeting older, quiet kids (13+) who are patient and allow Sophie to take her time to get to know them. She did live with one senior cat before, but she ignored them completely. Staff have noted that during her stay at the shelter, younger friendly cats seem to annoy her. Some would say she is moody, but realistically she thinks she is just too good for some! It's possible if you have a senior cat that ignores others, Sophie may be open to living with them, with a slow introduction, but if they want a playmate she is not the one.
Available at Animal Rescue League of New Hampshire, 545 Route 101, Bedford, NH 03110. Phone: (603) 472-3647.
5. Caleb is a 5-year-old, 35-pound, male, Labrador Retriever with a tan and white short coat. Caleb was transported from an overcrowded shelter in South Carolina and was initially quiet and reserved. Now that he is comfortable and knows he is safe, Caleb is showing his silly side! Caleb enjoys running around and throwing toys to himself. He is very loving and attentive to his human friends. Caleb is clean in his kennel and shows a clear preference for going to the bathroom outside. He is a smart boy who knows "sit" and he likes to show off his skills in return for treats. There is no history on Caleb's behavior with kids, cats, or other dogs, but has been friendly towards the other dogs at the shelter. *Caleb has one medical waiver.
Available at the New Hampshire SPCA, 104 Portsmouth Ave., Stratham, NH 03885. Phone: (603) 772-2921.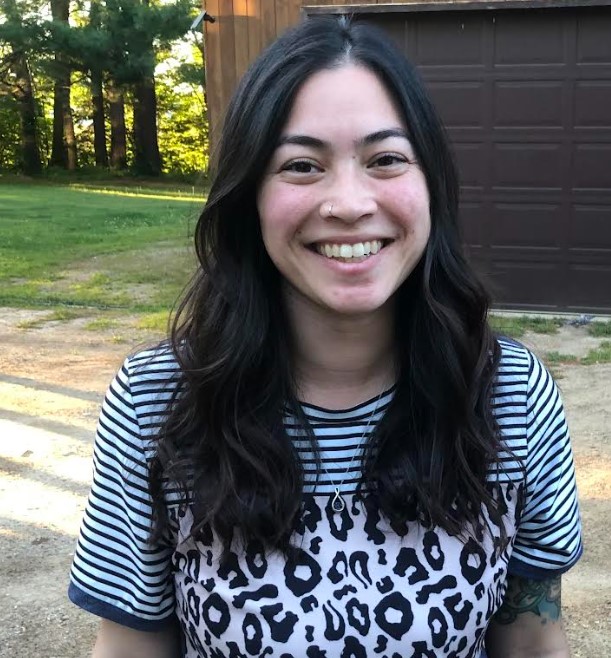 Chelsea Hensley graduated from Salem State University with two bachelor's degrees: Geological Sciences and Communications in Advertising. She worked in the environmental consulting field for multiple years after graduating, and currently is a stay-at-home mom and assistant editor for InDepthNH.org.