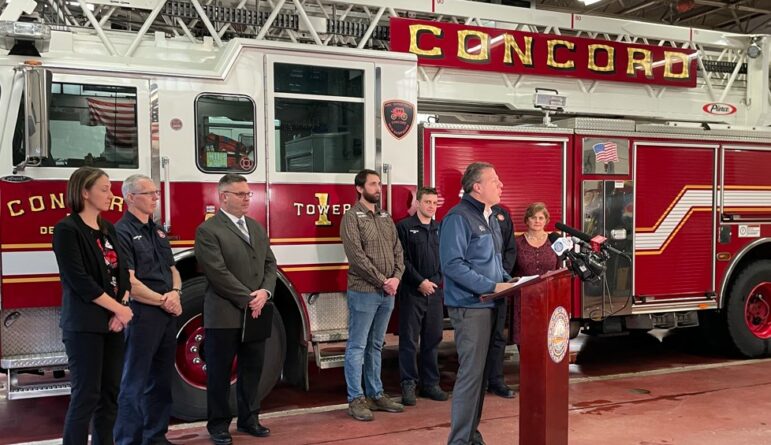 By PAULA TRACY, InDepthNH.org

CONCORD – Gov. Chris Sununu and state emergency management officials urged residents to prepare now for what is predicted to be brutally cold and windy weather that could threaten power for the next two days throughout the state.

State Emergency Management Director Robert Buxton asked all to use this time to gather three days worth of food and supplies including blankets, flashlights, and extra batteries, and to look out for their neighbors as forecasters are predicting near record cold with wind gusts that could cut out power and leave people facing double-digit, sub-zero cold for two days.

It is supposed to be a short-lived event with the weather expected to return to more seasonable conditions on Sunday.

Meeting at the Concord Fire Department with the media, Sununu warned that outdoor exposure could lead to deadly consequences.
He said the homeless are a great concern and those without heat or shelter can call 2-1-1 to be connected with the 18 shelters and cold-weather housing available.

There are about 750 shelter beds available throughout the state and another 300 beds or more can be available, the media was told.

As for outdoor activities, Sununu issued strong caution.

"When it comes to outdoor activities there is virtually nothing that folks should not be very wary of, " even just being outside for 10 to 20 to 30 minutes can become very dangerous very fast in this 36- to 48-hour period so we really want to encourage everyone to curtail their outdoor activities as much as possible.
 "Be smart, be safe, and be prepared," Sununu said.

Sununu added that the state has reached out to planners of the Pond Hockey Classic in Meredith, expected to draw close to 300 teams for action Friday through Sunday to see if they would move or consolidate the competition to later in the weekend, but as of 1:30 the website was showing that the event was still on schedule but there was a weather warning.https://www.pondhockeyclassic.com/nephcscheduleofevents
Some ski areas were indicating on their websites Thursday that some services may not be open this weekend due to predicted cold and high winds, including Bretton Woods which is halting its treetop zip line tours on Friday and Saturday. Check out your ski area's website for more information.
Jay Broccolo, director of weather operations at the Mount Washington Observatory, said he left the mountain expecting to attend the pond hockey classic but found himself with the governor and state emergency officials warning hikers and skiers to avoid traveling above tree line Friday and Saturday.

A decision to climb could lead to disaster not only for the individual but for rescuers, many of whom are volunteers. "It takes a very small mistake," Broccolo said "to lead to death. It has happened many times before."

What has not happened often is the weather being predicted for the summit in the next two days.
He said in an interview following the press conference the wind chill temperature is predicted to be about 100 degrees below zero on Mount Washington.

"If people are fully covered the wind chill doesn't really matter but the wind chill itself whips away the heat from your body so fast – even if you are multi-layered, four or five layers, it is really hard for your body to keep up with the heat loss," he said.

The record low of New Hampshire is 47 degrees F below zero, which was recorded on top of Mount Washington. And the forecast is looking at the lower 40s below zero, Broccolo said.

He said it is possible that a record up there could be met or broken but that is not what is predicted.
"It's certainly possible. So people need to be aware of what they are getting into because above tree line is going to be a completely different world than the rest of the state."

Usually, he said, people will get caught in the weather and they can't get out.

Even just taking your gloves off for a moment, he said, in those conditions can lead to disastrous consequences and the buildings and shelters in the high summits are not open.

Christine Santaniello, assistant commissioner for the state Department of Health and Human Services, said an alert system is activated among shelters and there are additional cold weather options that the state has available if shelters are needed.

Sununu noted that $5 million additional federal dollars have been spent in the past year to improve shelter capacity in the state. He said many shelters know where their homeless populations are camped out, know them by name and are reaching out to make sure they are aware of the dire weather situation coming.
"I know they are doing that outreach today," Sununu said. "I'm always quite impressed at the local level with the specificity," and understanding of their homeless populations. That, he said, gave him more confidence that they will be able to protect people during this cold weather.

Sununu also noted he is in touch with the state's four major utilities which stand ready to move quickly if and when the power goes out, as winds are expected to gust Friday night into Saturday.
He said the days of people being out of power for weeks in this state are over.

The scenario, however, for loss of power combined with the cold and wind is a great concern.
"It's all about communication," Sununu said.