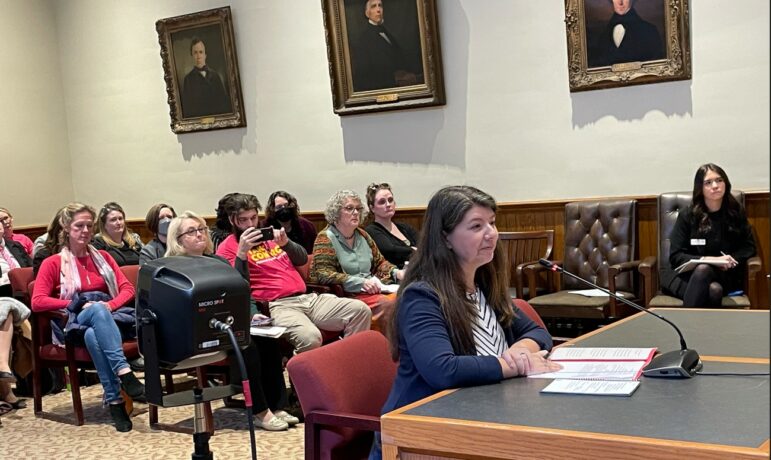 By PAULA TRACY, InDepthNH.org

CONCORD – A bill that would affirmatively protect in law the right to an abortion before 24 weeks of pregnancy was heard Tuesday before the Senate Judiciary Committee.

If signed into law, it would proactively protect the future of abortion rights in the Granite State and comes following the U.S. Supreme Court decision last year which struck down Roe v. Wade and ceded abortion decisions to the states.

It would not change any current law passed in June 2021 and signed by Republican Gov. Chris Sununu which included the first modern-day restrictions of the procedure in the state.

Opponents of the bill include the chair of the committee state Sen. Sharon Carson, R-Londonderry, who said there is no need for the bill, claiming that the rights already exists.

But proponents said that women in the state need more assurances since the U.S. Supreme Court's Dobbs decision and those rights are not included in the state's recently passed Fetal Protection Act.

Of the 26 who signed in to take a position on Senate Bill 181, all but six individuals were in support of the measure.

There are two identical bills on this subject.
A copy of the Senate version of the Access to Abortion-care Act, is here: https://www.gencourt.state.nh.us/bill_status/billinfo.aspx?id=776&inflect=2.
The other House Bill 88 https://www.gencourt.state.nh.us/bill_status/billinfo.aspx?id=35&inflect=2, is scheduled for a public hearing on Feb. 15.

If passed it would: enshrine abortion rights into state law, establish a private right of action for violation of the chapter, allow people to seek court action in Superior Court and allow for attorney fees to be awarded if they prevail.

While the bill would provide abortion rights in the majority of situations, the measure would not change any current New Hampshire abortion laws, which precludes the procedure after 24 weeks of pregnancy in most cases.

New Hampshire is the only state in New England without proactive protections for abortion rights in state statutes or the state constitution, proponents said.

State Sen. Rebecca Perkins Kwoka, D-Portsmouth, who is also a young mother, is the lead sponsor.
She noted the U.S. Supreme Court decision left many vulnerable and said 21 million people have lost their rights since the decision.

"We must act now to ensure that women in New Hampshire are protected," she said.

Perkins Kwoka noted more than 70 percent of state residents polled support abortion rights.

State Sen. Bill Gannon, R-Sandown, a member of the committee, said his concern is the definition of the viability of the fetus and would not want a law on the books that would allow a viable fetus to be terminated.

Gannon noted New Hampshire's new law is in line with 43 states.
"Is your bill going up to birth?" Gannon asked.

Perkins Kwoka said no, that this bill does not seek to change the after 24-week ban.
He said he was concerned that viability is 21 or 22 weeks and said he would want to amend the bill from 24 weeks to 22 weeks.

State Sen. Becky Whitley, D-Hopkinton, a member of Senate Judiciary Committee, said there is no universal consensus on when a baby can survive outside the womb.
However, it is generally thought to be about 23 to 24 weeks of pregnancy though some hospitals will resuscitate those born at 22 weeks.
Whitley said it was her understanding that the Dobbs decision left abortion to the states and this bill would be a response to that.

Perkins Kwoka said yes, this affirmatively gives the right to women in state law.

Carson said she was trying to figure out what the bill means by violation of state action.
"Would that mean you can sue the legislature?" Carson asked.

Dr. Janet Perkins-Howland of Durham, speaking for herself as an OB/GYN spoke in favor of the bill.

While many of her cases are joyful, they can also be fearful and full of decision-making.
Perkins-Howland said the right to not have a child is part of her understanding of reproductive justice.

She said that the right to have a child is incredibly important and people need to support each decision.
"I am surprised sometimes where that takes me," Perkins-Howland said.

She urged the legislature to support people at various times in their lives.
The doctor said it is not necessarily safe to have a baby and it gets riskier in the late stages of pregnancy. Safety is an issue, she said.

Having more people have access to care and contraception is the way to avoid these issues, she said.

But Laura El-Azem of Londonderry, said Roe v. Wade was a make-believe right and it was wrong. She said this bill is a "radical decision."
If there was a rollback from 24 weeks "suddenly we are removing a right," with the passage of the bill, El-Azem said.

State Rep. Alexis Simpson, D-Exeter, said she has heard from constituents that were scared after the Dobbs decision.

"Losing control over your body…is scary," Simpson said, adding residents are looking to the legislature to reassure access.
Passing the bill would indicate to them that "we trust them" and their doctors.

Carson said this bill does nothing but restate what is already the case in New Hampshire.

Simpson said there is some confusion and this would affirmatively protect a woman's right to abortion care.

"It is not clear in the law," Simpson stressed, "and it was clear before the Supreme Court's Dobbs decision."
Carson said: "I would say I disagree with you."
State Rep. Amanda Elizabeth Toll, D-Keene, holding infant son Jordan on her shoulder, said being a parent is one of the most exhausting things one can do and she shared that she needed abortion care as a teen.

"Legal barriers to abortion will not stop abortions," Toll said, but they can bring tragic consequences.

Liz Canada, advocacy manager for the Planned Parenthood New Hampshire Action Fund, noted the committee was the same that allowed for exceptions in fatal fetal anomalies after 24 weeks.

Canada said the bill is a "win-win" because it would enshrine in state law the rights of abortion here.
Canada noted since Roe v. Wade has been overturned it has caused tremendous confusion on a state-by-state basis.

"This gives a clear line," Canada said.