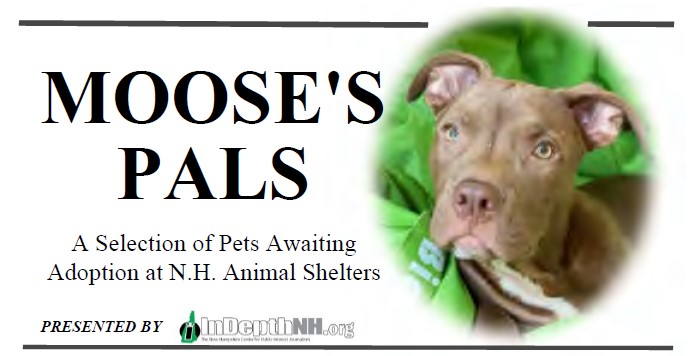 Welcome to this week's edition of Moose's Pals, a weekly column devoted to pets that are available for adoption at local animal shelters. Moose is our mascot here at InDepthNH.org, and each week he and an adult friend select those who are waiting for new homes. He scans the websites of New Hampshire animal shelters and randomly selects five pets available for adoption to feature in this column. Contact the shelter listed for each pet to find out their process and adoption fees.
1. Neira is a 86-pound, 7-year-old female American Staffordshire Terrier mix with a brown and white short coat. She is a recently single lady on the lookout for that perfect low traffic, quiet forever home. If there's one thing you need to know about Neira, she is a confident, independent woman who knows what she wants and isn't going to settle for any less. Neira has been waiting to find that perfect forever home since FEBRUARY, that's 10 months at the shelter. Neira loves making new human friends, both big and small, and will greet you with an enthusiastic "wooo!" or two. She really enjoyed all the attention she got over the summer, being a part of our summer camp program socializing with all the kids. Neira is the kind of girl who does not want to make new dog friends and would not do well in a neighborhood with frequent off-leash dogs. She is not shy in showing her distaste for that nonsense. She loves going for car rides, as well as leisurely walks to check up on how the neighborhood is doing but would ideally have a fenced yard of her own that's untouchable to the miscreant canines running amuck. Neira has established the desire of chasing small critters when out on her nature strolls, so will need a home with no cats or small animals. Before coming to the shelter, Neira did live with children, so she may not mind having dog savvy kids in her new home that'll share their yummy snacks with her.
Available at the Pope Memorial SPCA, 94 Silk Farm Road, Concord, NH 03301. Phone: (603) 856-8756.
2. Saphira is a 6-month-old, female, black and white domestic short hair. She loves to play and is a very active girl. Saphira loves perching on people's shoulders and is always busy and looking for the next thing to play with. She is social and settles in quickly to new places. Saphira has a queen bee personality and will be very bossy with other cats. She is ok to introduce to other cats, dogs, and children.
Available at the Monadnock Humane Society, 101 W. Swanzey Road, Swanzey, NH 03446. Phone: (603) 352-9011.
3. Brodie is a 59-pound, 1-year-old male American Pit Bull Terrier mix with a gray and white short coat. If you're looking for an enthusiastic life partner, please look no further! Brodie is just about as forward, excitable and enthusiastic as they come, and he came all the way from South Carolina to meet you! In terms of personality, he pretty much checks off all the boxes: sweetness (CHECK), block head (CHECK), athleticism (CHECK), brains… WELL, "pretty much" all the boxes! Outdoor adventures are Brodie's jam! He lives for them, and will quite literally drag you along with him, rain or shine! He would definitely benefit from some basic obedience training, and a consistent energy outlet! Brodie is a needy guy, who needs an emotional support human, and would do best in a home where he is the only animal. He is very food motivated and clever when he needs to be, especially if it means convincing you that he needs more treats when he "forgets how to sit." Brodie would do best in a home with adults only, as he tends to be a bull in a china shop, and sometimes instructions go in one ear and out the other (sometimes being most times), but boy is he a charmer, just look at him!
Available at Animal Rescue League of New Hampshire, 545 Route 101, Bedford, NH 03110. Phone: (603) 472-3647.
4. Wanderly is a young, male, white and gray domestic short hair. He came from a loving foster home in Georgia where he lived with other cats and got along well with them. He's not a tiny kitten anymore, but he does love to play with toys like feathers and bells, and he LOVES ping pong balls. If you put one in a dry bath tub, Wanderly can have a blast chasing it around and around. His foster mom says that he is as intelligent as he is beautiful, which must mean that he is wicked smart, because clearly he is ridiculously handsome! Wanderly loves to sit on laps and watch TV with people – do you have an available lap for him? He is a super friendly boy but it does take him a little time to adjust before his real purrsonality shines through. Wanderly has never lived with kids or dogs, so he would need a slow introduction to either of these beings.
Available at the New Hampshire SPCA, 104 Portsmouth Ave., Stratham, NH 03885. Phone: (603) 772-2921.
5. Zeke is a 9-year-old, male, American Pit Bull Terrier mix with a brown and tan brindle short coat. His favorite activities include going for walks and getting all the sniffs in, eating treats (although the vet told him he was getting a little chunky, so he's on a diet right now), wading in the stream, and getting pets and snuggles. Zeke often gets the zoomies in the morning when he goes out and gets love from shelter staff and volunteers because he is so happy to see them. If you are looking for a sweet, quiet senior to give a good retirement home to, Zeke just might be your guy.
Available at the Manchester Animal Shelter, 490 Dunbarton Road, Manchester, NH 03102. Phone: (603) 628-3544.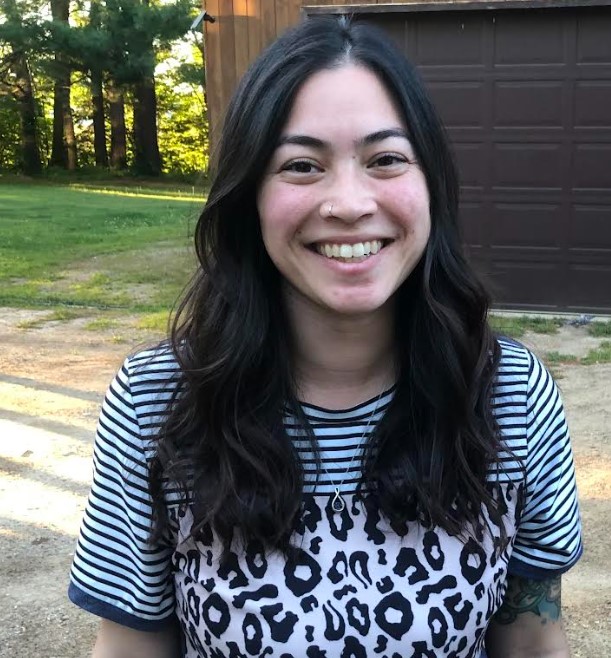 Chelsea Hensley graduated from Salem State University with two bachelor's degrees: Geological Sciences and Communications in Advertising. She worked in the environmental consulting field for multiple years after graduating, and currently is a stay-at-home mom and assistant editor for InDepthNH.org.