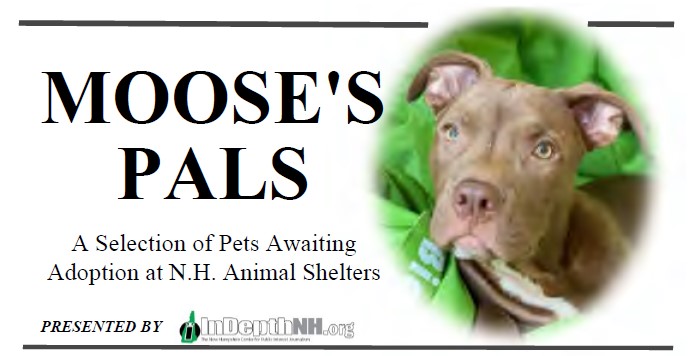 Welcome to this week's edition of Moose's Pals, a weekly column devoted to pets that are available for adoption at local animal shelters. Moose is our mascot here at InDepthNH.org, and each week he and an adult friend select those who are waiting for new homes. He scans the websites of New Hampshire animal shelters and randomly selects five pets available for adoption to feature in this column. Contact the shelter listed for each pet to find out their process and adoption fees.
1. Sassy is a 4-month-old female Beagle with a red and white short coat. Sassy is one cute cuddle bug! This girl is always happy and bouncy. She is a friendly little puppy that loves to be the center of attention! She came to Monadnock Humane Society on a recent transport from NJ… She is your typical young puppy, which means she is not yet house/crate trained and does not know any commands. It is important for her adopters to be patient and work with her to establish house training, basic training, and proper socializing so she can grow up to be the best girl! She has met some dogs in the shelter and done well. She could certainly live with other, respectful animal friends given the proper introduction and management.
Available at the Monadnock Humane Society, 101 W. Swanzey Road, Swanzey, NH 03446. Phone: (603) 352-9011.
2. Sushi is a male, black, domestic short hair, and is 1 year old. He is just about the sweetest friend you could have! He may be shy and seem like he doesn't care at first, but it's all an act! The truth is, he plays hard to get… Just ask the staff! He also gives warm hugs! He found his way to the shelter due to no fault of his own: my previous owner was about to have a baby, and loud noises and craziness is just not his thing. Sushi is a distinguished gentleman who craves patient people, those who can give him all of the love that he so deserves! He may be open to living with another easy-going cat, as long as there is a very slow introduction to them. Sushi hasn't lived with animals before, but with a slow introduction, a VERY cat-savvy dog who would ignore him completely, may also be ok. He would do best in a home with older teens (15+) and adults, who are understanding of my shy nature.
Available at Animal Rescue League of New Hampshire, 545 Route 101, Bedford, NH 03110. Phone: (603) 472-3647.
3. Miller is a male Labrador Retriever with a brown and white short coat. He is 1 year old and about 52 pounds. Miller was transferred to the NHSPCA from an overcrowded shelter in South Carolina. His nickname down South was Mr. Smarty Pants, because he was clearly trained by someone in his previous life and responds to many commands. Miller can be insecure at times and would appreciate someone who could help him with confidence-building. He is very loving & responsive to his humans and does an excellent job meeting new people. We do not know his history with kids, cats, or other dogs, but his Southern rescuers report that he mimics the play style of other dogs. *Miller has 1 medical waiver*
Available at the New Hampshire SPCA, 104 Portsmouth Ave., Stratham, NH 03885. Phone: (603) 772-2921.
4. Runaway and Wheels are two young, multi-colored, domestic medium hair. This pair of bonded cats who love each other want to go home together. This boy-girl combo would fit into most any family. They are okay with dogs, cats and kids which is rare for a pair of cats! If you're looking for a good pair of all-around great family cats, then Runaway and Wheels may be a perfect fit for you.
Available at the Manchester Animal Shelter, 490 Dunbarton Road, Manchester, NH 03102. Phone: (603) 628-3544.
5. Nelson is a 10-month-old, male, Labrador Retriever and Dachund mix with a dark brown and white coat. Are you looking for some sunshine to brighten up the dreary winter? Nelson is a bundle of cuteness and happy energy. He's the type of dog that sees the good in everything and always wakes up on the right side of the dog bed! Nelson loves to play with other dogs and lots of dog toys. He is great in the car, quiet in the crate, and pretty much potty-trained. He craves attention from humans and is very playful. Since he is young, he can be jumpy and will need basic obedience training. Mr. Nelson told us he is looking for an active home that will teach him tricks – he loves to learn! Due to his young age and puppy-ness, we are looking for a home with kids that are at least 10 years old.
Available at the Greater Derry Humane Society, P.O. Box 142, East Derry, NH 03041. Phone: (603) 434-1512.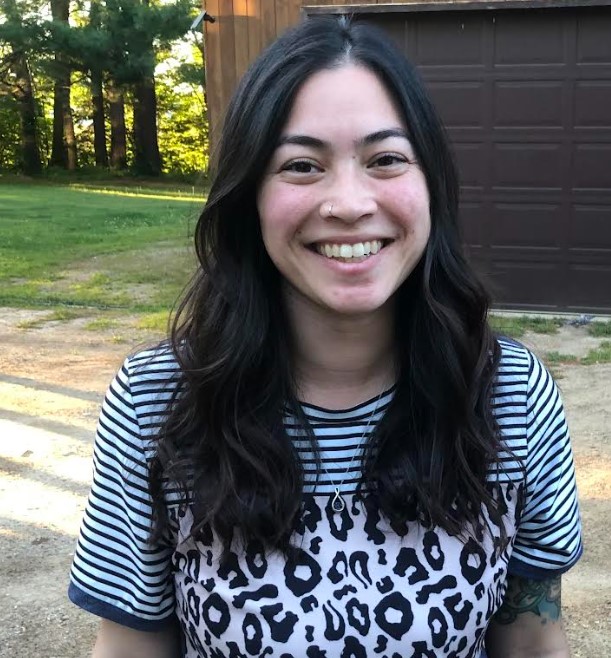 Chelsea Hensley graduated from Salem State University with two bachelor's degrees: Geological Sciences and Communications in Advertising. She worked in the environmental consulting field for multiple years after graduating, and currently is a stay-at-home mom and assistant editor for InDepthNH.org.