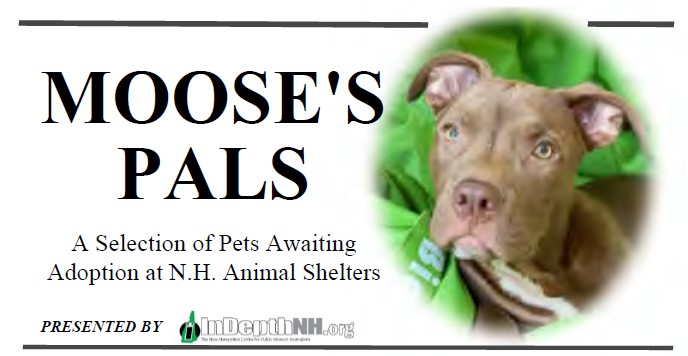 Welcome to this week's edition of Moose's Pals, a weekly column devoted to pets that are available for adoption at local animal shelters. Moose is our mascot here at InDepthNH.org, and each week he and an adult friend select those who are waiting for new homes. He scans the websites of New Hampshire animal shelters and randomly selects five pets available for adoption to feature in this column. Contact the shelter listed for each pet to find out their process and adoption fees.
1. Luna is a female American Pit Bull Terrier with a brown and white short coat. She is 2.5 years old and weighs 67 pounds. Luna is described as three things: sensitive, velvety, and a blockhead! She is a sweetheart but there is no mistaking that she is awkward at first, very awkward. She doesn't embrace new people or show them her wonderful and loving personality until she feels that they have earned it. With patience, Luna has come around to staff members and she has found that the lower the human expectations, the easier it is for her to thrive and learn to trust. Once Luna comes out of her shell, she is a complete goober! She is all about hugs, cuddling, and the occasional play bow or zoomie session. She seems to be good at making people smile with her silly personality and perfect face. Luna enjoys being outside and active with people, but can be a bit of a baby when it comes to rain. She is looking for an adult-only home and one where she can be the only animal. Luna may need to meet you a few times before she is ready to leave, but patience is a wonderful thing!
Available at Animal Rescue League of New Hampshire, 545 Route 101, Bedford, NH 03110. Phone: (603) 472-3647.
2. Ollie is a male Pekingese with a tan long coat, and is 13 years old. His owner could no longer afford to care for him. Intelligent, independent, confident and clever, Ollie prefers making his own decisions but will listen to you if you make a good case. You will be partners in this adventure. If you treat Ollie like one, you'll both live happily ever after. Ollie has successfully lived with dogs. The SPCA strongly recommends a positive introduction with your current pet and/or children. He has not lived with cats. Ollie is an older gentleman who needs time to settle in. He is also looking for a calm quiet household to live out his retirement age. Ollie has two medical waivers to be aware of.
Available at the New Hampshire SPCA, 104 Portsmouth Ave., Stratham, NH 03885. Phone: (603) 772-2921.
3. Caesar is an adult male, domestic short hair with orange and white coloring. Caesar is a 5-year-old sweetheart that has been patiently waiting for his perfect home. Caesar enjoys petting and having his belly rubbed. He can never get enough attention! Once this handsome boy gets to know you, he will quickly find his way into your heart. Caesar startles easily, and does not settle quickly if he's scared, so he will need a very quiet home with a cat-savvy human who'd be able to cue in on Caesar's body language. He can be a little anxious settling into a new environment, but once he does, he will be an amazing companion. Because Caesar startles easily, he is on daily medication to help keep him relaxed, and on a medication to help his bowels move along smoothly. He takes both meds like a champ!
Available at the Manchester Animal Shelter, 490 Dunbarton Road, Manchester, NH 03102. Phone: (603) 628-3544.
4. Sammi is a medium-sized Basset Hound and Labrador Retriever mix with a tan and white short coat. You probably wouldn't like green eggs and ham or a mouse in your house. But you know what you would like in your house? Sammi! Sammi is looking for his very own family to read Dr. Seuss books to him while he snuggles in their laps! He also loves walks and adventures, playing with other dogs, and even cats! Sammi is a typical puppy and needs someone to help him finish potty training and take him to obedience training. He is super smart, very trainable, very friendly, and confident! He is learning to be comfortable in his crate now. Sammi loves attention so he wouldn't mind being your one and only either… Just make sure he gets enough exercise!
Available at the Greater Derry Humane Society, P.O. Box 142, East Derry, NH 03041. Phone: (603) 434-1512.
5. Wixx is a male, domestic short hair mix, black and white, is about 7 months old, and weighs about 4 pounds. Wixx is a curious and active young kitten who would love to find a low-traffic and cat-savvy home with no children. Wixx might enjoy some pets once he gets to know you, but his new family will need to take things slowly, as Wixx is still learning to trust people. He seems very curious about anything moving while looking out the window, and we feel that he would turn into quite the little hunter if there are mice to chase. Wixx would do best in a home that already has another friendly and outgoing cat that he can play with, and who can help Wixx learn to trust people. It is unknown how he would do with a dog.
Available at the Pope Memorial SPCA, 94 Silk Farm Road, Concord, NH 03301. Phone: (603) 856-8756.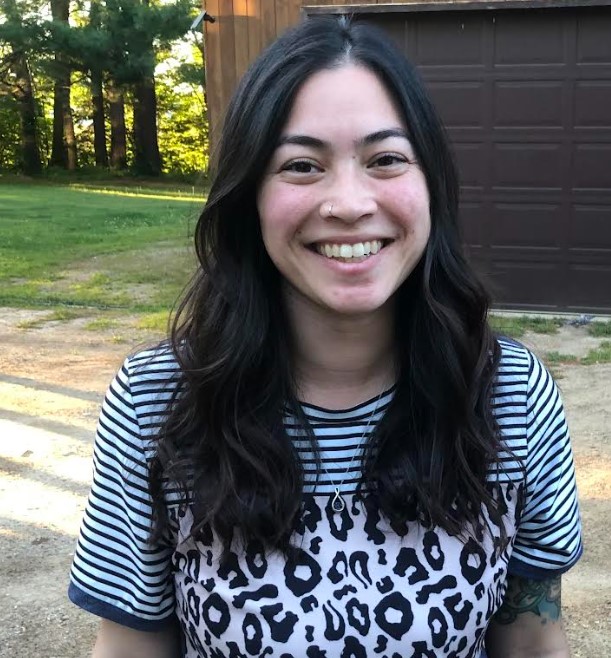 Chelsea Hensley graduated from Salem State University with two bachelor's degrees: Geological Sciences and Communications in Advertising. She worked in the environmental consulting field for multiple years after graduating, and currently is a stay-at-home mom and assistant editor for InDepthNH.org.