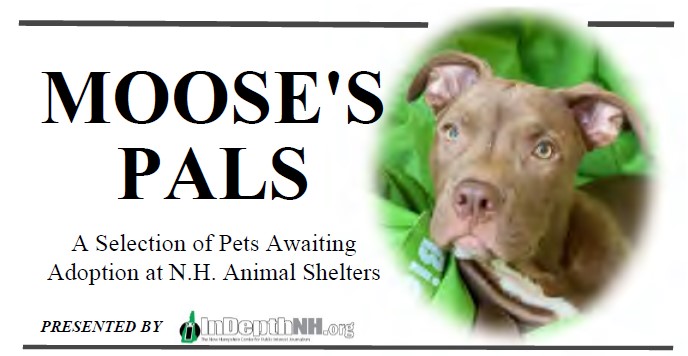 Welcome to this week's edition of Moose's Pals, a weekly column devoted to pets that are available for adoption at local animal shelters. Moose is our mascot here at InDepthNH.org, and each week he and an adult friend select those who are waiting for new homes. He scans the websites of New Hampshire animal shelters and randomly selects five pets available for adoption to feature in this column. Contact the shelter listed for each pet to find out their process and adoption fees.
1. Lola is a female, domestic short hair with black, white, and orange coloring, and is 6 years old. Lola is going through a very stressful time in her life. Her owner passed away and Lola is very sad and scared without her. Lola spent her life in a very quiet household with a single female owner that she loved very much. She is looking for the perfect new home in a calm environment with an adult or two who will give her the time she needs to adjust to all the changes in her life. She has never lived with children, dogs, or other cats and she would very much prefer not to live with those other beings if possible. Lola has two medical waivers.
Available at the New Hampshire SPCA, 104 Portsmouth Ave., Stratham, NH 03885. Phone: (603) 772-2921.
2. King is an American Staffordshire Terrier mix with a brindle short coat. He is 6 years old with striking blue eyes. He is looking for a quieter home with an active person. King loves getting scratches, playing tug, and eating peanut butter. He has made some dog friends at the shelter and likely would not mind having a fur sibling.
Available at the Manchester Animal Shelter, 490 Dunbarton Road, Manchester, NH 03102. Phone: (603) 628-3544.
3. Billy is an adult male, domestic medium hair with tuxedo coloring. Billy is big and beautiful! He wants a nice, quiet house with maybe another cat. He loves to eat, play, and sleep. Billy was on a diet and hated it but lost the weight and is now a perfect size. He is shy at first but is good with cats and children.
Available at the Greater Derry Humane Society, P.O. Box 142, East Derry, NH 03041. Phone: (603) 434-1512.
4. Zazu is a Pit Bull Terrier mix with a black and white short coat. A 45-pound male, he is 1 year old. Zazu may be a nervous boy initially, but once he's built some trust with his humans, he becomes such a goofy and playful puppy. He is looking for an adult-only home because he wasn't treated well by the kids in his last home, so he may distrust children. Zazu is looking for a home where he can take things slow and adjust at his own pace. He has a lot of things he hasn't really learned about life yet. He is starting to enjoy playing with toys though, so that's a huge bit of progress in learning to dog. Zazu is looking for a home without cats, as he's never been around small animals, so he doesn't know how to appropriately interact. Zazu may enjoy having a playful and easy-going dog friend in his new home, to keep him company and help show him the ropes. Because of his past homelife, he may take a little longer adjusting and settling into his new home.
Available at the Pope Memorial SPCA, 94 Silk Farm Road, Concord, NH 03301. Phone: (603) 856-8756.
5. Cinder is a male, domestic medium hair, gray, and is 1 year old. Cinder is good with cats, dogs, children of all ages, and is playful with all types of toys. He would benefit from a tall scratching post and enjoys his hidey bed and finding small places to curl up. He loves to be pet and will seek out attention from people he knows.
Available at the Monadnock Humane Society, 101 W. Swanzey Road, Swanzey, NH 03446. Phone: (603) 352-9011.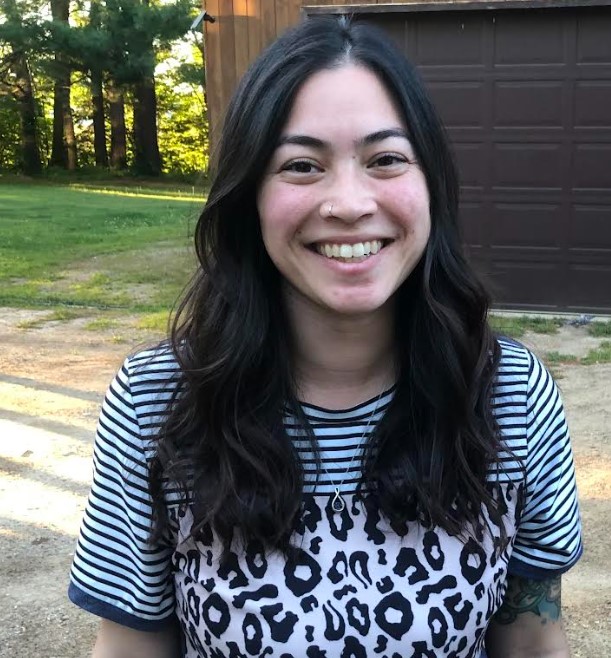 Chelsea Hensley graduated from Salem State University with two bachelor's degrees: Geological Sciences and Communications in Advertising. She worked in the environmental consulting field for multiple years after graduating, and currently is a stay-at-home mom and assistant editor for InDepthNH.org.