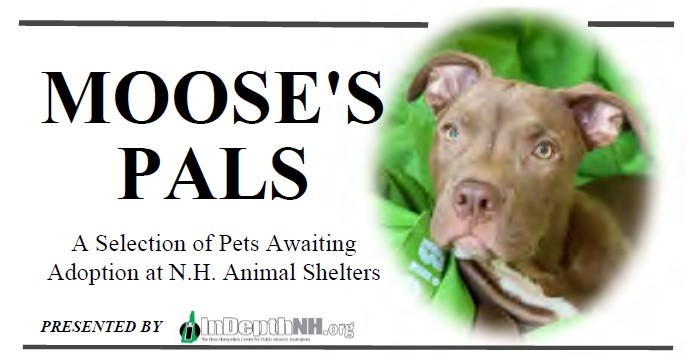 Welcome to this week's edition of Moose's Pals, a weekly column devoted to pets that are available for adoption at local animal shelters. Moose is our mascot here at InDepthNH.org, and each week he and an adult friend select those who are waiting for new homes. He scans the websites of New Hampshire animal shelters and randomly selects five pets available for adoption to feature in this column. Contact the shelter listed for each pet to find out their process and adoption fees.
1. Iris is an American Pit Bull Terrier mix with a light tan short coat. Iris is an 8-year-old female in search of a loving home for her last years. Iris is a very happy girl who absolutely loves snuggles and rolling around on her back in the grass. She is more than happy to cuddle up with you for a cozy day in, but she wouldn't turn down a walk either. She loves kids and would do okay with a laid-back doggy sibling. This sweet, gentle lady has been a great office buddy and provides a soothing background noise of snores.
Available at the Manchester Animal Shelter, 490 Dunbarton Road, Manchester, NH 03102. Phone: (603) 628-3544.
2. Rafael is a Boston Terrier mix with a black and white short coat. A 47-pound male, he is almost 2 years old. He is a sweet dog with a huge heart! His favorite activities are snuggling with his humans, playing tug and fetch, and chewing a bone right before bed. He is very smart and will make cute little noises when he needs something. Rafael does take time to warm up to strangers. He will require slow introductions when meeting new people. For this reason, we do not recommend a home with young children. He is good with other dogs. Rafael's owners surrendered him because of allergies and lack of time. This loyal boy will be an amazing best friend for the right family!
Available at the Greater Derry Humane Society, P.O. Box 142, East Derry, NH 03041. Phone: (603) 434-1512.
3. Misty is a female, domestic short hair with tortoise shell coloring, weighs 10 pounds, and is 13 years old. Misty is a gorgeous older kitty who has thumbs! This sweet girl will take some extra time to get comfy in her new home, but if her new family is patient with her, she will show you her sweet side and just how loveable she can be! Misty would like to be the queen of her castle and would prefer a low-traffic home with no children or other animals. She would probably do best with an older person or couple.
Available at the Pope Memorial SPCA, 94 Silk Farm Road, Concord, NH 03301. Phone: (603) 856-8756.
4. Smokey is a Labrador Retriever with a chocolate coat. A senior male, he is 9 years old. Smokey the bear-dog is a silly boy and as handsome as they come. He has lived a quiet life and enjoys the simple things: sunbathing, fetch, and good treats. In fact, a treat is his favorite! So much so, he will sit and speak on command for a cookie! Smokey can take some time to build trust with new people. His ideal family would be adopters with previous dog experience that can provide a quiet and comfortable home for this big boy. He has some experience with other dogs and for the most part is uninterested. He could possibly live with another calm, friendly dog in his new home. Smokey would do best in a home without young children.
Available at the Monadnock Humane Society, 101 W. Swanzey Road, Swanzey, NH 03446. Phone: (603) 352-9011.
5. Lime and Lyric are two males, domestic medium and short hair, respectively. They are 6 months old, and each weigh about 4 pounds. Lime and Lyric were found living outside and were originally thought to be feral. Instead, the shelter has deemed them to be very under-socialized. They are looking for a quiet home with adults only and with another friendly cat who can help teach them the ropes of normal living. They would prefer a home without dogs, unless the dog is very cat savvy and can ignore Lime and Lyric. They are bonded with each other and seem to seek comfort in being together. Lime is slightly more confident, and Lyric is more shy and reserved.
Available at Animal Rescue League of New Hampshire, 545 Route 101, Bedford, NH 03110. Phone: (603) 472-3647.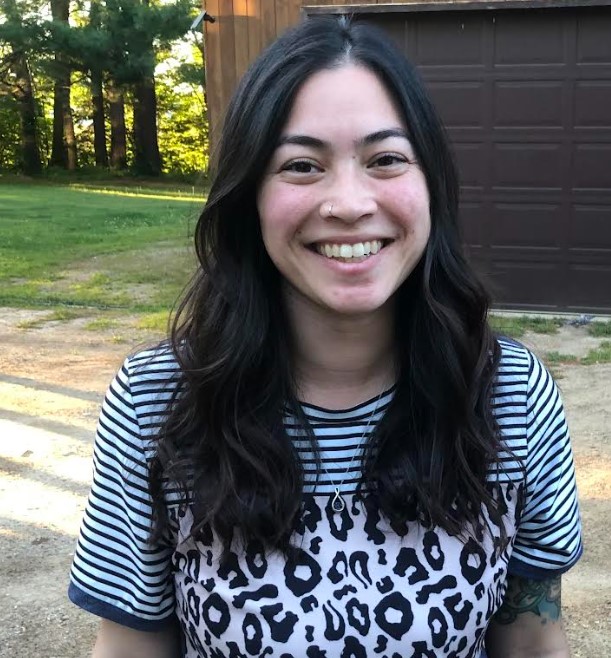 Chelsea Hensley graduated from Salem State University with two bachelor's degrees: Geological Sciences and Communications in Advertising. She worked in the environmental consulting field for multiple years after graduating, and currently is a stay-at-home mom and assistant editor for InDepthNH.org.