By CHELSEA HENSLEY, InDepthNH.org
Welcome to this week's edition of Moose's Pals, a weekly column devoted to pets that are available for adoption at local animal shelters. Moose is our mascot here at InDepthNH.org, and each week he and an adult friend select those who are waiting for new homes. He scans the websites of New Hampshire animal shelters and randomly selects five pets available for adoption to feature in this column. Contact the shelter listed for each pet to find out their process and adoption fees.
1. Noelle is a young female, domestic short hair, white and gray. Noelle is friendly and sweet. She talks a lot to her foster momma. She isn't a lap cat (yet), but she so wants the connection to people we think she will eventually be one. Her previous mom passed away, leaving Noelle alone in the house for some time, so we understand her shyness. She's great at using her litter box, good with other cats, and she is great at snuggling into blankets. She has a particular palette – one that prefers treats over actual food, but we keep trying new foods, and so far Fancy Feast kibble is her favorite.
Available at the Greater Derry Humane Society, P.O. Box 142, East Derry, NH 03041. Phone: (603) 434-1512.
2. Lucky is a Labrador Retriever mix with a tan medium coat. A 67-pound female, she is 7 years and 2 months old. Lucky is a very sweet, rambunctious mature yellow lab lady, looking for that fun-loving home to be her forever spot. It is suspected that Lucky was used primarily for breeding, then was let loose once her purpose was fulfilled, so never got the opportunity to learn any tricks or skills. She is however, potty trained and will want to be with her people as much as possible. Adopting Lucky will be similar to adopting a puppy in the level of life skills she's acquired, so she'll need some work in that regard. But you know the personality you're going to get and won't have to worry about potty accidents in your home. Lucky can be a bit of an anxious girl, so she may do best having a like-minded mature dog companion to keep her company. Lucky is a VERY opinionated and vocal gal, so she wouldn't be great in an apartment environment. Going to a home with small animals will require some extra management and slow introductions with the understanding she may need to be kept separate. Got kids? Lucky doesn't mind one bit, as long as they're willing to shower her with all the affection.
Available at the Pope Memorial SPCA, 94 Silk Farm Road, Concord, NH 03301. Phone: (603) 856-8756.
3. Winston (AKA Scotch) is a male, domestic short hair, gray and white, and is 5 years 2 months old. Winston is best as the only cat, is good with older children, and could be introduced to dogs. Winston is a friendly, laidback guy when comfortable, and enjoys catnip. He would benefit from interactive play and needs different activities and enrichment throughout the day. Winston loves to hang out with his people and prefers all four paws on the floor.
Available at the Monadnock Humane Society, 101 W. Swanzey Road, Swanzey, NH 03446. Phone: (603) 352-9011.
4. Gomez is a mixed breed with a brown and black brindle coat. A medium adult male, he is 4 years old. Gomez is a super cute guy who came all the way from South Carolina to find his own family here. He is social and active and would love to go for hikes or play in the yard. He would be fine in a home with kids as long as they are gentle and respectful. Gomez is picky with other dogs that he meets, so there will need to be a meeting to see if it is a good fit. He should not live with cats or other small animals.
Available at Animal Rescue League of New Hampshire, 545 Route 101, Bedford, NH 03110. Phone: (603) 472-3647.
5. Street Hawk is an American Pit Bull with a white and black spotted coat. A medium adult female, she is 2 years old. Street Hawk is a beautiful girl who was found running loose as a stray in Garland, Texas. The Garland shelter is extremely overcrowded, so Street Hawk was transported to the NHSPCA for adoption. She has shown some mild reactivity to other dogs while at the shelter. Her foster mom reports that she is a total love bug who will follow you everywhere and is happiest by your side. Street Hawk knows how to sit, shake, and give high-fives. She tries really hard to roll over on command but hasn't quite mastered that skill yet. Street Hawk sleeps through the night on her favorite bed and does well in the crate when you leave the house. She is treat-motivated and really likes to please her people, so training her is super fun.
Available at the New Hampshire SPCA, 104 Portsmouth Ave., Stratham, NH 03885. Phone: (603) 772-2921.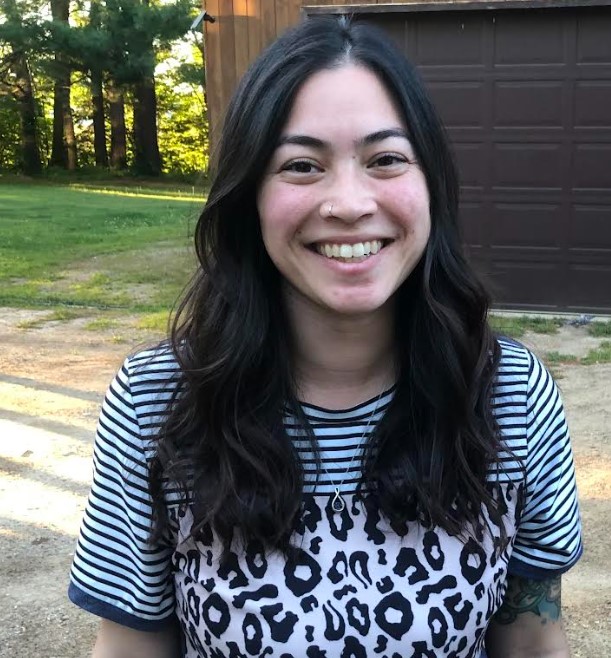 Chelsea Hensley graduated from Salem State University with two bachelor's degrees: Geological Sciences and Communications in Advertising. She worked in the environmental consulting field for multiple years after graduating, and currently is a stay-at-home mom and assistant editor for InDepthNH.org.