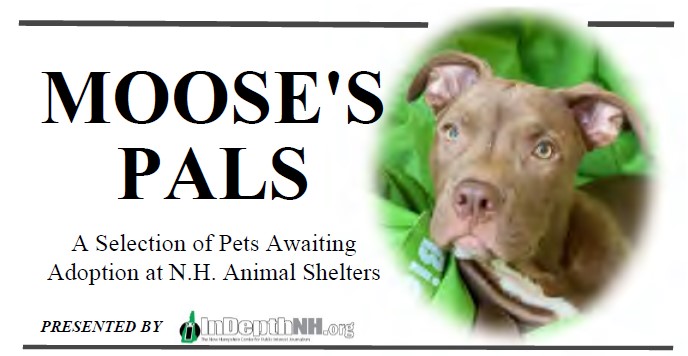 Welcome to this week's edition of Moose's Pals, a weekly column devoted to pets that are available for adoption at local animal shelters. Moose is our mascot here at InDepthNH.org, and each week he and an adult friend select those who are waiting for new homes. He scans the websites of New Hampshire animal shelters and randomly selects five pets available for adoption to feature in this column. Contact the shelter listed for each pet to find out their process and adoption fees.
1. Cherry is a medium-sized adult Plott Hound mix with a short, brown and black brindle coat. Cherry can be a little shy when first meeting new people, but it doesn't take her long to make new friends. No surprise being a hound dog, but she LOVES long walks to take in all the worldly smells in the neighborhood. She will definitely tell you with that typical hound baying if there are little critters scurrying nearby. She may enjoy having a like-minded dog friend in her new home to keep her company. Cherry will not be a good fit for farm living, as she does have a prey drive and can't be around small animals or livestock. Cherry will need a patient home that's able to work on her potty training as she isn't quite 100 percent house-trained yet. To set her up for success, a fenced-in yard would be ideal since she is ready to go as soon as that door opens. Hound dogs really need that safe outdoor space where they can just sniff and explore to their hound heart's content.
Available at the Pope Memorial SPCA, 94 Silk Farm Road, Concord, NH 03301. Phone: (603) 856-8756.
2. Bearcat is male, domestic medium hair, black and white, and is 7 months old. Bearcat is a typical kitten who loves everyone and loves to play.
Available at the Greater Derry Humane Society, P.O. Box 142, East Derry, NH 03041. Phone: (603) 434-1512.
3. Nike is a German Shepherd / Belgian Malinois mix with a brown coat. A 60-pound adult female, she is 3 years old. She is a very sweet lady who found her way into the shelter due to her previous housing situation no longer being the best fit for her. Nike enjoys being active and is looking for a home where she could continue to be this way! She is a sweet, young girl who really loves to be with her people and believe it or not, she's a bit of a drama queen too, especially when she's excited to go for a walk!
Nike's friends here at the shelter enjoy her, just ask them! She would do best in a home with teenage kids (15+) and adults, and without other animals. Nike prefers not to see other animals either, so an apartment setting would not be appropriate. She is still learning leash manners, but sometimes she gets a little bit too enthusiastic and pulls harder than she means to. Nike is house-trained too, and really just the whole package!
Available at Animal Rescue League of New Hampshire, 545 Route 101, Bedford, NH 03110. Phone: (603) 472-3647.
4. Garfield is a male, domestic short hair, orange and white, and is 9 years old. Garfield arrived at the shelter when his owner passed away. He is being very shy while adjusting, so patience will be important in his new home. Do you have a quiet home where he can feel comfortable and loved again?
Available at the New Hampshire SPCA, 104 Portsmouth Ave., Stratham, NH 03885. Phone: (603) 772-2921.
5. Rocky and Bullwinkle are bonded 5-year-old males. Rocky is a German Shepherd, and Bullwinkle is a Great Dane. These two are a dynamic duo and absolutely love each other. Rocky is a more dignified man and Bullwinkle is an absolute goof. They both love the snow, going for walks, and getting petted. These boys are always happy to see you and will definitely keep a smile on your face. They are both house-trained and good with children.
Available at the Manchester Animal Shelter, 490 Dunbarton Road, Manchester, NH 03102. Phone: (603) 628-3544.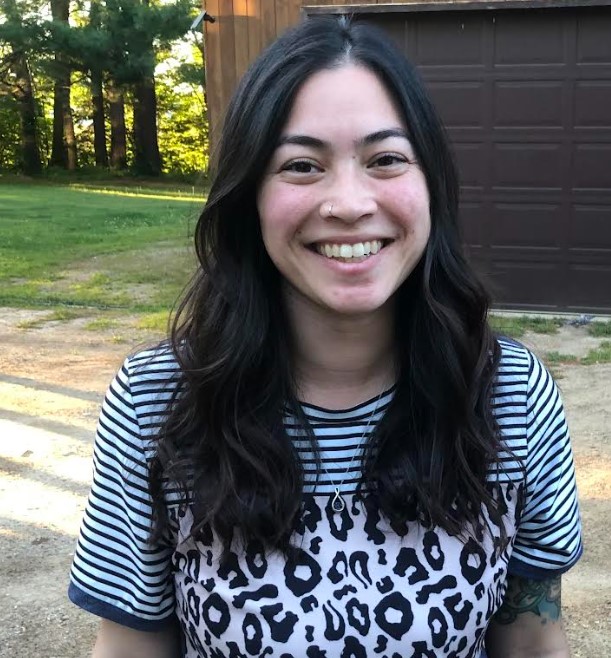 Chelsea Hensley graduated from Salem State University with two bachelor's degrees: Geological Sciences and Communications in Advertising. She worked in the environmental consulting field for multiple years after graduating, and currently is a stay-at-home mom and assistant editor for InDepthNH.org.